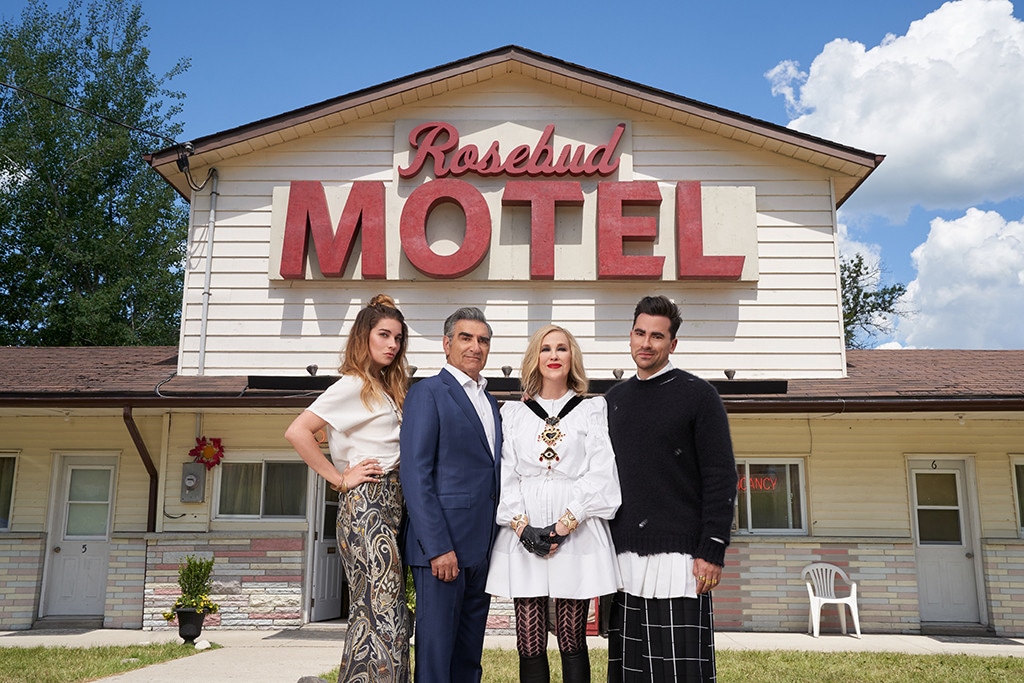 Pop
In its sixth season, Schitt's Creek has never been better, and it's a good—no, great—thing that it's ending now.
Like most comedies, Schitt's Creek started out enjoyable, but when it reached its third season, the characters viewers have come to know and love truly became those iconic characters whose GIFs and quotes rule the internet. The actors had to become comfortable in the Rose family (and friends) skins, the writers had to find the characters' voices, including the unidentifiable accent of Moira Rose. That's just how TV usually works, especially shows that are given time to grow and develop characters and stories. That's just what Pop and CBC let Schitt's Creek do, and why it's great the show is going out on its own terms.
The first four episodes of Schitt's Creek season six have an air of finality about them. It's a mixture of how far these characters have come in their respective journeys in the little town they once had such disdain for, and just knowing our time with this group of misfits is almost up. With five seasons under their belts, Eugene Levy, Catherine O'Hara, Dan Levy and Annie Murphy are at the top of their games.
O'Hara, who was finally nominated for an Emmy for her work on the show in season five, continues to deliver a sensational performance as the larger-than-life Moira Rose. She's able to balance the outrageous personality with the at times necessary heartbreakingly real humanity.
The season begins with Moira in the middle of an emotional crisis, but she rebounds, as Moira always does, and along with that rebound comes some of Moira's most outrageously funny moments. Take this line that could only be delivered by O'Hara as this instantly-iconic character: "How mercurial is life. We all imagine being carried from the ashes by the goddess Artemis and here I get a balatron from Barnum and Bailey." Just reading that line you can hear Moira's voice. There is no possible way anybody else on television could utter that dialogue and make it work. That's a testament to the wonderful performance and life O'Hara has infused into this character.
Watch:
Dan & Eugene Levy's Theory on Finally Getting Emmys Love
There are plenty of emotional beats in the episodes made available for preview, notably as David (Dan Levy) and Patrick (Noah Reid) prepare for their wedding. Where this season (so far) shines is with the interactions between David and Alexis (Murphy). Sure, there are still plenty of snarky moments between these two TV siblings, but seeing how far they've come in their emotional support for one another, the affection they (sometimes begrudgingly) show for each other, is a treat for the viewers.
In March 2019, father-son co-creators and stars Eugene and Dan Levy announced the show would end with the sixth season. The show is going out on top, and it seems the Roses will not overstay their welcome on TV or in Schitt's Creek.
"I think the audience, the fans of the show, have really come to rely on it as like a safe space in a dark time. And the thought of pushing that past its expiry date [Laughs.] for the sake of just being able to do another season—I care too much about our viewers and about our characters to risk taking them farther than they need to be taken. So, it was always planned that this was going to be the end. And I really had no interest in pushing that any further and potentially compromising a good thing," Dan Levy previously told E! News. 
Safe to say that doesn't happen in season six.
Schitt's Creek season six premieres Tuesday, Jan. 7 at 10 p.m. on Pop TV.