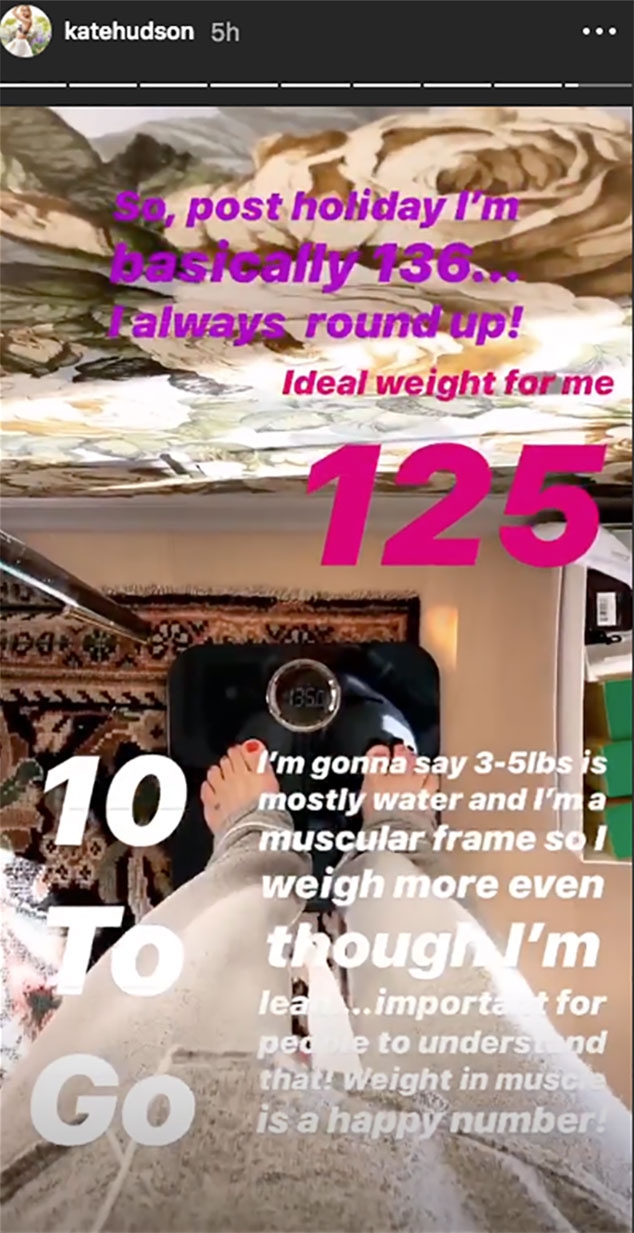 Instagram
Kate Hudson isn't too "impressed" with her post-holiday weight gain. 
Like everyone else, the actress enjoyed the numerous sweets and treats that come along with the holiday season, but now it seems she's regretting eating a cookie or two. On her Instagram, the Weight Watchers ambassador reveals she got on the scale today and wasn't "impressed" by the results. "So post-holiday I'm basically 136... I always round up! Ideal weight for me [is] 125," the mother-of-three explains. "I'm gonna say 3-5lbs is mostly water and I'm a muscular frame so I weigh more even though I'm lean... important for people to understand that!"
She adds, "Weight in muscle is a happy number!"
Nonetheless, the star says her slight weight fluctuation is "okay," because she "know[s] how to do this." This is thanks to her work with Weight Watchers, which she became an ambassador for back in December 2018. 
It seems the program works for the actress since she was able to achieve her goal weight within months of welcoming her daughter, Rani Rose. "What I am posting is a huge gratitude post! I feel lucky that my other work life (when my entrepreneur hat is on) is surrounded by the most inspiring people," she shared. "To every single person in the @fabletics community and every person in the @ww community, you keep me focused and encouraged. I thank you!"
Watch:
Kate Hudson's Spring Weight Loss Goal After Baby No. 3
But it isn't all about weight for the mom. She's said time and time again that she's committed to leading a healthier and happier lifestyle for herself and her kids. She recently told Women's Health that while she used to be all about her career, a few years ago she decided to "kind of chill out—take a step back from acting, from making movies that weren't really making me happy—and look at what I really want to do and what I want to give back, and what kind of parent I want to be."
And that means eating well, living an active lifestyle and being the best mom she can be. "What I've learned—and what I'm learning—is that I'm doing the best I can," the 40-year-old explained.
If this isn't #2020Goals, then we don't know what is.