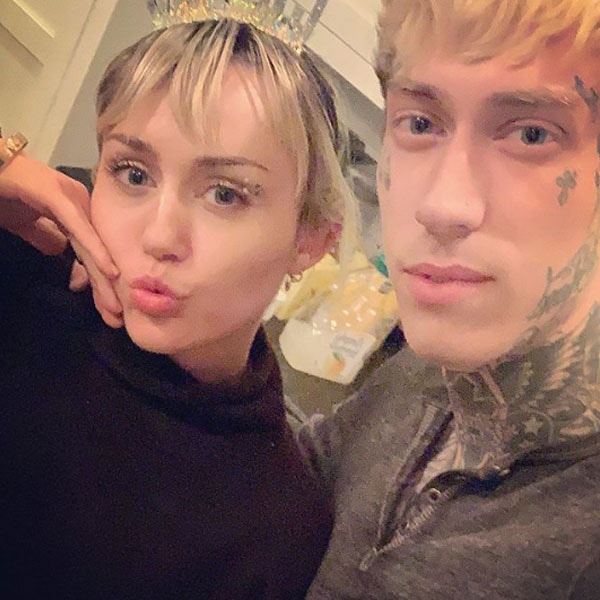 Instagram
Family will always be there for you.
2020 is upon us and many celebrities are still reflecting on the whirlwind year that was 2019. Trace Cyrus has a lot to be thankful for in this new season, including the support of his little sister Miley Cyrus. The musician shared a touching post on his Instagram thanking his sister for being there for him through the end of his engagement and helping him enjoy his newfound singleness. 
"Happy New Year!!! This year I don't have any specific goals," he captioned a sweet pic with Miley. "I just want to focus on my family, music, & fitness all I can! Some of u might already know but I'm recently single & extremely thankful to have my family around me during this time. I've just been feeling so blessed lately! Thank u @mileycyrus for always being there for me.. Love you sooo much sissy! what are your guys 2020 New Years resolutions??" 
Trace previously announced his engagement to singer Taylor Sanders in December of 2018. "Well... it's official! SHE SAID YES!" Trace captioned a video of Taylor after the proposal. "We're getting married! I will love you FOREVER!!!" Thankfully, Trace is taking the time to spend with family and focus on his career since the breakup. In a recent post he also announced that he may be releasing new music with his band Metro Station whose song "Shake It" was a hit in 2007. 
"Been amazing having time with the family for Christmas! I had planned on releasing new music this month but decided to hold off & just focus on my personal life for now," he captioned a picture with his entire family. "I'll be back with new music videos & EP after the new year. Maybe even a new Metro Station song! How was everyone's Christmas?? Where did you spend it this year?" 
Watch:
Miley Cyrus & Cody Simpson Continue PDA & Liam Hemsworth Hangs In There
As for Miley's love life, she's still going strong with Cody Simpson. The pair recently faced some split rumors, but Miley quickly confirmed that they're still very much an item. "Start dating your best friend Asap," she captioned a picture of the pair on a date night just a few night's after Christmas. 
Here's to hoping 2020 is the their best year yet!