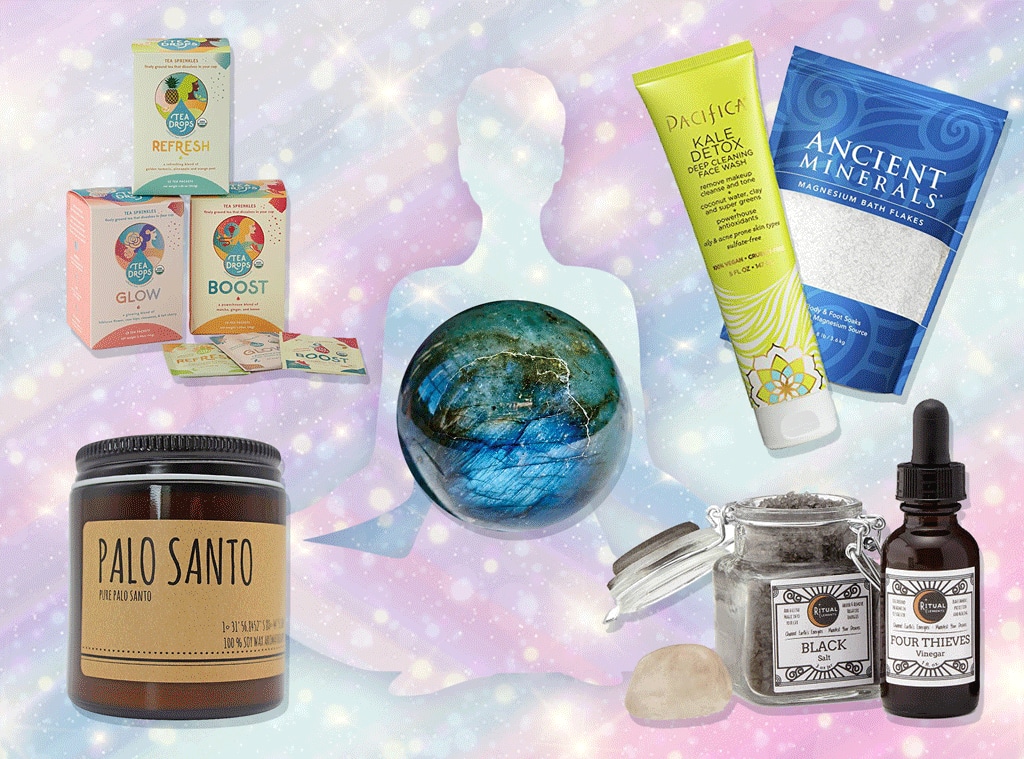 We love these products, and we hope you do too. E! has affiliate relationships, so we may get a small share of the revenue from your purchases. Items are sold by the retailer, not E!.
So 2019 was quite a year, huh!? Good, bad or otherwise, chances are you probably need a little bit of down time—and a chance to do some detoxing—before you jump into 2020 with both feet. Us too...which is why we went hunting for everything you might need to help you banish the bad 2019 energy from your life, and welcome in the good, new, fresh 2020 vibes that are dancing their way through the cosmos.
There's a little something for everyone, from the heavy duty woo woo type to the skeptical but still open to trying sort. You can go low key, with some beauty goodies like a detox eye roller, a good face cleanser, or some dead sea salts for a good soak in the tub, a little more intermediate with a palo santo candle and some incense resin for protection, or full-on hardcore with an infared heat mat that's packed with healing crystals.
Off the wall? Maybe—but so was 2019. Here's to getting it out of our energy fields forever, and for bringing in a good 2020 with some of the goodies below!
MediCrystal Far Infrared Mat
There's a lot going on with this mat, and all of it's good! Far Infared heat therapy helps your body on multiple levels, from supporting circulation to relieving inflammation, and easing muscle tension and pain. The mat also features crushed amethyst and black tourmaline within its 18-layer system, which release negative ions to help you relax as the stress melts away. Yes, please.
Home Cleansing Ritual Kit
Sometimes you need a little extra help getting the bad juju out of your home and energy field--this kit can help. With a cleansing incense featuring white sage and copal resin (ideal for banishing the bad), peace incense with a little palo santo (perfect for bringing in the good), black salt to protect against negativity and Four Thieves Vinegar to back it up, you'll have everything you need to drive out all the bad stuff from 2019 so your 2020 starts off right.
Tea Dust Trio
Think of these teas as a salve for your energetic field! These Cali-made elixirs were created to address your base needs, whether you need to boost your energy, enhance your healthy glow, or refresh yourself from the inside out. Not only do they contain delicious ingredients such as organic matcha, hibiscus and turmeric powder, they don't need any brewing time--just pour the dust into a hot cup of water and drink up.
Muddy Body Detox Clay Mask
A little of this mask goes a long way! Just mix a spoonful with a little water, and enjoy the benefits of dead sea clay and activated charcoal, which draw out impurities and toxins, repairs skin cells and promotes healthy cell growth. Sure, you can use it as a face mask, but it works anywhere your skin needs a little extra nourishment and support (like dry elbows, knees and feet--thanks, winter!).
First Aid Beauty Detox Eye Roller
Get rid of under-eye puffiness and dark circles with this nifty little rollerball. Caffeine takes care of the aforementioned puffy darkness, while Sodium Hyaluronate and advanced Peptides helps reduce the appearance of fine lines, while a botanical-derived FAB Antioxidant Booster fights free radicals. 
Takesumi Detox Deodorant
If you've ever had issue with your deodorant not doing its job, or you're ready to make the transition to an all-natural stick, the Takesumi Detox is the way to go. It starts by cleaning deep inside your sweat glands, which will cause you a couple weeks of stink as it eliminates toxins... but then, it's sweetness and awesomeness all around. It won't keep you dry, but it does control odor—and this scent'll make you smell like roses when you sweat.
Dead Sea Warehouse Amazing Minerals Dead Sea Bath Salts
Get the benefits of the Dead Sea without having to pay for airfare! With the highest mineral content known to human kind, these 100% authentic, high-quality dead sea salts are anti-fungal, anti-viral and anti-bacterial, and help soothe everything from aches and pains to muscle tension and dry skin. Trust us when we say you'll never want to take a bath without them ever again--they really are that good!
Ancient Minerals Magnesium Bath Flakes
And if you really want to take bath time to the next level, add in a cup or more of these Magnesium Bath Flakes. More potent than Epsom salts, these magnesium flakes help with headaches, circulation, joint pain, cramps and more. Not only are they organic, but they're harvested from the purest magnesium source in the world, found 1500 meters underground in the Zechstein Seabed. Your body will thank you for this one.
Magik Carpets Palo Santo Candle
If that house clearing kit needs a little extra help, add this palo santo candle into the mix. Palo santo, known as Holy Wood, is said to cleanse energy while inspiring creativity, encouraging abundance, and build a deeper connection to source. Your mileage may vary on the spiritual aspects, but at the very least, it's a deeply intimate and woodsy smell.
Fred Soll's Dragon's Blood Incense
Once you've purified your home and body, you want to make sure to bring in some good stuff--so burn some of this pure Dragon's Blood resin to make that happen. It's purported to be protective, but also enhance spiritual healing while banishing bad energy. Plus, it smells amazing. You'll never think of incense the same way after burning a Fred Soll resin incense stick. 
Stoned Crystals Borealis
If you're going to burn resins and do house clearings and use things to detox and protect your aura, you might as well go all the way and grab yourself a crystal to support your efforts. This Labradorite crystal aims to maintain a balanced spirit, enhance inspiration and communication, and help you stay grounded during new adventures.
White Noise Sound Machine
Meditation is great for cleaning out the mental garbage, but it won't do what it's supposed to if your monkey mind is too busy chattering. Distract it with this sound machine from Homedics, featuring your choice of six sounds including thunder, ocean, rain and more. It's compact and portable, and features a timer so it'll shut off after 15, 30 or 60 minutes.
Germ Guardian True HEPA Filter Air Purifier
All of that other home cleansing will benefit from one last sweep with this three-in-one air purifier. Relying on a HEPA filter, it'll reduce up to 99.97% of harmful germs, dust, pollen, pet dander, mold spores, and more, as well as killing germs, trapping allergens and reducing odors. And it's quiet, so it won't interfere with your white noise machine.