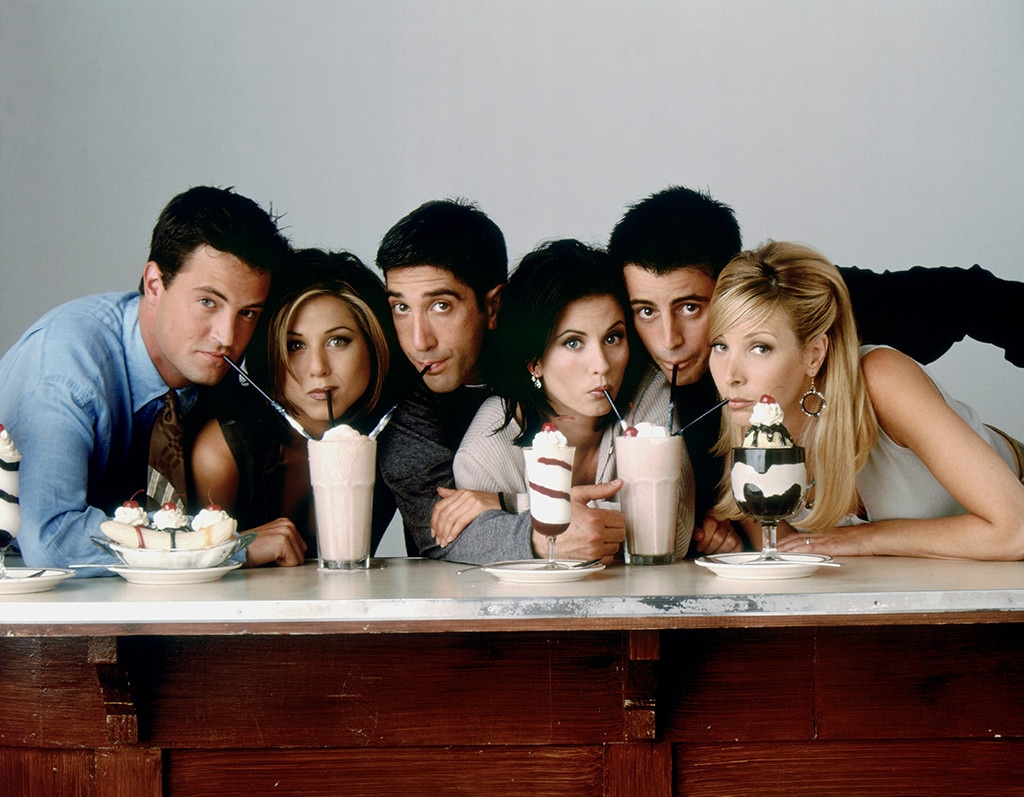 Warner Bros.
Friends is off Netflix. But Friends will never leave you, it's just on a break from streaming.
Chandler, Monica, Ross, Rachel, Phoebe and Joey don't have a streaming home—at the moment—after Netflix's deal with producer WarnerMedia expired on January 1, 2020. But fear not, all 10 seasons of Friends (and maybe something more?) will be on HBO Max in May 2020, but that's five months without your closest Friends available for instant watching. Or is it? Until Friends comes to HBO Max, there's more than one way to survive. We're here to help.
Watch Friends
Yes, you can still watch Friends on regular TV. Sure, there are commercials, but turn on TBS and there's a good chance you'll find Matt LeBlanc, Matthew Perry, David Schwimmer, Lisa Kudrow, Jennifer Aniston and Courteney Cox. Friends also airs on a number of channels in syndication, including The CW and Nickelodeon.
Watch Other Classic Comedies
Letting you in on a little secret here: There are a number of other really good comedies available to stream. Hulu is home to the likes of The Golden Girls, Seinfeld, King of the Hill, 30 Rock and Designing Women. Netflix has Parks and Recreation and The Office, and even newer shows like Grace and Frankie, which was created by Friends co-creator Marta Kauffman.
Watch:
Jennifer Aniston Pays Tribute to "Friends" in Iconic PCAs Speech
Watch Shows Starring the Friends Cast
After the end of Friends, Lisa Kudrow gifted the world with Valerie Cherish and the acclaimed comedy The Comeback. Season one aired in 2005 and it was later revived for a second season in 2014. It's streaming on HBO. Kudrow also has Web Therapy, which aired on Showtime. Courteney Cox's next comedy success came with Cougar Town. The show featured guest appearances by her famous Friends and it ran for six seasons, all of which you can stream on Hulu.
Matt LeBlanc's five-season turn as a version of himself in Episodes is on Showtime Anytime and Netflix. Matthew Perry's Go On is on the NBC app, his CBS remake of The Odd Couple is on CBS All Access. David Schwimmer appeared in a number of episodes of the new Will & Grace (streaming on Hulu and the NBC app) and his splashy return to TV as Robert Kardashian is The People vs. O.J. Simpson: American Crime Story is streaming on Netflix. Schwimmer's short-lived Feed the Beast is available on Hulu.
And then there's Jennifer Aniston. She didn't have a regular TV role until The Morning Show. The Apple TV+ drama series also starring Reese Witherspoon debuted in 2019 and Aniston received rave reviews for her performance as Alex Levy, a morning talk show host weathering a controversy when her co-host is accused of sexual misconduct. Aniston, who also serves as an executive producer, was nominated for a Golden Globe her for her work. The show is on Apple's new streaming platform and will return for season two.
Go Outside
Just kidding, it's probably cold and TV is inside.
Friends will return to streaming on HBO Max in 2020.