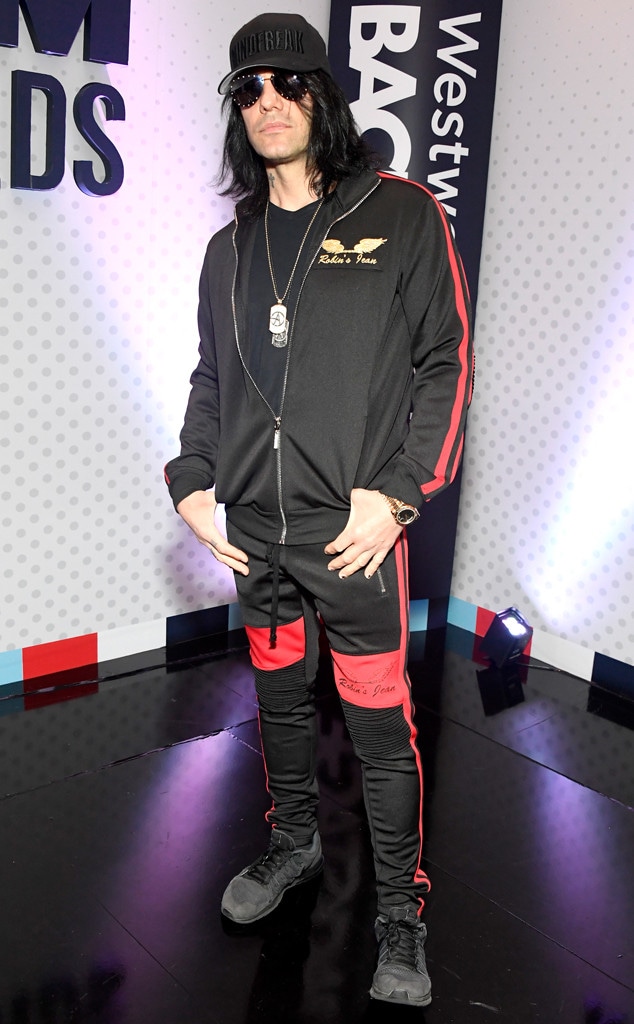 Frazer Harrison/Getty Images for ACM
A tough start to the year. 
In early December Criss Angel revealed that his son's cancer had returned. Now, the dad and magician is staying strong while helping his son Johnny Crisstopher Sarantakos fight for his life once again. Johnny was diagnosed with lymphoblastic leukemia in 2015—when he was nearly 2 years old. 
Criss opened up to TMZ earlier this year about the return of the cancer and that he was doing his best to raise awareness and money for other children suffering from pediatric cancer. In his new post on Instagram, Criss watches as his son gets his head shaved in preparation for new treatment. "We must embrace what we can't control with courage, strength and forever love. #CelebrateLife #2020," he captioned the video of his son.
Criss was very encouraging to his child throughout the process. "Do you want to keep your hair long and we'll just let it fall out and if it falls out we'll keep it in a ponytail?" He asked Johnny. "Or do you want to cut it off? It's up to you." 
Criss' son bravely chose to chop his locks, which Criss did lovingly while Johnny sat patiently. The video then moved to Johnny with his shaved head receiving Chemo therapy treatments. It then faded to multiple shots of Johnny looking happy and smiling, and faded out on the young boy jumping around in a cape with the words "childhood cancer survivor" written on the back. 
"I think Johnny is a very special boy and I think he's going to be more successful than I ever was," he told E! News in 2015. "I just want him to be happy and I want him to live a long happy fruitful life."
In the years since Johnny's diagnosis, Criss has been very active in helping to spread the word about this awful disease and help other people who are suffering as well. He not only released a documentary about his fight, but started the Johnny Crisstopher Children's Charitable Foundation—an organization that raises awareness of pediatric cancer and provides funds for research and treatment.
His girlfriend and mother of his two children, Shaunyl Benson, has also been documenting the relapse on her social media and has praised not only her son's bravery, but the unwavering support of her longterm partner. 
Watch:
Gabrielle Union Tells How Cancer Has Touched Her Life
"Over the last few days Johnny Crisstopher's hair has been falling out in chunks," she shared alongside the same video Criss posted. "This time around, we know what to expect. Even though it's harder than the first time, we know that it's all part of the battle and even without it, his face is still the most handsome face I've ever laid eyes on. One day at a time my love and before you know it, cancer will only be a small part of your story. The rest is yet to come."