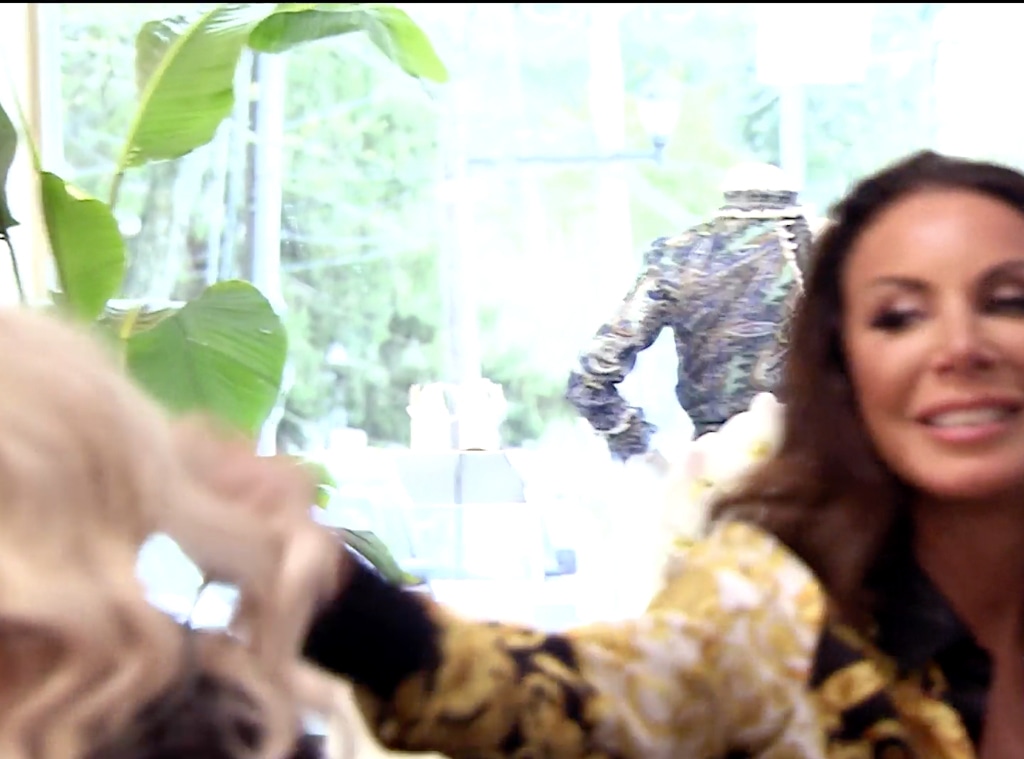 Bravo
There's no love lost between Danielle Staub and Margaret Josephs on The Real Housewives of New Jersey.
These former pals have spent a solid few years making snide remarks and throwing drinks at each other, and their feud reached new heights at private shopping event when a war of words ended with Danielle, sopping wet after Margaret dumped a drink on her hair, grabbing Margaret by the ponytail and pulling her around.
And Danielle has zero regrets.
"I would love to know why Margaret feels that she needs to pour things on me, throw things at me, yell at me, talk about my past as if she was a part of it, get involved with my marriage, get involved with my relationships. She's affected my life in a very bad way and all I did was help her fit into the group in the beginning," Danielle said on the after show.
"She owes me not only a big apology, but she should give me a lot of gratitude."
Danielle said she wasn't expecting the water dump, but did not if it was anything except water, "it might have hit a different trigger." After all, Danielle was dressed in head to toe Versace. "A very expensive outfit, head to toe," she said.
Before she started tugging on Margaret's ponytail, Danielle dumped the contents of Margaret's bag into a candle. "It made me feel happy," she said, noting she was surprised at everyone's shock over her actions.
Watch:
Danielle Staub on Teresa Giudice's Iconic Table Flip
"All of them, collectively, really are just the most disgusting vile people—ever. I would never be around a group like that again. And you know what? They should be very careful. I do hold secrets of theirs of my own, for a long time I've held those secrets. You never know when it's going to blow. You just never know. Hell, it could happen today. I don't know," Danielle said. The only person who was coming to Danielle's defense at the party was Teresa Giudice. The rest of the cast, including Dolores Catania, Melissa Gorga, Jennifer Aydin and Jackie Goldschneider, were gossiping with Margaret about Danielle.
After dumping the contents of Margaret's bag into a candle, it looked like Danielle was going to leave, but she circled back around and said, "I just can't really help myself anymore. I really can't," and grabbed Margaret's hair.
"I was backed into a corner and I just¬—I was done. I'm done with her…Regrets? Hell no. My only regret is not doing it sooner," Danielle said.
The Real Housewives of New Jersey airs Wednesdays, 8 p.m. on Bravo.
(E! and Bravo are both part of the NBCUniversal family.)