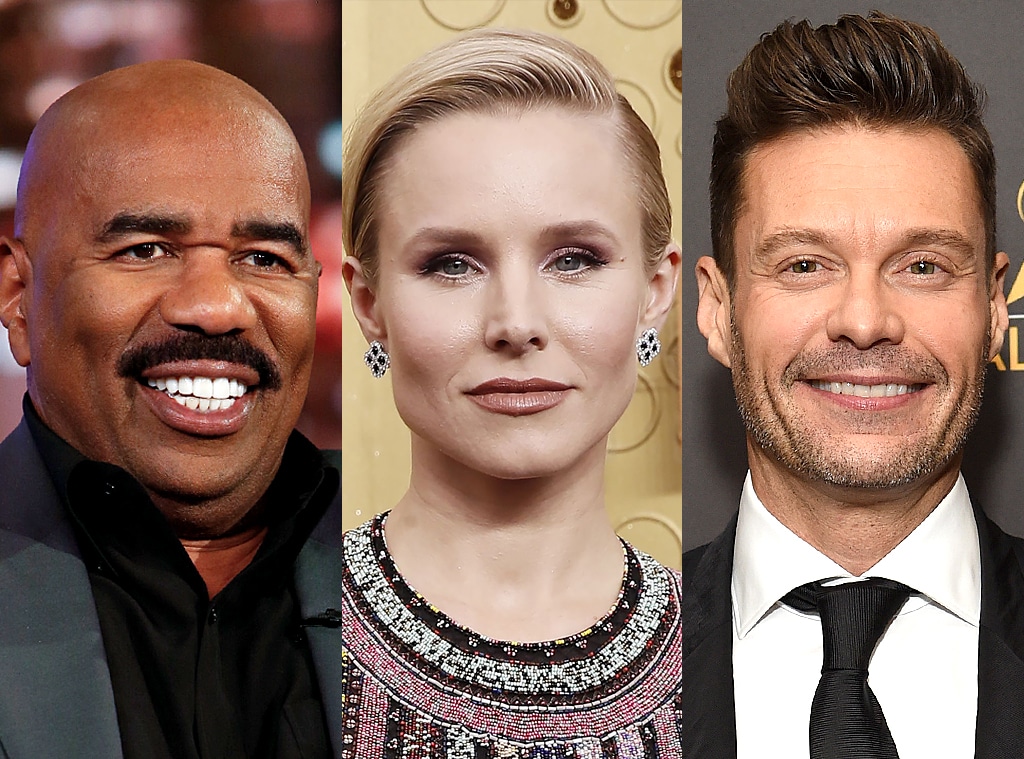 Getty Images/Shutterstock
Haaaappy New Year...in a few hours! 
Tonight's the night we say goodbye to 2019 and the 2010s and hello to a whole new decade, and you know there are endless TV specials to help you count down to midnight. 
Not only are there countdown specials, but there are pre-countdown specials and decade-end looks back and pretty much every manner of fun thing on most of the major channels, including a few TV and movie marathons if festive celebrities aren't your thing. 
We've got them all laid out for you here, so if you're looking to watch TV tonight, all your NYE questions will be answered below. 
What's the main one? 
Usually when you think of an NYE special, you probably picture Dick Clark's Rockin' Eve, which is hosted by Ryan Seacrest and Lucy Hale and airs at 8 p.m. (Live at 8 p.m. ET, tape delayed at 8 p.m. PT)
Who else is on it? 
While Seacrest and Hale will be live from Times Square in NYC, Ciara will be in Los Angeles and Billy Porter will be live from New Orleans. And Jessie James Decker will announce the first-ever Powerball Millionaire of the Year. 
Who's performing?
Post Malone, BTS, Sam Hunt, and Alanis Morissette with the cast of Broadway's Jagged Little Pill will all perform from Times Square. In Los Angeles, Ciara will be joined by Paula Abdul, Kelsea Ballerini, Blanco Brown, Dan + Shay, Dua Lipa, Green Day, Ava Max, Megan Thee Stallion, Anthony Ramos, Salt-N-Pepa, and SHAED. In New Orleans, Sheryl Crow and Usher will join Billy Porter. From Miami, the Jonas Brothers will perform.
Did you say BTS? 
Yes. If you are a BTS fan (and who isn't?), you're gonna want to stay on ABC tonight. Specifically they're set to perform at 10:38 p.m. ET. 
So that's on ABC, what's on NBC?
NBC has a couple of things going on, including a two-hour special starting at 8 p.m. called A Toast to 2019. Hoda Kotb and Jenna Bush Hager host alongside Kristen Bell, Martin Short, Maya Rudolph, Tony Hale, Terry Crews, and Nikki Glaser to "break down the biggest pop culture moments and trends of the year." 
NBC's New Year's Eve 2020, "an evening of holiday fun," will air from 10 to 11 p.m. and then 11:30 p.m. to 12:30 a.m. (with a break in the middle for local news), and will be hosted by Carson Daly, with Julianne Hough and Stephen "tWitch" Boss. 
Who's performing?
X Ambassadors, Brett Elderedge, Julianne Hough, Ne-Yo, Leslie Odom Jr., Blake Shelton, Gwen Stefani, The Struts, and Keith Urban, live from Nashville. 
VALERIE MACON/AFP via Getty Images
And what's on Fox?
Steve Harvey, Maria Menounos, and Rob Gronkowski are hosting Fox's NYE countdown, starting at 8 p.m. ET. It airs in two parts, with the first from 8 to 10 p.m. and the second from 11 p.m. to 12:30 a.m. (Airs live in ET, tape-delayed in PT) 
Who else will be there?
LL Cool J is headlining with DJ Z-Trip, and other performers include The Chainsmokers, The Lumineers, Florida Georgia Line, The Backstreet Boys, Tyga, and The Killers. The Village People will attempt to break the record for the largest YMCA dance, and Gordon Ramsay, Will Arnett, Jenna Dewan will also be there, while several WWE Superstars participate in a special NYE WWE match. 
CBS?
Reruns! They're staying away from NYE this year. 
Where can I see Andy Cohen and Anderson Cooper? 
They're on CNN starting at 8 p.m., live from Times Square. Last year, Cohen revealed the sex of his baby boy and got in trouble for having an open umbrella, so who knows what kind of shenanigans these two will get up to this year? 
There's also a CNN special starting at 7 p.m. called All the Best, All the Worst 2019, hosted by Tom Foreman, and then at 12:30, Don Lemon and Brooke Baldwin ring in the new year in Central Time, live from Nashville, also on CNN. 
Are there any good movies on? 
If you're not in the mood for an NYE special, there are plenty of movie options: The Bourne movies on Telemundo; The Hunger Games movies on AMC; Dreamgirls is on BET at 9 p.m.; a Fifty Shades marathon on Bravo; Titanic on CMT at 7 p.m.; Bad Moms and Girls Trip on FXM; Jurassic World, The Hangover Part 3, and Neighbors 2 on FX; Ace Ventura: Pet Detective on Vice; Aquaman and A Star Is Born on HBO; Ferris Bueller's Day Off on IFC; The House Bunny and 50 First Dates on Lifetime; Crazy Rich Asians and Death Becomes Her on Cinemax; Men In Black: International and King Kong on Starz; Caddyshack and Coming to America on Sundance TV, 
What about TV marathons?  
There's Doctor Who all night on BBC America (leading up to the season 12 premiere on Wednesday); Schitt's Creek on Pop; Ghost Hunters on FYI; South Park on Comedy Central; Man v. Food on the Cooking Channel; Sex and the City on E!; Diners, Drive-ins, and Dives on Food Network; The Simpsons and The Simpsons Movie on FXX; Ridiculousness on MTV; The Twilight Zone on Syfy; Everybody Loves Raymond on TV Land; and Sanford and Son on TV One. 
Watch:
Live From E! at 2020 Golden Globes Kicks Off January 5th
So, if you've reached the bottom of this list and you still haven't found something to watch tonight, we don't know how to help you other than to tell you to hit up Netflix or Hulu or Youtube or CBS All Access or Disney+ or Apple TV+, or just let some music carry you into 2020.