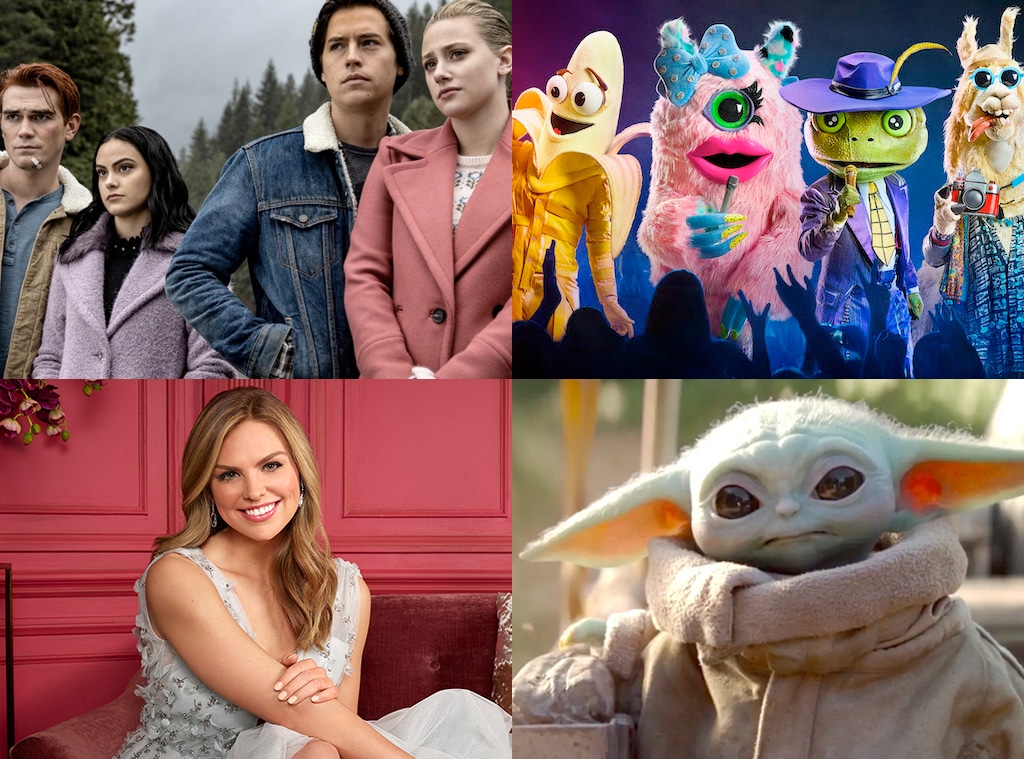 The CW; ABC; FOX; Disney +
2019 is coming to an end, but not without giving us about as much TV as it possibly could. 
We're now taking some time here ahead of the new year to look back on not just the best and worst, but also some of the weirdest things that happened this year on the small screen. Full disclosure, this is not all of the best, worst, and weirdest. This is a smattering based on what we were able to watch, because no human is physically able to watch it all. 
But, if we do say so ourselves, it's a pretty solid representation of how we felt about this year of television—thrilled, overwhelmed, weirded out, and just a little occasionally disappointed. (cough*Game of Thrones*cough)
Join us in our Baby Yoda worship and scroll on down. 
Best: MerLuca
Derek Shepherd who? While there are many fans of Grey's Anatomy who will never get over the death of McDreamy, Meredith has been able to move on in a beautiful way, with a younger man who was already there, and not shoehorned into the series as a love interest. Mer seemed to be having more fun than she ever has, and it's been a joy to watch the show find its own joy in the relationship. They're in the midst of a bit of a break right now while Cristina (from afar) has done some shoehorning of her own, but we hope they can get back on track in 2020. 
Best: Baby Yoda
Never has any one thing, especially any one thing related to Star Wars, united the world in such a loving way as Baby Yoda. You can love Star Wars, you can hate Star Wars, you can know nothing about Star Wars. You don't even have to watch The Mandalorian, and you can still love Baby Yoda. Baby Yoda spans cultural divides, political divides, fandom divides. Save us all, he will. 
Watch:
Baby Yoda Breaks the Internet
Worst: Game of Thrones 
Perhaps our expectations were too high. Perhaps the material was just too big to stick the landing. Perhaps the creators got too overwhelmed, which is a thing that sometimes happens to people. We certainly wouldn't want to be in charge of ending the biggest show on television. 
Best: That One Good Episode of Game of Thrones
"A Knight of the Seven Kingdoms," the second episode of season eight, found everyone at Winterfell just sitting and waiting for death to come in the form of the battle against the White Walkers. That battle turned out to be a dark disappointment with shockingly few casualties, but when everyone thought they were going to bite it, they were at their most vulnerable, and we got this beautiful, emotional, truths-filled episode. Brienne was knighted by Jaime, Arya hooked up with Gendry, Sansa and Dany talked things out, Sansa reunited with Theon, Greyworm and Missandei planned for a future they wouldn't get, and Jon told Dany the truth about who he is. If we pretend none of the rest of the final season happened, it was great!
Weirdest: The Masked Singer
What hath we wrought? Fox took a Korean show and turned it into an American sensation in which celebrities of various kinds wear elaborate costumes and then they sing. We watch every episode and we spend every episode wondering why, and then we're delighted to discover Seal dressed as a fancy leopard. It's absolutely harmless, but it's also a fever dream we can't wake up from, as Fox was showing us season three's costumes before season two had even begun to grow cold. 
Best: Hot Priest
Everyone has already said everything they could about how good Fleabag season two is, but we just gotta shoutout the Hot Priest here. Our year was made immeasurably better by his existence. 
Best, Worst, and Weirdest: Riverdale
Riverdale is not good and it is not bad. It transcends goodness and badness to exist on a plane all its own, where teens own speakeasys, and other teens don masks to become vigilante crime fighters, and other teens recover from their late father's career as a serial killer, and other teens keep their dead brothers in the chapel they have in their basement. Jughead writing murder mysteries while trying to solve possible murders while we all fear for his own murder is the most normal thing happening. There's something comforting about how bonkers this show is, independent from how bonkers real life became this year. And never forget that 2019 is the year Archie Andrews got attacked by a bear. 
Best: High School Musical: The Musical: The Series
Who knew the show based on High School Musical would turn out to be so smart, so funny, so meta, so delightfully unexpected? 
Best: Watchmen 
Who knew the same comic that gave us that one movie with the spaceship sex scene set to a too-slow version of "Hallelujah" could also inspire a show like this—a well-paced, brilliantly acted triumph of television? 
Worst: Succession
Succession's probably a really good show, but our friends, family, and colleagues wouldn't shut up about it, and our dad wouldn't stop watching it at top volume over the holidays, to the point where it's a Worst. It's a very annoying show if you're not the one watching it. (We do know we're gonna be big Cousin Greg fans when we eventually bite the bullet, though.) 
Worst: Big Little Lies' Lack of Ice Cream Throwing
We spent MONTHS waiting to see Reese Witherspoon throw ice cream at Meryl Streep, as we had seen via paparazzi shots. Aside from the presence of Meryl Streep, it was the thing that made us most excited about the prospect of an unnecessary season two. And then...it didn't happen. No ice cream was thrown, likely because it didn't really fit with the tone the season ended up having. But that ice cream scene, and the tone that might have gone along with it, could have actually saved the season, which wasn't bad enough to be a Worst but wasn't good enough to be a Best. Ah what could have been.
Best and Weirdest: Euphoria
Zendaya proved there's nothing she can't do, and we were all both enthralled and terrified by watching teens get up to some serious no good while also coveting their eyeliner. 
Best: Colton Underwood's Fence Jump
We waited all season for Colton Underwood to jump over the fence, as shown in promos throughout his season of The Bachelor, and we had convinced ourselves it couldn't possibly be as good as promised. Then, just before the finale, it finally happened, and it was better than we could have imagined. Colton jumped over the fence and ran away to escape production, after Cassie Randolph, the girl he wanted to be with, had told him she was going home, and all his plans were falling apart. The season ended with Colton and Cassie simply deciding to date. It signaled what felt like a turning point in the franchise, acknowledging that its original promised fairytale ending was boring and unrealistic, leading us to the incredible, critically acclaimed s--tshow that was Hannah Brown's season of The Bachelorette. 
Worst: All the Virgin Stuff 
Colton and virgins everywhere deserved better than the jokes that plagued his season, but all things considered, his season could have gone much worse. 
Best: The Bachelorette
A season of this show has rarely been this satisfying, especially without ending with a happy relationship. Just watching Hannah Brown tell off dumb men for 10 weeks was entertainment enough, especially when we knew we'd get to watch her tell off the dumbest one of all at the end. 
Worst: Hannah Brown's Bachelorette contestants 
Hannah Brown did a great job, but she was plagued with some seriously awful contestants. The most awful ones even stuck around until the final four, with the most secretly awful one "winning." While Luke Parker was Godzilla-ing his way around the season, Jed Wyatt was playing knight in shining armor, hiding the side of him that didn't realize saying "I love you" to and planning vacations with a girl back home meant he was in a serious relationship. He was just there to promote his music and somehow he ended up engaged, like a dummy. 
Weirdest: Lindsay Lohan's Beach Club 
You'd be forgiven if you forgot this show existed, but on another hand, it's hard to forget. Lindsay Lohan attempted to show off her skills as a boss in this reality show about her beach club in Mykonos, though she never could decide if she was good cop or bad cop, mother hen or Cruella de Vil. It was an odd show that was canceled after one season, followed by rumors that the club itself had also closed down. Currently, when you go to the website for the Mykonos club, you get this message: "We are very much looking forward to welcoming you to our new all day summer project 'Lohan Seaside': beach bar, restaurant, and the best thematic parties[.]" RIP? 
Watch:
Spoiler Alert: Kristen Bell Talks "Veronica Mars" Twist
Best: The Controversial Return of Veronica Mars 
Not everyone was thrilled with Hulu's new season of Veronica Mars, which (spoiler alert) killed off Veronica's long-time love Logan and discarded the teen soap in favor of Veronica moving on as the hardboiled detective she was always destined to be. Some fans will never forgive, but it was sort of thrilling to watch unfold, like a TV show tearing itself down to make itself into what it truly wanted to be. It's too bad if we never get to see more, but we hope we do someday. 
Best: The Triumphant Return of Brooklyn Nine-Nine
Eight months after it had been rudely canceled by Fox, Brooklyn Nine-Nine premiered its sixth season on NBC, a place where (bleeped) cursing and (pixelated) nudity were welcomed, and the Nine-Nine truly felt like they belonged. Now, they're about to return for a season seven with a season eight already ordered, and hopefully it will be a long time before we have to say goodbye (again).  
Best: The Other Two 
We still struggle to forgive Chris Kelly and Sarah Schneider for leaving Saturday Night Live, but their Comedy Central show The Other Two is a really good effort on their part to get us there. The musical numbers alone are just exquisite. 
Best and Weirdest: Marie Kondo
Tidying Up with Marie Kondo arrived on Netflix right as 2019 began, right when we were ready to purge our old stuff and start anew. She's wonderful and sweet and has great ideas for tidying that really do work, but things got weird when we kept finding ourselves surrounded by our belongings sobbing over nothing sparking joy, wondering if it's OK that sometimes, there is no joy, but that can't mean we have to throw out all of our shirts. This might just be us...
Best and Weirdest: Pen15
Some of us truly love this wacky show featuring adults playing their 13 year-old selves. Some of us can hardly stand to watch it due to secondhand embarrassment/repressed middle school memories. Either way, a triumph. 
Best and Weirdest: 90 Day Fiancé: The Other Way 
We already had a 90 Day Fiancé problem, and we didn't need more, but that doesn't mean we're not endlessly thankful for all the 90 day fiancés and wild relationships we've been given to obsess over this year. We could never see ourselves traveling across the globe to be with a man we've yet to meet in person who may or may not be real, but bless all the people who can not only see it, but they can do it. 
Best: Supergirl's Trans Superhero and Batwoman's Lesbian Lead
Nicole Maines made her debut as Dreamer in very early 2019, bringing us the first trans superhero on TV—a character whose transness doesn't define her but is an important part of who she is—and making strides for LGBTQ heroes everywhere. She was then followed by the debut of Batwoman, led by Ruby Rose, a queer actress playing a lesbian superhero, and however we feel about that show itself (it needs some time, maybe), the future seems bright. 
Worst: Survivor
Survivor: Edge of Extinction felt like a bit of a failed experiment, and Island of the Idols turned sour real quick, unrelated to the theme, with inappropriate touching and a serious mishandling of the situation by the show and the network. Hopefully the big season 40 will turn things around. 
Best: All Rise
CBS came out of nowhere with this absolutely delightful courthouse dramedy, starring Simone Missick. It was a true bright spot among the new broadcast network shows. 
Weirdest: Rent Not-So-Live
When star Brennin Hunt was injured in the middle of the dress rehearsal for Fox's Rent Live, they used rehearsal footage for the majority of the actual performance and aired only a few scenes actually live. The result was just sad, and videos appeared on Twitter showing us the adapted version that was actually happening live. It looked way more interesting than the rehearsal-energy version we were seeing on TV, and we just ended up imagining what could have been. 
Best: Russian Doll 
Watching Natasha Lyonne die over and over and over and over again turned out to be one of the greatest joys of our year. 
Best: Stranger Things 3
As much as we liked the first two seasons of Stranger Things, season three was a joyful, colorful, terrifying adventure that made us long for the heyday of malls and neon. We also cried and laughed and just had the best time. 
Worst and Weirdest: Almost Family 
Fox's new quirky, goofy, charming show about women discovering they were secret siblings could have been a good time if they weren't siblings due to a horrible crime committed by a fertility doctor. One of the women slept with her half brother at one point, maybe? Ha ha fun! 
Best: You Season 2
Season one of You, which premiered on Lifetime in 2018, was good. It was a soapy guilty pleasure, with serious emphasis on the guilty, that left you with a somewhat gross taste in your mouth. Season two is a masterpiece that explores trauma while letting Joe Goldberg (Penn Badgley) meet his ultimate match in Love (Victoria Pedretti), and left us both satisfied and excited for a season three. 
Best and Weirdest: The Politician
Ryan Murphy headed to Netflix with Ben Platt at the forefront, and if it's possible for a person to steal their own show, Ben Platt did it. Many things about this show made no sense and were very confusing, but then Platt would sit down at a piano and smash a cover of "River" and it's impossible to think you're watching anything other than a messy masterpiece. A messterpiece. 
Worst: Dancing With the Stars
Sure, Hannah Brown is great, but she was not the best dancer on that dancefloor, and it's hard to believe the best dancer won when the voting system was so messed up. The big change made this season that allowed judges to save someone from the bottom two was the only saving grace, but the voting system is still a disaster. Voting opens at the start of the show airing on the East Coast, then closes moments before it ends, and the loser is announced. The West Coast has to vote hours before they can even watch the show, and the voting is fully unrelated to the dances themselves. Justice for James Van Der Beek! 
Worst: The I-Land 
TV shows should just stop trying to be Lost. Netflix has a whole lot of weird and bad stuff to offer, but The I-Land is one of the more baffling 
Weirdest: The Morning Show
The Morning Show has an excellent cast and a super soapy world of morning TV to pull from, and so the choice to start with one of the most off-putting and upsetting pieces of that world felt really off. We want to watch Jennifer Aniston, Steve Carell, and Jennifer Aniston face off on television. We didn't wanna watch Steve Carell play a beloved anchor accused of sexual misconduct, and having the show go there felt like a missed opportunity to give us something we could really love and enjoy. 
Best, Worst, and Weirdest: The Real Housewives 
The Housewives had some good times in 2019 and some very bad times. The Guidices have separated, Bethenny Frankel left RHONY, Vicki Gunvalson was demoted and ended the year in a screaming fit, and that's just the tip of the iceberg. We are forever grateful to have these women in our lives, whatever they're up to. 
Best: Whiskey Cavalier
What a good, joyful time we could have continued to have for many years to come with this goofy spy dramedy if ABC hadn't canceled it after one season. RIP. 
Worst: Streaming Services
This is also sort of a best, but there's too much TV already, with the streaming services we had before Disney and Apple joined in. By the end of 2020 we'll be overrun, and out of money to pay for all the TV we're watching. We're tired just reading through the list of things HBO Max has planned, and we were already tired from scrolling through Disney+'s library. We'll be doing work to take our minds off of TV at this rate. 
See you in 2020!