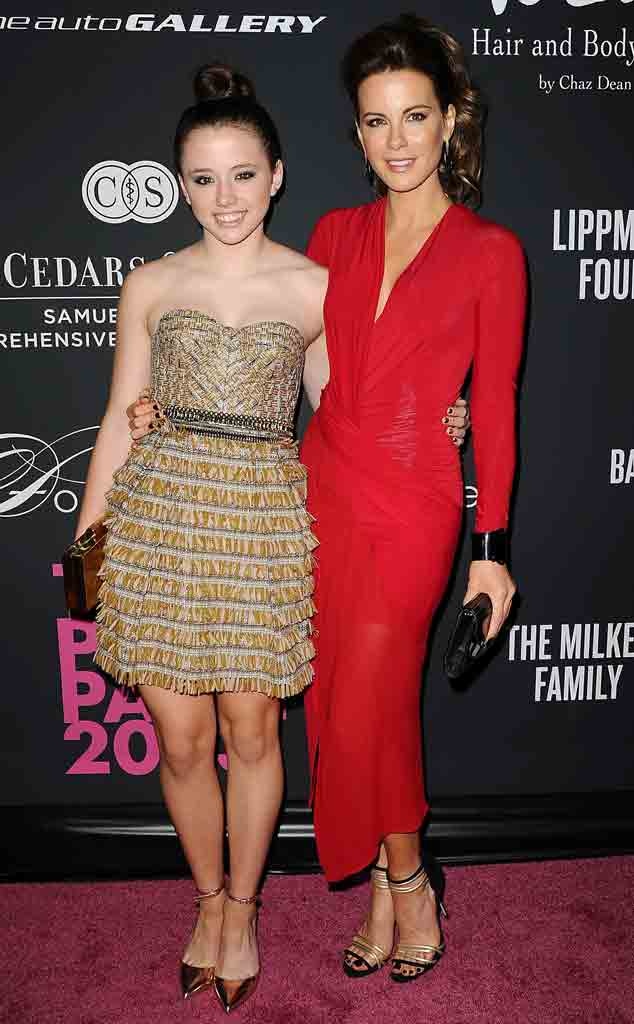 Jason LaVeris/FilmMagic
Kate Beckinsale gives great gifts. That is, as long as they're delivered on time.
On Sunday, the actress shared the hilarious Christmas gift she got for her and ex Michael Sheen's 20-year-old daughter, Lily Mo Sheen. The gift was a pillow with a giant photo of Lily's boyfriend, David Schechter, on full display. A funny and adorable gift, no doubt, but due to some unfortunate circumstances with the gift's delivery, the actress has now labelled herself a "f*@king psycho."
Sharing a screenshot of her FaceTime call with her daughter (who's currently in college) and David, the star wrote in her Instagram caption, "So.. getting a pillow made in the shape of your daughter's boyfriend's head for when she misses him when she comes home is CUTE. It arriving the day after she leaves makes you a f*@king PSYCHO who is watching Showtime with a taxidermy of your daughter's boyfriend's head. Look for me on true crime shows shortly."
Lily and David clearly approve of the pillow, as they're seen laughing in Kate's screenshot.
As for fan reactions, one Instagram user got a response from Kate herself about the funny present.
"Is this a pillow?" the user commented.
As the Underworld alum replied, "no here's what's weird - I'm dating an IDENTICAL looking man to my daughter's boyfriend except my boyfriend's head is SLIGHTLY bigger."
As another user commented, "Good god this is so much bigger than I expected."
The 46-year-old quipped back, "it's terrifying I've locked myself in the bathroom because it keeps hugely leering at me."
Watch:
Celeb Kids Who Are in for Big Things in 2019
The superstar knows how to make people laugh most days, but she's at peak behavior during the holidays.
Last year, Kate shared a photo of her and her amicable ex during their Christmas celebrations. The Masters of Sex actor was wearing a bunny onesie, about which Kate gave full context in her caption.
"So apparently there are two meanings of the word 'perineum,' one being the area of the body between the genitals and anus, and the other, the period of time between Christmas and New Year's Day," she wrote. "I thought I had been clear we were celebrating the second but Michael turned up in an impenetrable onesie just in case he was ambushed by an excitable relative."
Oh, Kate. Never change.