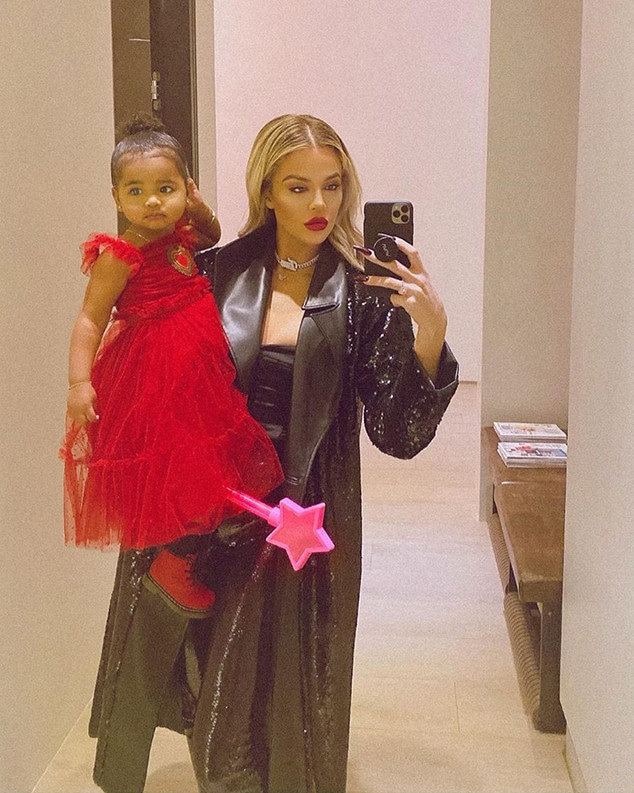 Instagram / Khloe Kardashian
Khloe Kardashian's adorable daughter True Thompson is a little pianist in the making. 
The proud momma took to Instagram on Saturday morning, Dec. 28, to share sweet videos of her little one tapping into her musical side. 
In the series of videos that Khloe posted to her Instagram Stories, True could be seen playing with her miniature pink piano. After aggressively, but adorably, playing the keys on her piano, True can be seen looking back to give her mom Khloe a cute little smirk. 
"Good job mama," True's #1 fan tells her as she's done playing. 
Seemingly, it looks like the two are having a slow and cozy morning in. In videos posted to her Instagram Story after True's mini piano concert, Khloe and her daughter can be seen taking a walk outside her backyard and playing around. Quickly thereafter, Khloe shared a video of herself working out at her home gym. 
The adorable mother-daughter duo recently dazzled in matching glittering gold dresses at the Kardashian-Jenner family's annual Christmas Eve party. 
Khloe wore a one-shoulder plunging glittering gown with a thigh-high slit and matching strappy sandals. 
Meanwhile, True sported a sleeveless dress with a gold bodice and layered tulle skirt, as well as a necklace and Timberland boots.
"❤️Mommy and Tutu looked amazing❤️," commented True's father and Khloe's ex on their photo.
According to an E! News source, Tristan Thompson was also at the family holiday party and the two even ran into each other. 
"There was no tension or drama, just a lot of love and family time. Khloe and Tristan were great," a source said. "They hung out together with True and were chatting a lot."
Watch:
Khloe Kardashian Surprised By Tristan Thompson's "Promise Ring"