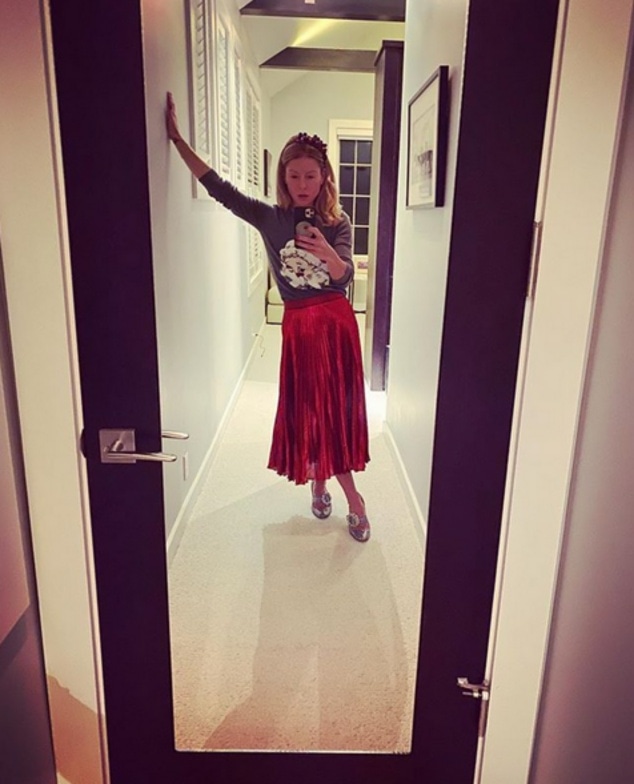 Instagram
Kelly Ripa doesn't want to hear from the fashion police this holiday season.
While celebrating Christmas, the daytime talk-show host took to Instagram and showed off her festive outfit in a selfie.
"Not big on fashion selfies, but I've lived in this house for 11 years and JUST discovered a full length mirror behind the bedroom door," she wrote to her followers. "Plus I like this outfit #tbt yesterday."
That outfit consisted of heels from SJP Collection and clothes from Christopher Kane.
While many followers complimented the proud mom on her fashion, one user had a different opinion.
"Purple and red?" an Instagram follower wrote. "Not my taste…to each their own."
Clap back drumroll please…
Watch:
Exclusive: Kelly Ripa Flies Over Las Vegas & Ryan Seacrest Destroys It
"The top is gray sandy," Kelly replied in the comments section. "Now do you approve?" Zing!
If Kelly needs any assurance that she's doing a-okay, Lisa Rinna, Jerry O'Connell and thousands of other followers liked the picture—and outfit. In other words—haters to the left!
For those wondering how Kelly is celebrating Christmas week, it appears the LIVE With Kelly and Ryan co-host is enjoying the snow with husband Mark Consuelos at an undisclosed location.
As for the couple's daughter Lola Consuelos, she recently posted to Instagram Stories that she's enjoying the sights and sounds of Egypt.
Before any vacations took place, however, this famous family was able to come together for a special group photo. What came next was a very special Christmas card shared on social media.
"I did not run this by the children, my husband—that is me trying to run into the photo to catch myself in the photo, too," Kelly revealed on LIVE. "You guys, I don't think you appreciate [the fact that] I'm in the Christmas card. The fact that 22 years later I finally made it into a Christmas card makes me enormously happy."