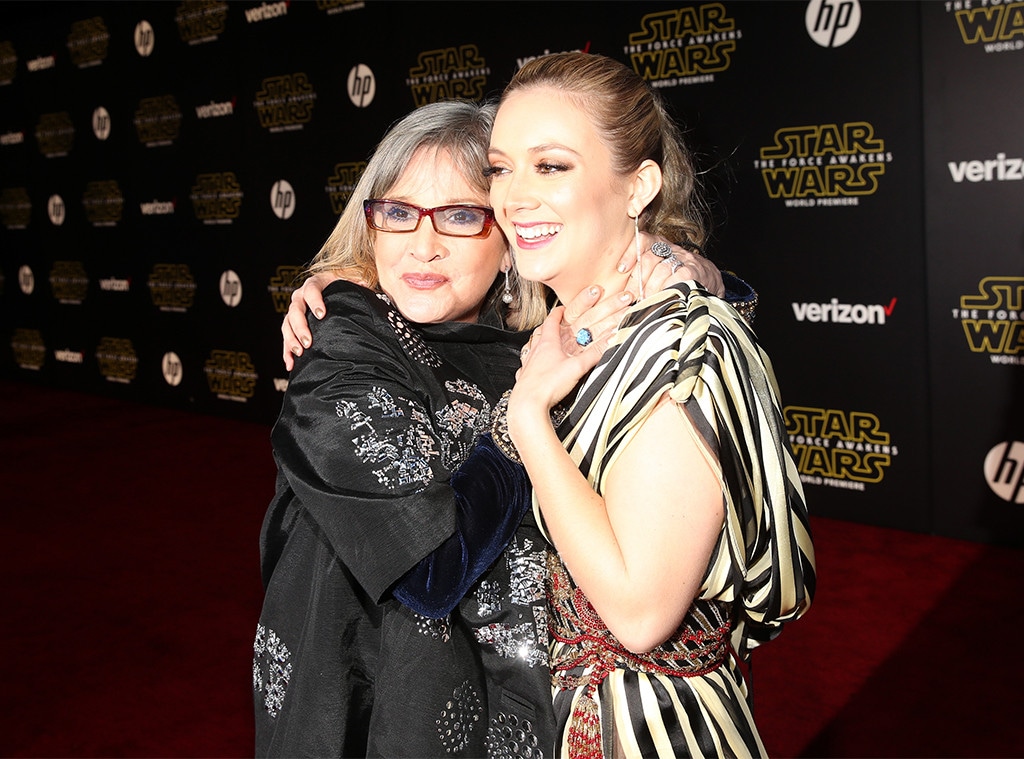 Jesse Grant/Getty Images
Three years after Carrie Fisher's untimely death, her force lives on in her daughter, Billie Lourd. 
The late icon passed away on Dec. 27 at the age of 60 after suffering a heart attack. "She was loved by the world and she will be missed profoundly," a statement released on behalf of Billie by the family spokesman said. "Our entire family thanks you for your thoughts and prayers."
On Friday, the anniversary of the actress' passing, her famous daughter took to Instagram with a powerful musical tribute to her beloved mom by performing "Angel from Montgomery."
"TakeYourBrokenHeartAndTurnItIntoArt," she captioned the video. "You will lose someone you can't live without and your heart will be badly broken, and the bad news is that you never completely get over the loss of your beloved. But this is also the good news. They live forever in your broken heart that doesn't seal back up. And you come through. It's like having a broken leg that never heals perfectly—that still hurts when the weather gets cold, but you learn to dance with the limp. - Anne Lamott."
This week was a particularly heartbreaking one for Lourd three years ago as she not only lost her mom, but also her grandmother Debbie Reynolds, who died at 84 years old the day after Carrie's passing. 
"She went to be with Carrie. In fact, those were the last words she spoke this morning," son Todd Fisher told E! News at the time. 
Watch:
Mark Hamill Reflects on His Close Bond With Carrie Fisher
Lourd reflected on facing the holidays after the loss of loved ones, writing to fans on Christmas, "Happy holidays! (But also sad/emotional/weird/stressful holidays!) Sending my love to everyone who has lost someone they loved and is missing them a little extra today. I see you."
The actress advised, "It's okay if everything ain't all merry and bright. It can be a mix of all of it. And it's all okay. Feel all the feelings - the good and the not so good. Eat something delish they used to love. Put on one of their favorite songs. Tell a story about them. Cry about them. Call one of their friends you haven't talked to in a while. Be kind and patient with yourself. Don't grieve in silence. You're not alone."