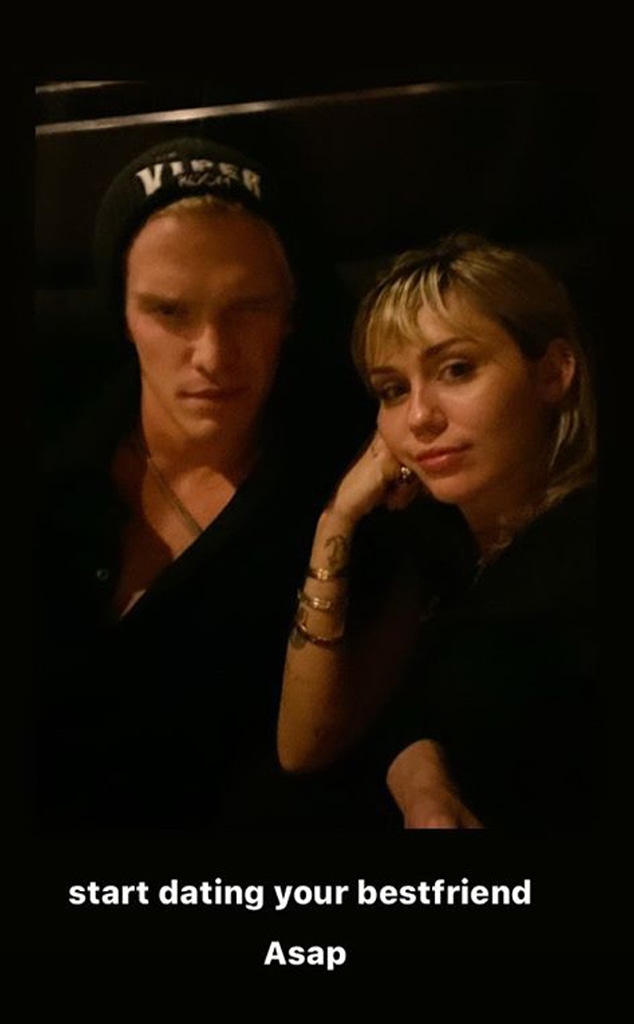 Instagram
Miley Cyrus still adores Cody Simpson.
On Thursday, the "Slide Away" singer put breakup rumors to rest with a date night. Taking to Instagram, Miley shared two selfies of herself and the Australian singer looking casual and cozy with one another.
"Start dating your best friend Asap," she wrote over one image in her Instagram Stories. For the other, she kept her caption simple, writing, "Besties."
Cody also chimed in with a post of his own. He shared a video of Miley walking into the restaurant they were dining at, giving his girlfriend a shout-out on his Stories. He wrote, "Who is this stone cold fox."
The "Mother's Daughter" singer's post comes amidst speculation that the duo, who started dating in October, have called it quits. Earlier this month, the "Golden Thing" singer was spotted with Playboy model Jordy Murray, sparking rumors that he was cheating on Miley. Shortly after the sighting, Miley shared a link to a recording of her holiday track "Sad Christmas Song" on social media, further hinting at a split. 
Reports also claimed that Cody kissed another woman while at a bar in New York City. But, Cody was quick to squash these rumors. 
In a statement to E! News, Cody's agent confirmed "there is absolutely no truth to this story." They added, "Cody went out with a friend and all the rest is fabricated. Period."
Cody's sister Alli Simpson echoed his rep's statement in an interview with Daily Mail Australia, where she confirmed that her older brother and the Disney alum were still very much dating. She told the outlet, "Yes, [they're] together for sure." As for his relationship with Jordy, Alli stressed that the model is a just a friend and currently dating his pal Ryan McCarthy.
The couple recently proved that their relationship is stronger than ever over the holidays. The "Home To Mama" singer joined Miley and her family in Tennessee to celebrate their first Christmas together. Posing in front of the tree for an adorable group shot, Miley wished her followers happy holidays on her Instagram Stories, writing, "Merry Xmas."
And before that, Cody attended the Cyrus family's Thanksgiving, confirming that his and Miley's relationship is the real deal.
"Miley's family loves Cody and was happy to have him stay," a source close to the couple told E! News at the time. "They all celebrated the holiday together at Miley's family house. Everyone gets along very well and Miley's siblings have welcomed Cody in. Their relationship is fun and easy. He's one of the crew."
Watch:
Miley Cyrus & Cody Simpson Cover Kylie Jenner's "Rise and Shine"
Now, the sky is the limit for Cody and Miley, especially in the wake of her recent divorce settlement with Liam Hemsworth. On Tuesday, E! News confirmed that the exes have worked out the details of their divorce and were able to keep everything amicable. 
"It's a relief for both of them that they can move on legally from one another and fully put this behind them," a source close to the Hunger Games actor told E! News. "They are both very much ready to move on and untangle whatever affairs were left to figure out. They are happy to close this chapter of their lives."