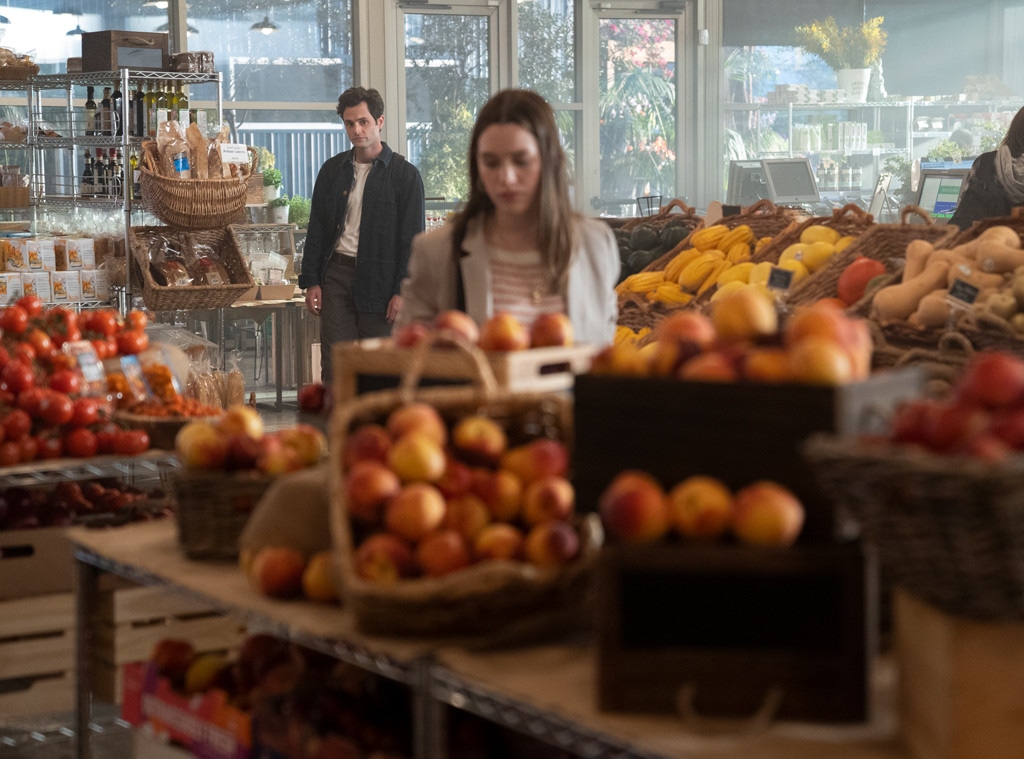 Netflix
Spoilers ahead for season two of You. 
Joe Goldberg (Penn Badgley) might have met his match, but of course he might not exactly see it that way.
We spent way too much time this season of You thinking we had to be worried about Love (Victoria Pedretti), the baker who very quickly pushed her way into Joe's life despite what he claimed were his best intentions to stay friends. We also found ourselves almost rooting for them as a couple, which is insane, since he's a psychopath, and so when it was revealed that Love is also a murderer, we suddenly felt way less bad about rooting for these two crazed weirdos to make things work. 
But alas, that's not how Joe functions. No woman is good enough for him, even the one who is literally perfect for him and his murderous ways. 
Throughout the season, we got hints that something had happened in the past in Love and Forty's family, and then Forty explained during a super fun (read: not fun at all) acid trip that he fell in love with their au pair, and then killed her, and it was covered up as a suicide. 
But that's not exactly what happened. Turns out it was actually Love who committed the murder and framed her brother for it, and we only learned that after we watched her easily murder Joe's ex-girlfriend Candace, who had trapped Joe in his own cage and brought Love there to see the truth about her boyfriend. 
While Joe threw away his secret spare key, resigning to the fact that he deserved to rot away in the cage with the dead Delilah (who he didn't remember killing, but he just assumed), Love slit Candace's throat, then returned to the cage to tell Joe the whole story. She killed the au pair when she and Forty were young, and she had found Joe's cage long ago, waiting for him to show her that darkness. 
He never did, but Delilah started figuring out too many things, and so during Joe's acid trip, Love went to the cage and slit her throat too. 
Joe's reaction to all this?
"What. The. F--k." 
Love's big plan involved turning Ellie (Jenna Ortega) into a suspect for Joe's murder of Henderson (Chris D'Elia), which would look so ridiculous to the public that the investigation would become a joke, and Delilah would become a hero in death. Joe thought this sounded insane, because all of Joe's plans have always been completely reasonable. He even hid some sharp handcuffs in his waistband as he convinced Love to open the door, and she stopped him from killing her by telling him she's pregnant.
A true mess, this is. 
Joe and Love were making plans together and enjoying a lovely wedding when Forty arrived, having figured out nearly everything about Joe. He didn't know anything about his sister's murderous tendencies though, so he thought he was saving her from an evil man. 
Forty was about to actually shoot Joe in the head when Forty was shot instead, by Delilah's cop friend, and then we saw Love and Joe starting a whole new life together. Her family had worked their rich person magic, clearing Joe of all suspicion, and now she and Joe are free to raise their new family in a cute little suburban house, complete with a pool...and a fence separating their house from the house belonging to a beautiful, book-loving neighbor who Joe is now writing to. Because his pregnant murderer girlfriend just isn't good enough! 
This sets up quite a different season three, and as much as Joe Goldberg, never forget, is quite terrible, we're sort of intrigued about him building a beautiful relationship with someone who is so much his equal, even if it is interrupted by that girl next door, whoever she is. 
We don't know where we thought this season was going to go, but where it went is certainly not it. RIP Jasper, Henderson, Delilah, Candace, and Forty, and may we all protect Joe and Love's future daughter. 
You is now streaming on Netflix.