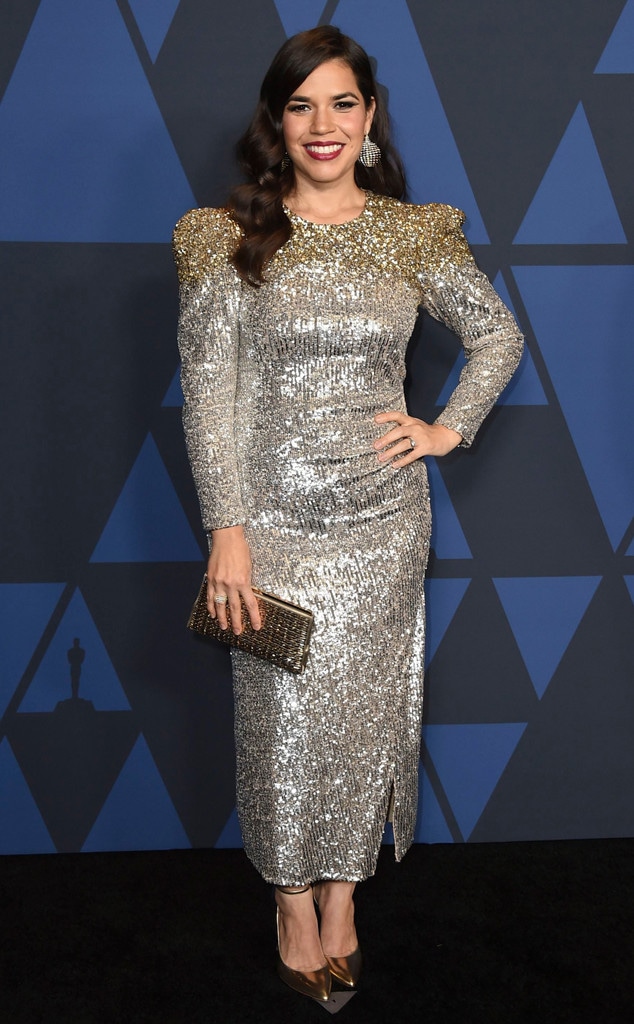 Jordan Strauss/Invision/AP/Shutterstock
This is super cute!
America Ferrera was definitely feeling the Christmas spirit on Wednesday. Taking to Instagram to wish her followers happy holidays, the Superstore star treated fans to a rare picture of her adorable family. Posing in front of their tree in matching flannel pajamas, America and husband Ryan Piers Williams can be seen giving their son Sebastian "Baz" Piers Williams, 19 months, a kiss on the cheek. Keen on maintaining her son's privacy, she put rabbit emoji over the little one's face.
"I hope you get kiss attacked today by some bunny you love," she captioned the family pic. "Merry Merry & a Happy Happy to everyone celebrating the holidays!"
Baz's last appearance on his famous mom's Instagram was back in October for Halloween. Dressed in his dinosaur costume and walking hand-in-hand with dad, America videotaped her baby boy as he trick-or-treated. "My little Dino is growing up so fast," she wrote. "Happy Halloween!!! Update: this rare species has been categorized and named the Bazasaurus!"
America and Ryan welcomed their baby boy in May 2018. They confirmed his arrival via social media with a touching post. "When 2 become 3…" she wrote, sharing a picture of her baby's foot. "Welcome Sebastian Piers Williams - aka Baz!"
Earlier that year, the couple of eight years announced that they were expecting while ringing in New Year's Eve together. Donning blue and red 2018 glasses, the Ugly Betty alum and her filmmaker hubby shared a selfie holding a onesie that read, "Más besos (por favor)."
She captioned the celebratory post, "We're welcoming one more face to kiss in 2018! Wishing you #MásBesos in the New Year! #babybesos #HappyNewYear."
Speaking with Health back in November 2018, months after having her son, the Sisterhood of the Traveling Pants star opened up about her "life-changing" pregnancy.
Watch:
America Ferrera Talks Pregnancy & Most Anticipated Reboots
"Every step of the way, everybody tells you what it's going to be like and how you're going to feel," she told the outlet. "I really think that is so harmful to so many of us. I decided early on that I wasn't going to expect my experience to be what other people told me it would be like—good or bad."
She added, "Being pregnant, I felt really powerful and healthy. You create life. I found so much power in that."