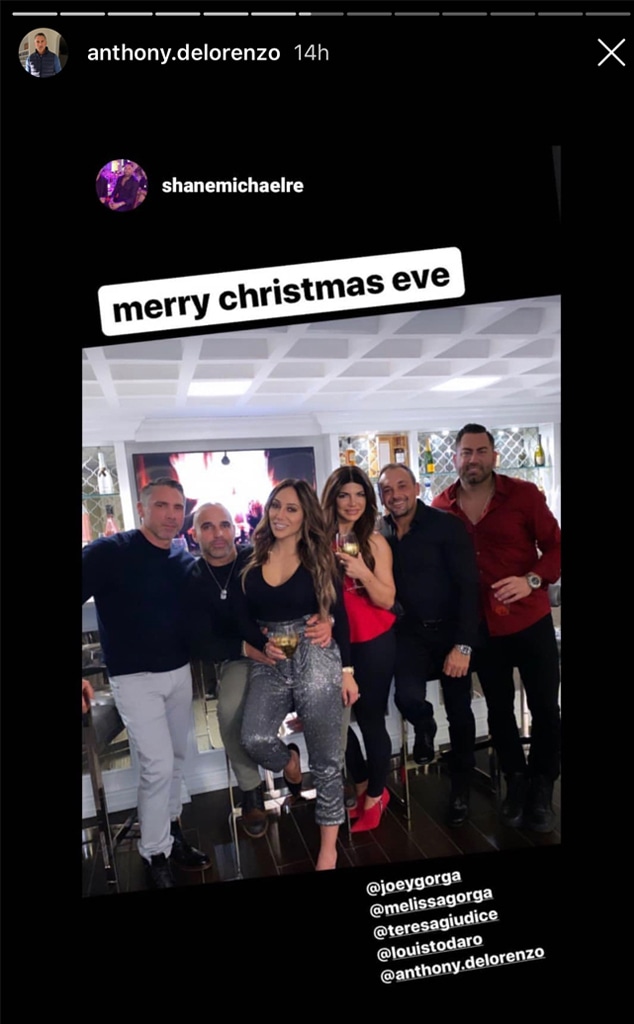 Instagram/Shane Wierks
Teresa Giudice's holiday just got a little merrier and brighter.
While her daughters Gia, Gabriella, Milania and Audriana spend Christmas in Italy with her estranged husband Joe Giudice, the Real Housewives of New Jersey star celebrated Christmas Eve on Tuesday with brother Joe Gorga, sister-in-law Melissa Gorga and her ex Tony Delorenzo. 
Taking to Instagram Story, Melissa posted a video of her and Tony, saying, "I just want to wish everyone a Merry Christmas. Tony, Merry Christmas." His response? "We're the new couple."
Or, perhaps Teresa and Tony, who dated as teenagers, are reigniting their old flame. Last week, the duo—Tony, a.k.a Tony the Pool Guy, has appeared on the Bravo reality show—were photographed looking cozy while outside a New Jersey restaurant.
"Teresa and Tony have been spending more time together recently," a source previously told E! News. "It's been really nice for Teresa to have someone around, especially during the holidays. After so much uncertainty about her future, Teresa is enjoying how easy and comfortable it is being with Tony."
"Teresa and Tony have known each other for decades," the insider added. "The two of them have a lot of similar interests but enjoy that they each have busy, independent lives. Tony is a familiar face around Teresa's house, to her brother, father and daughters. Everyone seems to really like him."
Meanwhile, Teresa's ex Joe is delighted to be celebrating Christmas out of prison and with his girls. "They are so cute," he captioned a video of him picking them up at the airport. "So happy."
The trip comes just one month after the entire family, Teresa included, reunited with Joe in Italy.
Watch:
Joe & Teresa Giudice Officially Split After 20 Years of Marriage
"We were there to enjoy each other's time," she said on Good Morning America. "You know, lots of laughs, lots of tears and reacquainting with each other. It was pretty amazing. I had the best time ever, it was so good."
Alas, it just wasn't enough to save their 20 year marriage. "Teresa is in no rush to file for divorce," a source shared with E! News. "But their relationship is done."