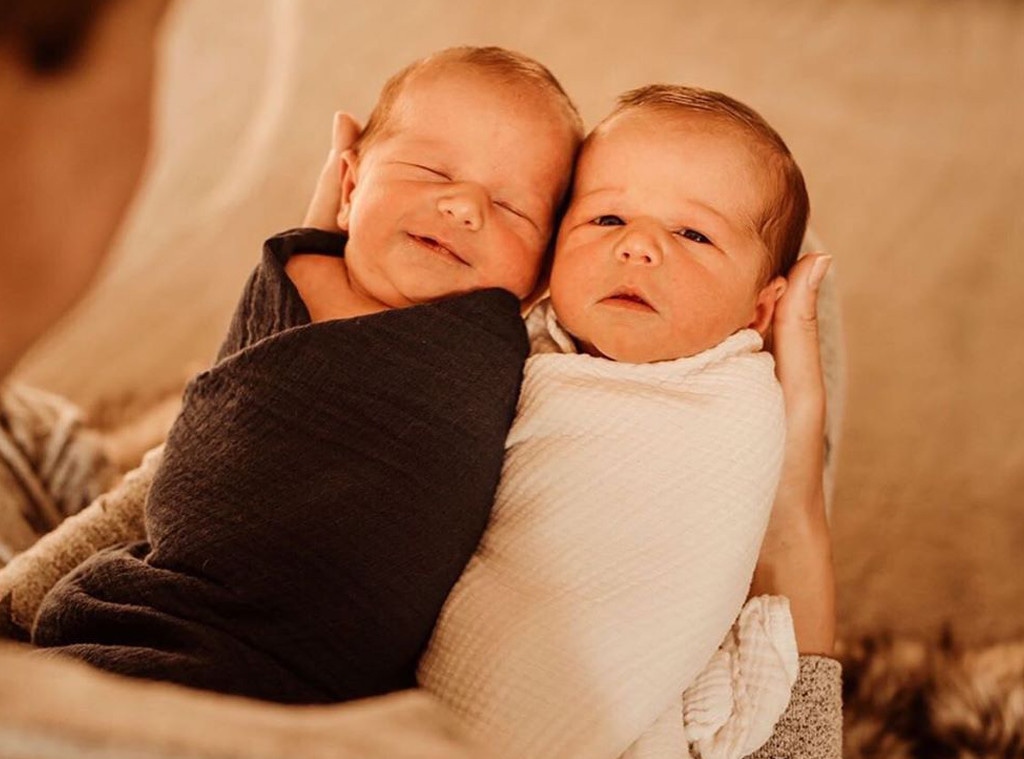 McCall Miller Photography
World, meet Asher Miller and Aksel Miller.
Bode Miller and Morgan Miller revealed the names of their identical twin boys on Tuesday's episode of Today.
"For the most part, it's official because they have stockings with their names on it," the pro volleyball player told Natalie Morales. "We still go back and forth but we have decided on Asher and Aksel."
It looks like the proud parents have already gotten a sense of their 6-week-old sons' personalities, too. 
"They're very different," Morgan said. "Asher is much more needy. He loves the attention; he loves being snuggled, whereas Aksel is much more, like, 'I'm OK if you're OK. And even if you're not OK, I'm OK.' He's just much more mellow."
Bode said seeing the newborns together is "one of the craziest things."
"They hold hands and they interlock arms," the former Olympic skier said. "They like being right next to each other. Obviously, that's been most of their lives so far."
The couple welcomed the twins in November. The happy news came just a little over a year after their 19-month-old daughter, Emmy, died in a tragic drowning accident.
Morgan described this time of year as "bittersweet."
"You deal with it every day," Bode said. "You have to keep going, and the kids are amazing. We're super lucky and feel lucky but it's like, there's always this undercurrent…that's our reflecting on the new normal, there's this undercurrent of sort of loss that's never going to go away." 
This year, the family is celebrating the holidays at their home in Big Sky, Montana.
"We spent so much time with her up here," Morgan said. "We do have a lot of amazing memories with her in this area, [like] her first time skiing and just holidays up here with her. So, it still feels like we can go through this space and see her and feel her and there are days where it feels like she's not gone. And then there are days where it does feel like she's gone but having all of them…yeah."
Morgan and Bode are also parents to Easton (1) and Nash (4). Bode also has a daughter named Dace (11) and a son named Nate (6) from previous relationships.
"People will ask us, 'How many kids do you have?' Sometimes, [Bode will] say, 'Six,' and I will say, 'No, we have seven,''' Morgan, who continues to advocate for water safety education along with Bode, said. "And then that obviously comes with the question of, 'Well, where's your other child?' And answering that question that she's not here anymore. And then they ask 'How did she pass?' And you respond with, 'She drowned.' It's hard not to feel like, 'God, I'm a bad parent.' And answering that question is really hard. It's, you know, a double-edged sword. It's so painful to go through every single time. I cry every single time but we get that message out."