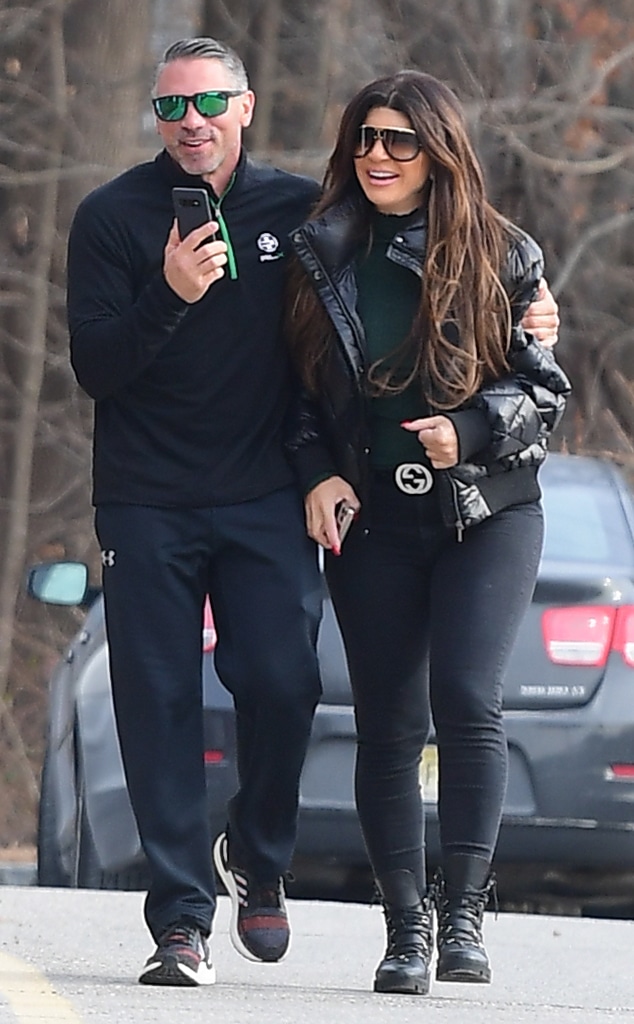 @LionsShareNews
We see you!
On Monday, Teresa Giudice's former love Anthony Delorenzo shared his first post following his recent rendezvous with the Real Housewives of New Jersey star. Donning a pair of black sunglasses, Anthony, aka "Tony the Pool Guy," captioned his selfie, "Incognito."
This comes one day after the duo, who previously dated when Teresa was a teenager, were photographed hugging outside of a restaurant in New Jersey. While the rumored couple have yet to confirm whether or not they are an item, a source close to the longtime pals hinted that it could be turning into something serious for the newly-single reality star, who just announced she was separating from her husband of 20 years Joe Giudice last week.
"Teresa and Tony have been spending more time together recently," the insider told E! News. "It's been really nice for Teresa to have someone around, especially during the holidays. After so much uncertainty about her future, Teresa is enjoying how easy and comfortable it is being with Tony."
The source continued, "The two of them have a lot of similar interests but enjoy that they each have busy, independent lives. Tony is a familiar face around Teresa's house, to her brother, father and daughters. Everyone seems to really like him."
After news of Teresa and Joe's split broke, another insider shed light on the mom of four's relationship status. "[She's] definitely dating but wants things to be very private right now," our source explained. "She is trying to stay busy and be there for her girls as much as possible. It's been a very rough year for her family and she is trying to stay strong and be around people who support her."
Teresa and Tony's relationship history was addressed on season 10 of RHONJ. In recent episodes the contractor helped install a pool at Teresa's New Jersey mansion.
"I remember when you guys dated for two seconds," joked cast member Dolores Catania. "Teresa was like 17 years old. Ya know, maybe they made out a little, maybe they went to the beach. That didn't last though, Joe was always crazy about her. He was not going to let her marry someone else."
Watch:
Joe & Teresa Giudice Officially Split After 20 Years of Marriage
Since confirming their split, Teresa and Joe have been keeping things amicable. After he posted on Instagram on Saturday a photo of him having dinner with friends, she complimented his appearance, writing, "The beard looks good."
Reflecting on their decision to separate, Joe shared a cryptic post on Instagram that read, "Every next level of your life will demand a different you." He also shared a side-by-side picture of him and Teresa, which he captioned, "It's time to let go."