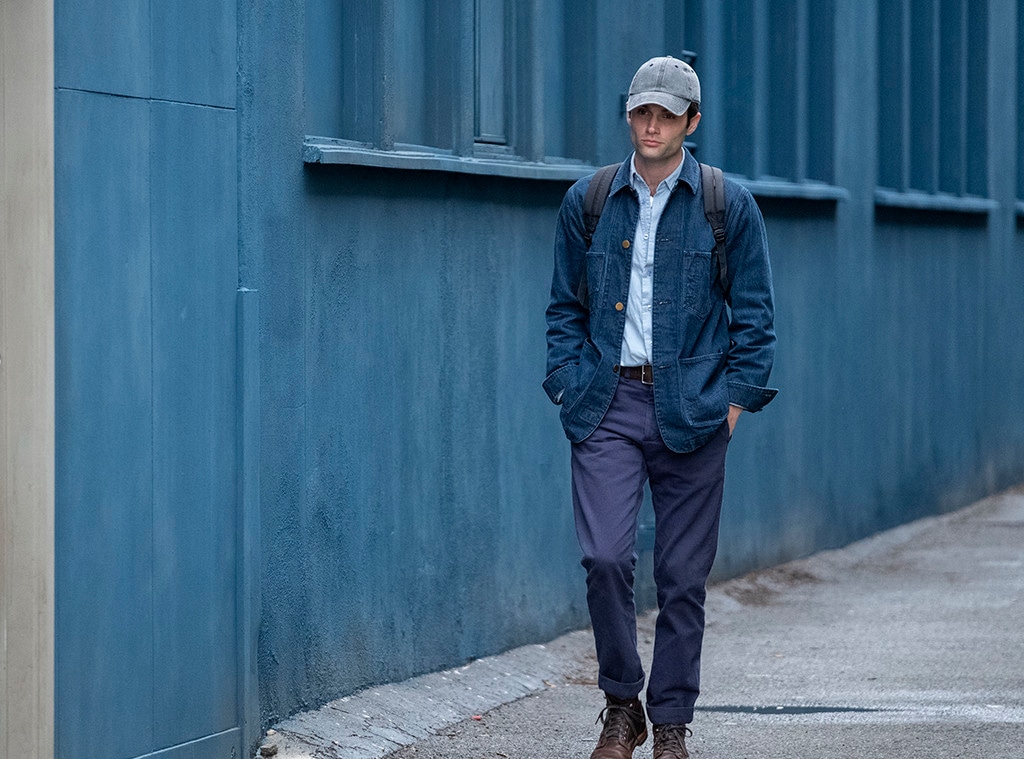 Netflix
In just a couple days, Joe Goldberg is at it again. 
You will debut its second season on December 26, and in case you haven't had time to rewatch season one of the Netflix (formerly Lifetime) drama, we've got you covered (with a little help from the streaming service). 
Netflix released a little recap video of season one with Joe (Penn Badgley) catching you up on his "love" story with Beck (Elizabeth Lail), which resulted in the death of her ex-boyfriend, her best friend Peach, and herself, after she started asking too many questions about Joe and his own past, and Joe had to get rid of her. 
You can watch that quick little video below, but let's get just a little bit deeper ahead of season two, which has Joe heading to Los Angeles to escape his past in New York. And it's not just the murders he committed he's running from, but also the murder he didn't end up committing. 
Part of Beck's many questions had to do with Joe's ex-girlfriend, Candace, who he thought he had killed before he even met Beck. As a surprise for us all, Candace then showed up at the very end of season one, and she's out for vengeance, so Joe's hoping a trip across the country will save him from whatever she's got planned as well. 
Meanwhile, he's also got at least one new and beautiful woman to set his sights on, though he's a little more hesitant this time, after what happened—or rather, what he himself actively did—last time. So that means that this time, his relationship with the new "you," also known as Love (Victoria Pedretti), might start off a little differently, or at least Joe's going to do his best to make us think things are different this time. It's genuinely hard to tell. 
Joe met Beck in the bookstore where he worked. She read the right kind of books, and was clearly flirting with him. She didn't wear a bra and she used a credit card—classic, extremely specific signs of a woman trying to get attention, you know—so he took that as a go ahead to stalk all of her social media, track down her home address, and masturbate outside her window while she had sex with her boyfriend. And that was just in episode one. 
Over the course of the season, he examined all the various parts of Beck's life both to decide if they were "good" for her and to use them to make her fall in love with him, which she did. They broke up after her best friend died (because he killed her), but found their way back to each other, just in time for Beck to start wising up to the fact that Joe might not be so good for her after all. 
When Beck discovered evidence of Joe's crimes, she had to die too, though she did give him the great idea to frame her therapist for the murders. 
Now, after discovering that Candace is still alive and pretty pissed off, Joe has moved to Los Angeles, a place he deeply hates. He works at a grocery store, has a couple interesting new neighbors, and is making friends with people at work, including Love. Love comes complete with several very LA friends, including Gabe, an acupuncturist, and Sunrise, a mommy blogger. 
We're going to go ahead and bet that not all of Love's friends and family will make it out of the season alive, but hopefully Candace has something deranged up her sleeve as part of her quest for revenge. Or at least hopefully her quest is for revenge, because somebody's gotta take this guy down. 
For everything we know about season two, keep on scrolling down, and have a good final two days before Joe returns to stalk again. 
You's second season premieres on Netflix this Thursday, December 26.