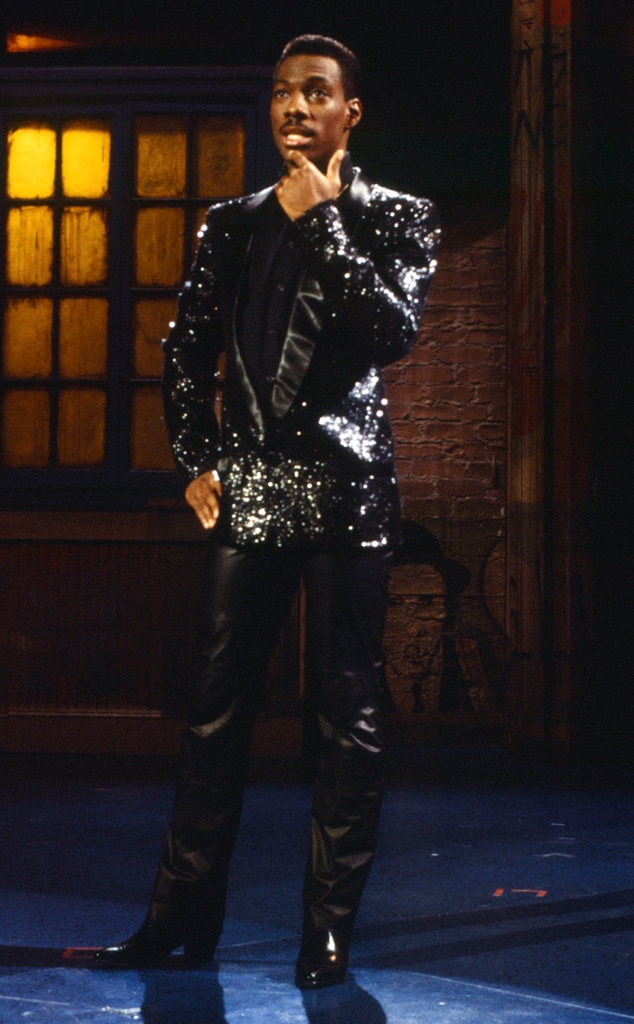 RM Lewis Jr./NBCU Photo Bank/NBCUniversal via Getty Images via Getty Images
Eddie Murphy is gearing up for his "school" reunion...his return to Saturday Night Live.
The 58-year-old actor and comedian will host NBC's SNL this weekend, marking the first time he will act on its stage since he left the show in 1984 following a four-year run. The series launched his acting career and he in turn boosted its ratings when he joined the cast.
"It is a lot like going back to your old high school or going back to college because it's the exact same system in place," Murphy told fellow SNL alum Jimmy Fallon on The Tonight Show Starring Jimmy Fallon on Friday. "It's kinda surreal. Thirty-five years since I've been back. I went for the 40th. Thirty-five years since I've actually done the show."
In 2015, Eddie had made a brief solo appearance as himself on the SNL stage during the show's 40th anniversary celebration, which featured a slew of past cast members.
Prince performed at the event's after-party. The music icon died a year later at age 57.
Eddie and Prince had hung out a few times many years ago. During his appearance on The Tonight Show, Eddie recalled some memories. He talked about a party that he and Questlove, member of house band The Roots, had both attended.
"Prince had a roller skating party," the actor said. "It was like 2 or 3 in the morning. We're at his house and Prince goes, 'Who wants to go roller skating?'"
"We went to this roller rink at like 3 in the morning. You know some sneakers, they would have, when you walked, they would light up? He had skates that when he skated, they would light up," he said. "It was surreal."
Eddie said Prince used to stay at a house down the street from his.
"My chef was leaving at like 2 in the morning once, and a car goes by, you know, a purple car, and the music, and he goes, 'Wow, that's Prince,'" the actor said. "And a hubcap comes off and it just kinda falls, and the car keeps going, and he picks the hubcap up, and it's got the Prince thing [symbol] on the hubcap. And the car goes and makes a big U-turn and comes back and Prince says, 'Can I have my hubcap back?'"
Eddie did not talk about another famous story involving him and Prince: the night he and his late brother Charlie Murphy played basketball with the music star at his house, lost, and were then treated to homemade pancakes. The story became legendary thanks to Charlie's recap of it on a 2004 episode of Chappelle's Show, in which Dave Chappelle portrayed Prince. Prince's friend, blues guitarist Micki Free, confirmed the story in a 2017 Esquire interview.
E! News returns Monday morning, Jan. 6 at 7 a.m.!