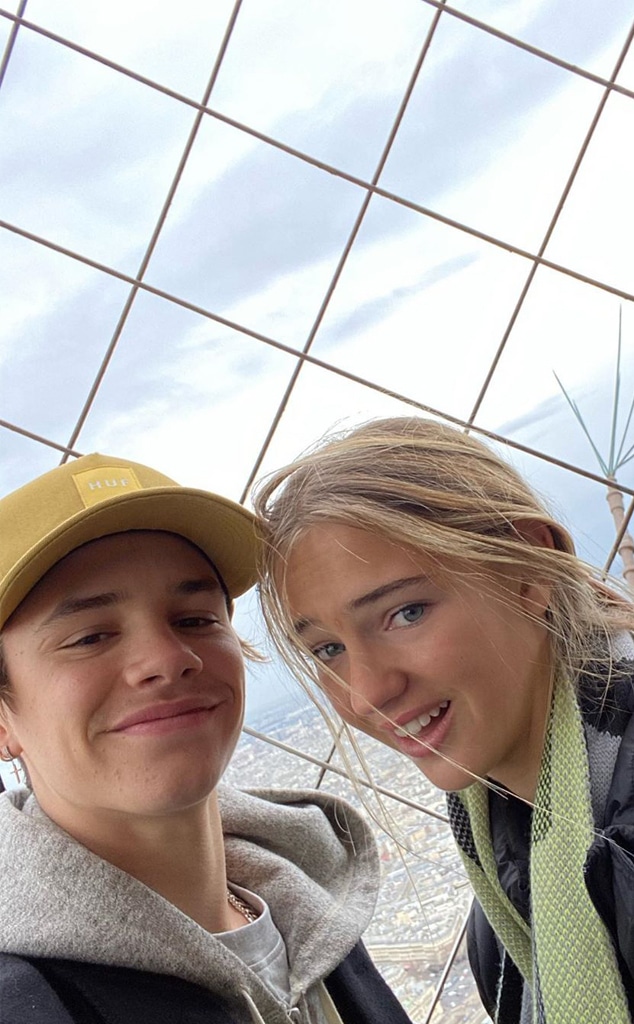 Instagram
Stop right now! Victoria Beckham's son might have a girlfriend.
On Thursday, Romeo Beckham, 17, sparked romance rumors with model Mia Regan following their recent trip to Paris. Taking to Instagram to post highlights from their fun Parisian getaway, Romeo wrote, "Amazing time in Paris @mimimoocher." From the looks of it, the rumored couple made sure to visit all of the sites, including the Louvre Museum, the Arc de Triomphe and the Eiffel Tower.  
While Mia didn't give the second eldest Beckham child a shout-out on her Instagram, she did, however, post a snap from the trip. Posing in front of the Arc de Triomphe and showing off her '90s-inspired outfit, she captioned her pic, "@ da Arc."
This isn't the first time that they've appeared on each other 'Grams. Back in September, the young model wished Romeo a happy birthday with a sweet post. "Haps smiley bday Romo," she wrote, posting a picture of the 17-year-old flashing her a smile.
That same month, Mia joined Romeo and the rest of the Beckham family, which included dad David Beckham and siblings Brooklyn Beckham, 20, Cruz Beckham, 14, and Harper Beckham, 8, for a private dinner celebrating Victoria's London Fashion Week show.  They were spotted arriving together at Harry's Bar in Mayfair.
Taking a cue from his rumored girlfriend, Romeo gave her a birthday shout-out on his Instagram in November. Further fueling romance rumors, he shared an adorable throwback picture of the model as a baby and wrote, "Happy b day Mooch hope you have a lovely day xxxx p.s loving the glasses." To make the post even cuter, he made sure to include a selfie of the two as well.
Romeo's Instagram isn't the only thing that's been getting attention these days. Last month, his TikTok video with Victoria went viral. In it, the mother-son duo danced to the Spice Girls' "Spice Up Your Life" in their kitchen and the Victoria Beckham Beauty founder whipped out the girl power group's original choreography.
As the song instructs, the pair slammed it to the left and shook it to the right. Posh Spice didn't miss a beat, but it looks like Romeo could use a few extra lessons from the Spice Girls alum.
Watch:
The Spice Girls: Then vs. Now
While visiting The Ellen DeGeneres Show weeks later, Victoria hilariously admitted that Romeo used the adorable dance party to rack up more followers.
"He came home other day and he said, 'You know, Mum, I've just joined TikTok. Will you do a dance with me?'" she told host Ellen DeGeneres. "And I was like, 'Yeah, what should we dance to?' And he said, 'The Spice Girls.' And then he took my phone, he posted it on my Instagram and he said, 'That'll get my numbers up.' He used me!"