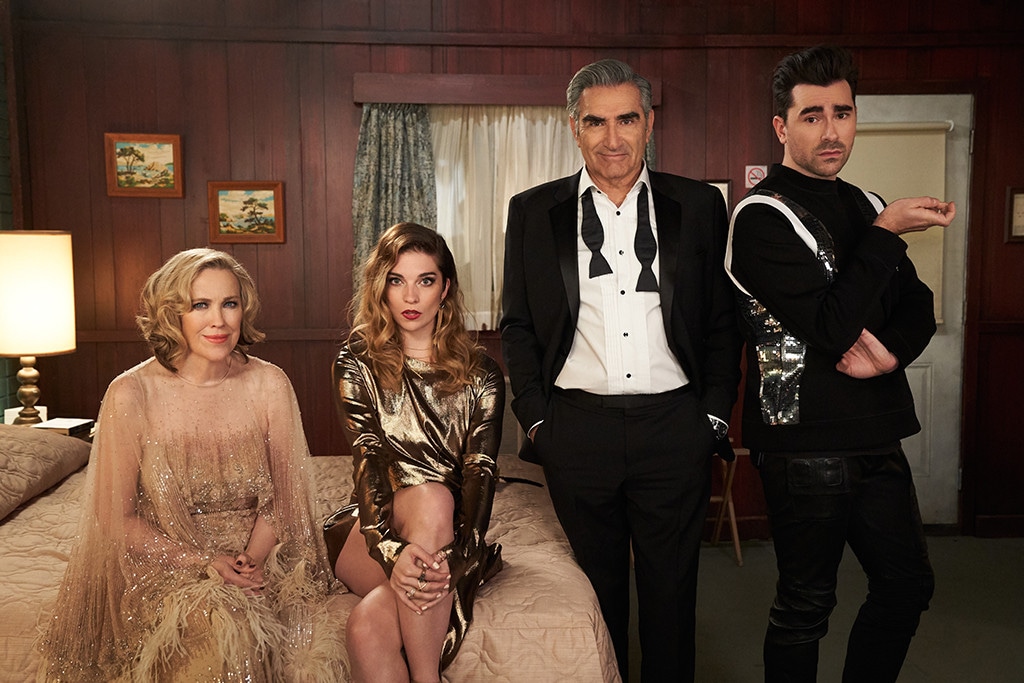 Pop
Grab the tissues, because it's time to say goodbye to Johnny, Moira, David, Alexis and all the Schitt's Creek characters you've come to know and love over the last five seasons. The trailer for the final season, below, features everything you've come to expect from the Emmy-nominated Schitt's Creek.
Feast your eyes on Moira Rose's (Catherine O'Hara) new wigs, David (co-creator Dan Levy) planning his wedding to Patrick (Noah Reid), and Alexis (Annie Murphy) getting emotional—see how far they've come as a family?!
Schitt's Creek follows a formerly wealthy family after they lose everything and are forced to relocate to the town of Schitt's Creek, a town they bought as a joke. There, they took up residence in the local motel, but after three years together, and with the help of the town, they've grown as a family and individuals. The trailer highlights that.
"As lucky as I feel to have met David, I also feel incredibly lucky to be joining your family," Patrick tells Johnny (co-creator Eugene Levy) as the show's cover of "Simply the Best" plays in the background.
The new season features the Rose family flourishing in their careers and personal lives, but that means looking ahead. All of their pursuits seem to be pushing them to the long-awaited departure from the motel, but their lives are now entangled with Schitt's Creek. Johnny takes on a second motel, Moira is back in the spotlight thanks to a role, but she fears she'll lose it all again. Meanwhile, David and Patrick are wedding planning, but that comes with its own share of issues. With Ted (Dustin Milligan) in the Galapagos, Alexis focuses on her publicity career.
Watch:
Dan & Eugene Levy's Theory on Finally Getting Emmys Love
"There is value in these motels. My family and I have been staying in a motel for the last three years, and I wouldn't trade our stay there for anything," Johnny says in the trailer above.
And, yes, we're crying.
Schitt's Creek was nominated for four Emmys in 2019 and picked up two SAG Award nominations and four Critic's Choice Awards nominations. All the critical acclaim and award show love hasn't made Dan Levy rethink the decision to end it, he told E! News.
"Every step of this journey to me has been affirmed by the show's sort of continued success. I think something like this, breaking through into the SAG Awards, is such a huge accomplishment for the show, especially considering how far we've come and how small the show still is. I think the decision to end it, it just feels like, OK, yeah, everything is going to plan in terms of just more and more people finding out about it. I hope that by the time the sixth season airs in a month that this will have only helped us build an even larger viewership…because I really love it and think that, fingers crossed, that I think it's a really great end to a remarkable series," he said.
Schitt's Creek also stars Sarah Levy, Karen Robinson, Chris Elliott, Emily Hampshire and Jennifer Robertson.
The final season of Schitt's Creek premieres Tuesday, Jan. 7 at 10 p.m. on Pop TV.