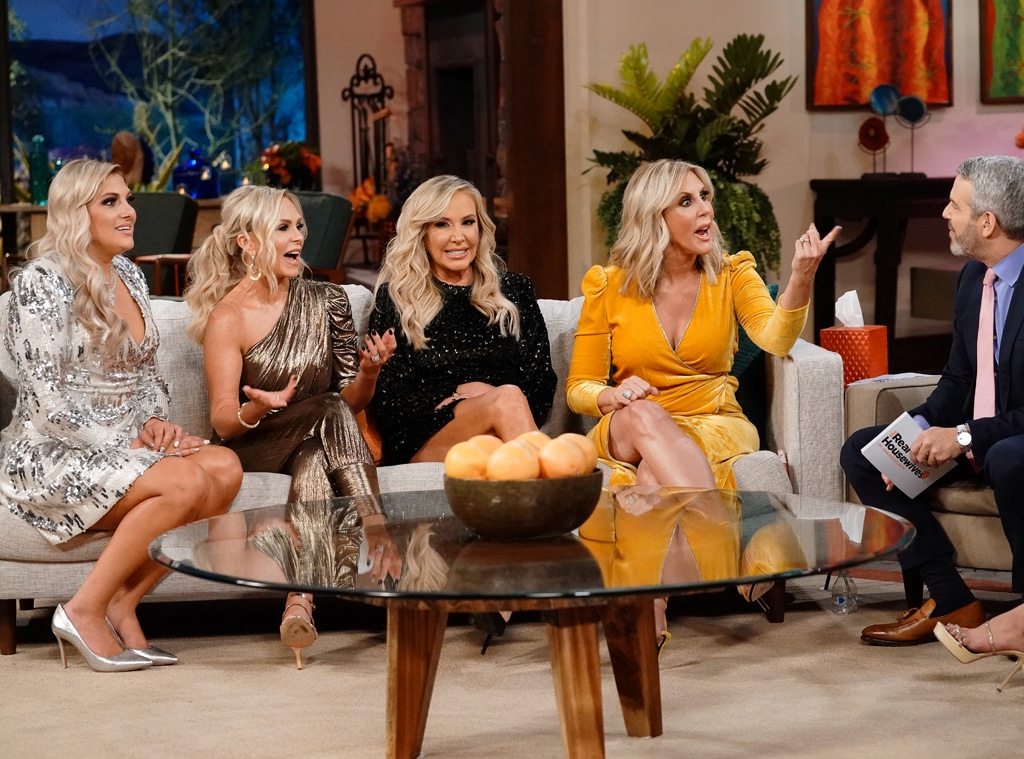 Bravo
The Real Housewives of Orange County season 14 reunion is moving right along, with the second part coming just in time to give your holidays a dose of drama—and E! News has an exclusive sneak peek.
Part two of the RHOC reunion, which airs Monday, Dec. 23 at 10 p.m. on Bravo, features even more clashing between Kelly Dodd and the Tres Amigas (known to the general public as Shannon Storms Beador, Tamra Judge and Vicki Gunvalson) as the ladies continue to debate the infamous Miraval trip and all those rumors that swirled about Kelly. In the clip below, Kelly gets into it about why it's easier for her to move on with Tamra than the others.
According to Kelly, Shannon can't own her mistakes.
"I would love to know what I did to heart you, Kelly," Shannon says.
"I never did anything to you," Kelly says.
What did exactly happen with them? Shannon says she appreciated Kelly's friendship following her split from David. "I thought we had fun going out together and I say all the time in any interviews I do, 'I am sad and disappointed for what happened to a friendship that I thought was blossoming, that I never thought could've happened.' But I know that I am a good friend and I am not going to prove to you or anybody else. You don't believe that I had your back? Then I'm done," a heated Shannon says.
Kelly says she feels attacked and that she's sick of the rumors, but Shannon didn't spread those. And there's a clip package to prove what she said about her over the season. That's when Kelly drops a bombshell: "And then her friend told me that she got a private investigator to come at me," Kelly says. "She told me that."
"That's insane," Shannon says.
"On my first season," Kelly says.
Watch:
Shannon Beador Talks Losing Kelly Dodd as a Friend on "RHOC"
"That's insane! I don't have time for that s—t," Shannon says. See the interaction unfold above.
The episode also features Braunwyn Windham-Burke opening up about her complicated relationship with mom Dr. Deb, even more conflict between Vicki and Kelly, Tamra updating the audience on her family and business and a rehash of the trip to Florida. Meanwhile, Vicki continues her insistence that RHOC is her show, and says Braunwyn and her behavior has, according to the Bravo release, "destroyed" the show Vick says she created.
The Real Housewives of Orange County reunion part two airs Monday, Dec. 23 at 10 p.m. on Bravo.
(E! and Bravo are both part of the NBCUniversal family.)