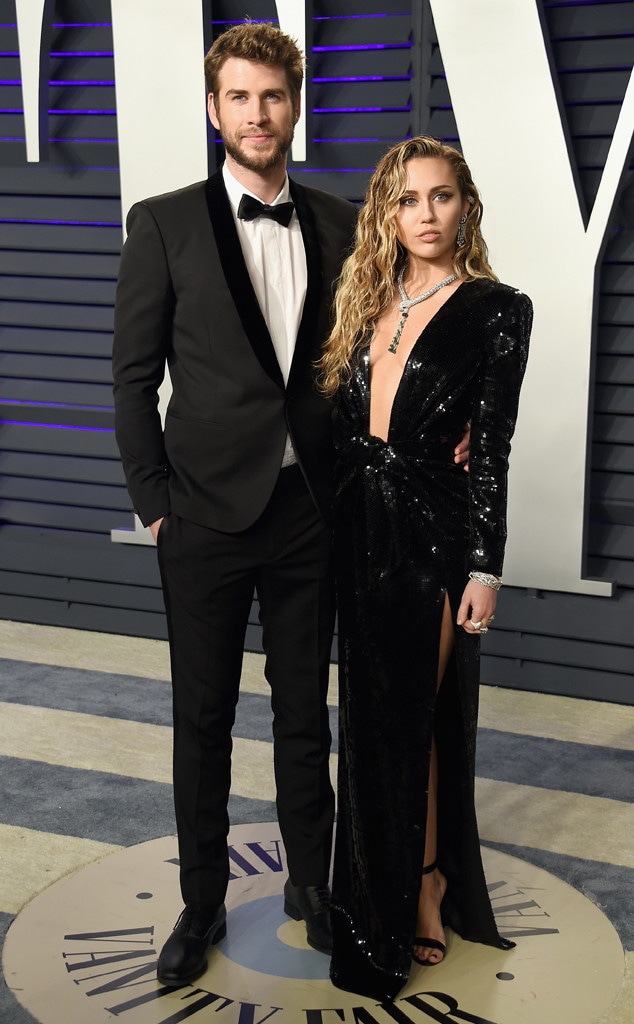 Gregg DeGuire/FilmMagic
Miley Cyrus is "down to try" marriage again. 
Nearly a year since she wed Liam Hemsworth—and four months since he filed for divorce—the "Don't Call Me Angel" songstress is considering tying the knot again—well, at least for the sake of a punchline. 
Over on Instagram, performance artist Matty Mo, who is behind "themostfamousartist" account, drew some attention to a goal for 2020: marrying Cyrus. "Upping my manifestation game for 2020 and putting this out there," he captioned a screenshot of his current Instagram bio, which reads in part, "Getting married to @mileycyrus in 2020." 
Ok, so he didn't exactly get down on one knee, but he did tag the star and she took notice, weighing in on Mo's aspiration with quite the quip. "It probably won't last long," she responded. "But always down to try, You miss 100% of the shots you don't take."
With what would have been the stars' first wedding anniversary just days away, the two are carrying on with their new lives apart. Just days ago, Hemsworth sparked rumors of a potential romance with Australian model Gabriella Brooks after the two were snapped out to lunch with the actor's parents. As for Cyrus, she and Cody Simpson are going strong and may even eventually team up on music together. The Australian performer spent Thanksgiving and her 27th birthday with Cyrus and her family while she was recovering from vocal cord surgery. 
"Miley's family loves Cody and was happy to have him stay. They all celebrated the holiday together at Miley's family house. Everyone gets along very well and Miley's siblings have welcomed Cody in. Their relationship is fun and easy. He's one of the crew," a source told E! News earlier this month. "Cody has been very supportive throughout her recovery and she is very happy with him...They are doing well together."
Watch:
Miley Cyrus & Liam Hemsworth's Sweet "The Last Song" Interview
While the exes are very much apart, their divorce has yet to be finalized. At the star of this month, a notice was sent to Hemsworth's attorney notifying them that his divorce case is "not complete" as some paperwork has not been sent to Cyrus and remains to be filed. A status conference was scheduled for January, but he does not have to go to court if he files the documents or a request for dismissal before the hearing. If he does not file the documents and does not attend the hearing, the star may face a fine to the court. He was also warned that the court may dismiss the case for delay in prosecution if he fails to take the "appropriate steps."