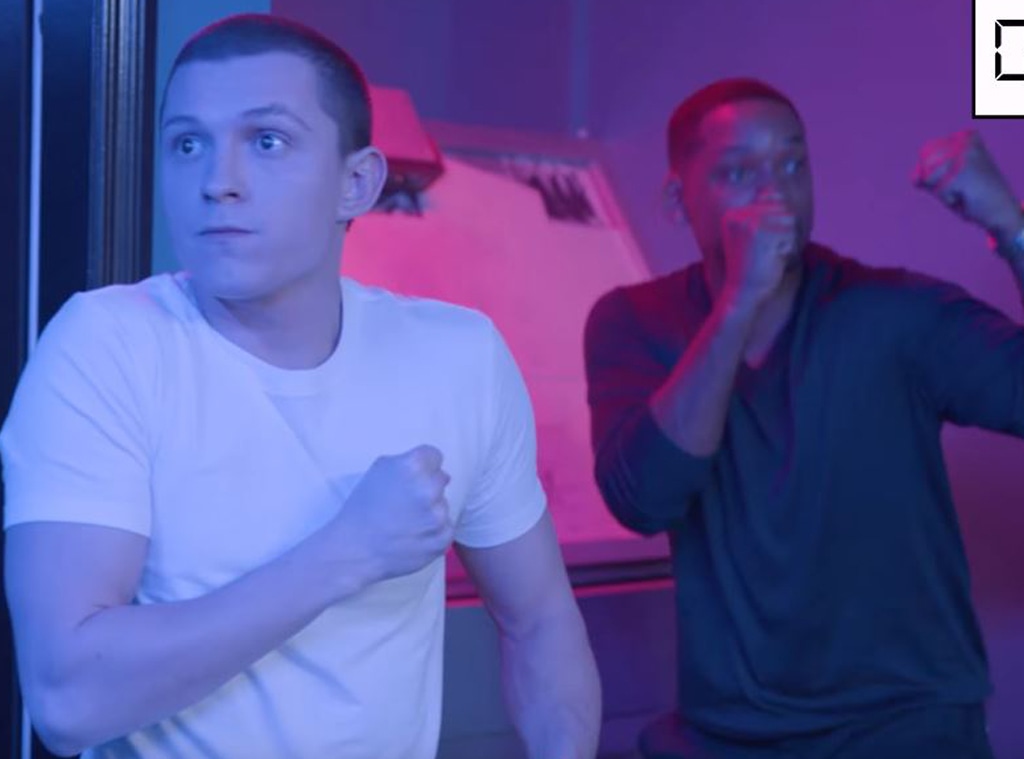 YouTube
Despite having just made a movie together, Will Smith and Tom Holland haven't met. Until now, that is!
In a new video shared to his YouTube channel on Thursday, Smith and the Spider-Man actor finally had the chance to meet face-to-face as they attempted to successfully get through an Escape Room. (The two stars' voices appear alongside each other in the upcoming animated movie Spies in Disguise, out on Christmas.)
And what a meeting, this was! As Smith said to his younger co-star, "We're in a movie together. Our characters have all this spectacular chemistry. And literally, this is the first time we've ever met." As Holland responded, "I feel I've met you 'cause I've grown up watching your films since I was a tot, but yeah, it's weird."
After getting their icebreakers done, the pair's conversation was interrupted by the beginning of their challenge.
A creepy man then approached the two to escort them to their first task in this spooky hotel. When asked if they knew the rules of the room, Smith responded confidently, "Yes."
As a slightly more nervous Holland whispered back, "Do we know the rules, though?"
"We do not know the rules," Smith quipped.
"No one told me the rules," Holland said, even more worried.
As Smith added, "It is always scary when someone says, 'You know the rules.'"
The pair were then blindfolded and placed in different cells of what was revealed to be a "military prison." As Holland joked, "This isn't usually how I like to be blindfolded."
"I'm sorry, Jake Gyllenhaal," he added.
Then it was time for them to figure out how to escape their cells.
While they both struggled to piece together the clues, Smith joked that the Avengers star should pitch in a little more. "You should use your spidey senses and get us out of here," the actor quipped.
After some disco lights came on, Holland thought the way out was to...dance. As Smith teased, "Yeah, man. You just keep dancing, I'll figure this out." Something tells us that's not what he meant by "use your spidey senses." 
When they moved on to the next phase of the challenge, they finally got to work together in the same room.
The Bad Boys For Life star ended up figuring out the code that unlocked a safe with their next clue inside—an accomplishment Smith said is thanks to his movies. "I save the planet from aliens and stuff all the time," he joked. "So, you gotta expect that that's gonna happen."
As they opened another compartment, the 51-year-old joked, "If Martin Lawrence jumps out of here, I'm gone."
Watch:
Tom Holland Gushes Over Working With Marvel's Elite Actors
The two proved they didn't need to work in the same room on Spies in Disguise in order to work together well, as they got through the escape room with a few minutes to spare. But of course, Smith couldn't let Holland leave without teasing him a bit.
The Fresh Prince of Bel Air alum snuck up behind the Marvel actor as he was trying to decipher a clue. As Holland replied, "Oh, man. I think I just sh*t my pants."
Ultimately, the last code they had to figure out ended up being the release date for their new animated action flick. We see what you did there.
No, activate your spidey senses and watch the glorious first meeting of Will Smith and Tom Holland.