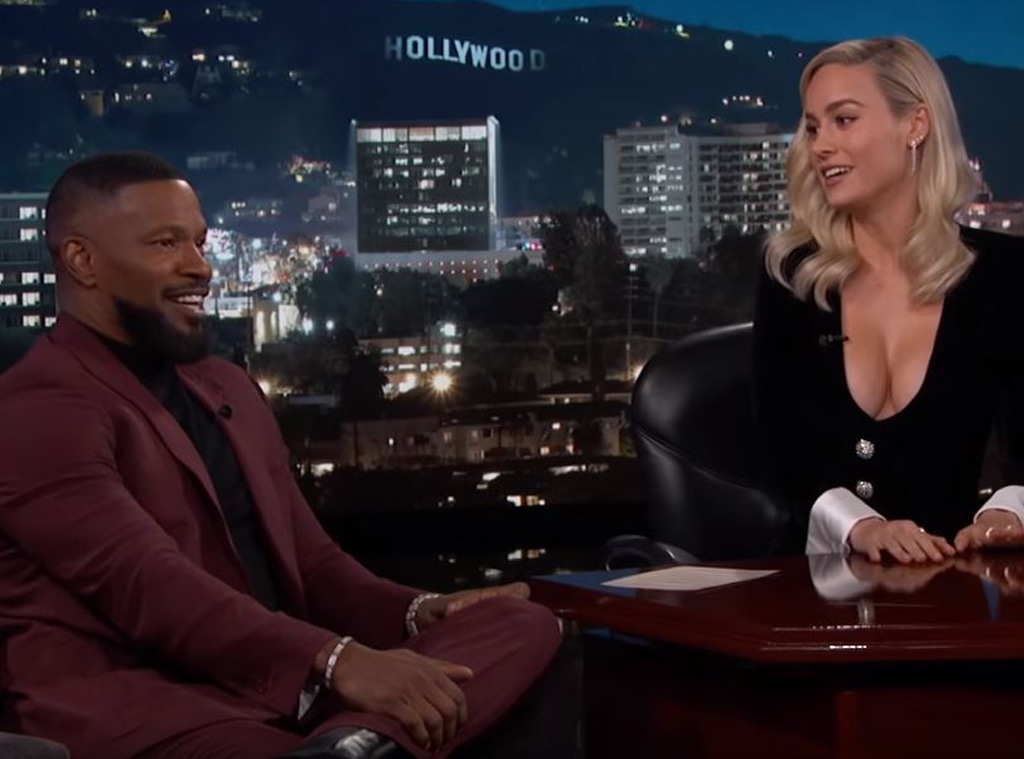 YouTube
What does the (Jamie) Foxx say?
During an appearance on Wednesday's Jimmy Kimmel Live, guest host Brie Larson admitted to her Just Mercy co-star that she was absolutely convinced he was the indelible Mr. Fox on The Masked Singer. It's a fair theory, given his name, of course, but the Captain Marvel star was convinced for other reasons.
As she said to her guest, "I was pretty convinced you were unavailable for [the Just Mercy press tour] because you were on The Masked Singer the whole time. That was a conspiracy theory that I had started."
Playing coy, Foxx teased, "Listen, man. Look, you never know!"
The show's finale, which aired just hours after Larson's interview with Foxx was filmed, revealed that Wayne Brady was Mr. Fox. He came in first place ahead of Chris Daughtry and Adrienne Bailon as the dog and the flamingo.
While he wouldn't confirm or deny if he was on the show to Larson, he did reveal that tons of people asked him if he was.
As Foxx said, "Everybody thinks I'm on The Masked Singer. I'll be in traffic, people pulling me over, 'Yo, Foxx. Come on, dog. Let me know, dog. Come on, dog, I know you're The Masked Singer, dog!' Even my mom's like, 'Are you The Masked Singer?' I'm like, 'Ma, you know me!' She's like, 'I got $200 on this.'"
"But you never know, man," he continued. "You never know who's behind that mask." As Larson responded, dying to uncover the truth, "What do you mean you never know?! Do you know?"
The 52-year-old then replied, "I actually do know, but I'm sworn to secrecy."
This exchange basically sums up the appeal of the hit FOX show in a nutshell. Even Larson admitted that the mysterious competition series is her "guilty pleasure" that she watches in her car on her iPad.
Playing fun with the mystery of it all, Larson quipped to Foxx, "This could all be my ploy to point it at you, and really, it's me. I'm Mr. Fox!"
Watch:
Nicole Scherzinger Goes Full Detective Mode for "Masked Singer"
The Django Unchained alum, keeping his cards close to his chest, then teased, "Look, I love that show. And I do think there's gonna be a big surprise in the next few days, so just stay tuned."
Turns out, that surprise was Wayne Brady!