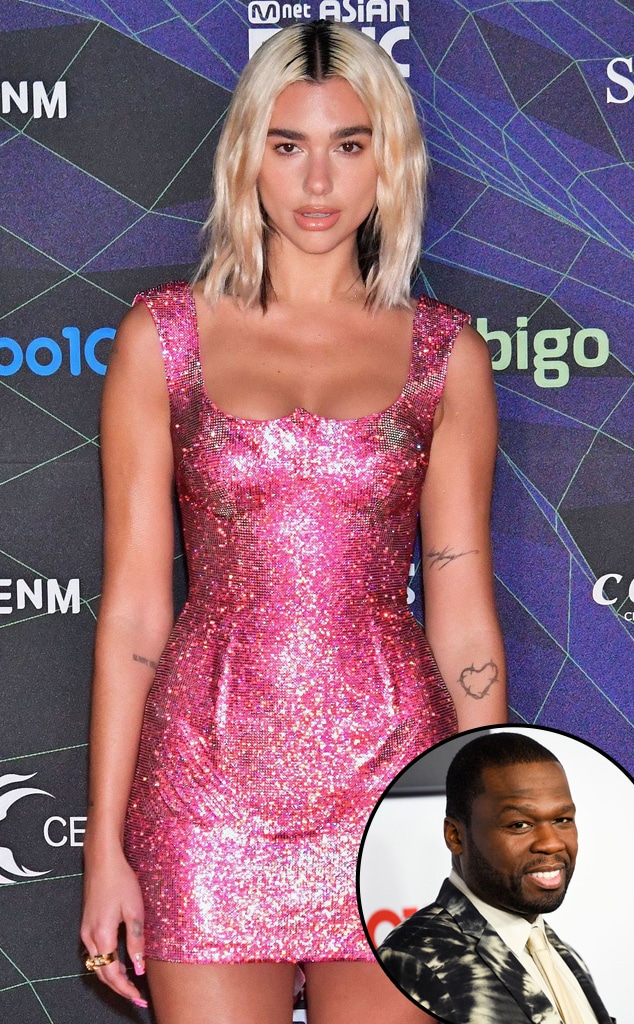 Aflo/Shutterstock, Evan Agostini/Invision/AP/Shutterstock
This is about to blow your mind.
On Wednesday, Dua Lipa stopped by The Tonight Show Starring Jimmy Fallon, where she revealed that she was a "massive" 50 Cent fan back in the day. Crediting her love of hip-hop with growing up in Kosovo, the 24-year-old said that the "Candy Shop" rapper was one of the many hip-hop artists her 13-year-old self admired.  
"My first ever show I went to was Method Man and Redman," she told host Jimmy Fallon. "I was 13. Well, we were…basically, in Kosovo, people only really listen to hip-hop. Going to the Method Man-Redman show was kind of my first introduction to Wu-Tang [Clan]. And then when I went to my second show, which was 50 Cent, I then I read the book, watched the movie, learned all the words. I went fully prepared. Massive 50 Cent fan."
Despite her epic first concerts, the Grammy-nominated artist explained that, at the time, Kosovo wasn't a hot spot for popular artists.
She continued, "For me, it was like—I wish, when I was living in Kosovo that I had the opportunity to see some of my favorite artists like Pink and Nelly Furtado...No one really came to Kosovo."
Now, Dua has put the country on the festival map with the Sunny Hill Festival, an annual festival that she created featuring international artists. Last year marked its inaugural festival and included big names like Miley Cyrus.
"We had Miley Cyrus, who was the first international female artist to come and perform in Kosovo and for me, it was like, the biggest dream come true," the "Future Nostalgia" singer gushed. "Like, just seeing how happy and how excited people were to see her onstage and she absolutely killed it.
"She killed it," Dua continued. "She was amazing and her energy was amazing. She's one of the most talented people—she just smashed it. And I think, I was so close crying. I was so happy and so proud. It was such an amazing moment."
Watch:
Dua Lipa Reveals When New Music Is Coming
Switching gears, Jimmy couldn't help but bring up the nickname Dua has acquired following Wendy Williams' now-iconic mispronunciation of her name. Back in 2018, the Wendy Williams Show host called the singer "Dula Peep" by mistake, which has actually become her nickname among her fanbase.
"It's kinda cute," she admitted. "It's a full thing…I feel like my whole life, my name has been a little bit difficult to announce."
Watch Dua relive her first concert experiences, fangirl over Miley and talk new music in the video above!
(E! and NBC are both part of the NBCUniversal family.)