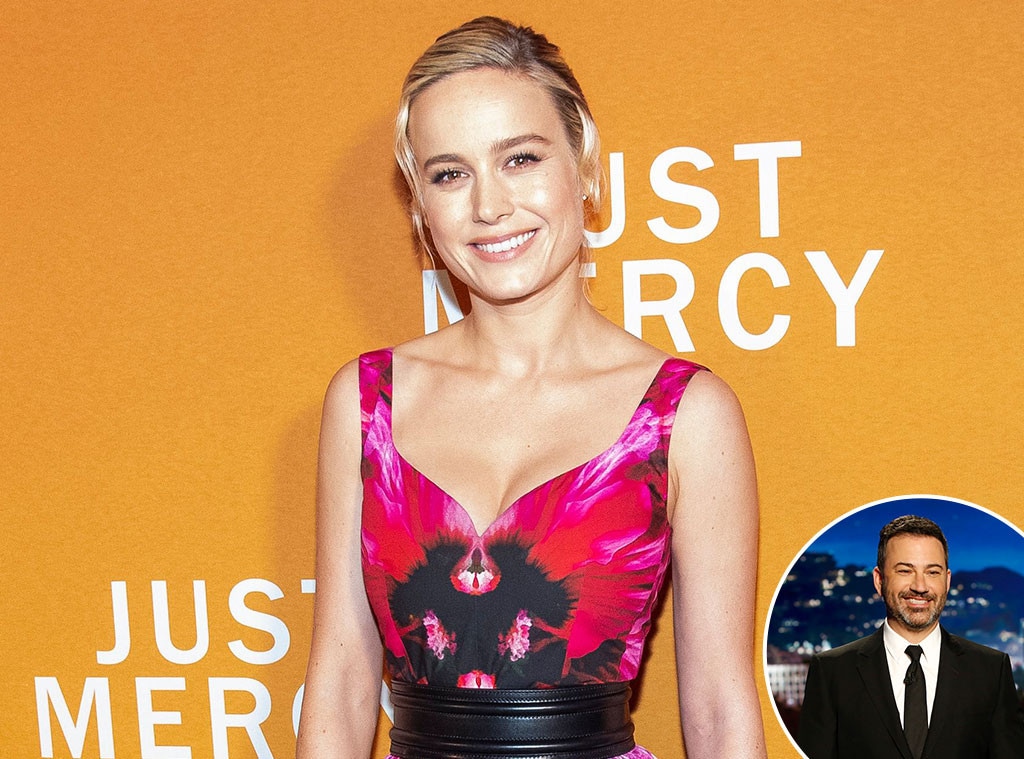 MJ Photos/Shutterstock, ABC
If one thing is for sure, it's that Brie Larson takes her roles very seriously—including guest hosting.
On Tuesday, the Captain Marvel star crashed Jimmy Kimmel's monologue to study the late night host ahead of her Jimmy Kimmel Live guest host gig on Wednesday night. Sneakily making her way onto the stage, Brie mimicked Jimmy's hand gestures and mannerisms while he taped his opening. But alas, her cover was blown once she started copying the cadence and delivery of his script from the teleprompter.  
"Oh, I just—I'm researching. I take my roles very seriously," she told Jimmy after he noticed her mirroring his gestures. "Like for Captain Marvel, I actually had myself blasted with massive amounts of cosmic radiation from a magic rock."
She added, "So, I just want to understand the physicality of what it means to be a talk-show host. So, I want to stand like you, move like you."  
To really commit to the role, Brie even rocked the same suit and tie as him. She joked, "I'm even wearing your Spanx right now."
Understandably freaked out by Brie's commitment, Jimmy expressed his concerns over her approach, to which the Avengers: Endgame star quipped, "Don't judge my process, Jimmy."
Moving on, Jimmy continued with his monologue but found Brie's "process" to be too distracting for the audience. "I know it's fun but, I'm sorry but this is making it a little hard for me to do this," he told Brie before asking her to exit the stage.
Much to his surprise, she stuck around in the background while he finished his joke. After being asked to leave again, Brie said, "You're really being a real baby about this."
Watch:
Brie Larson Dishes on Intense "Captain Marvel" Training
But nevertheless, Brie persisted. Giving Jimmy his space to announce the new Bachelor contestants and introduce the cast of Live in Front of a Studio Audience: All in the Family and Good Times Christmas special, she patiently waited in the wings for another opportunity to join him on stage.
Watch Brie try her best to channel Jimmy in the video above!