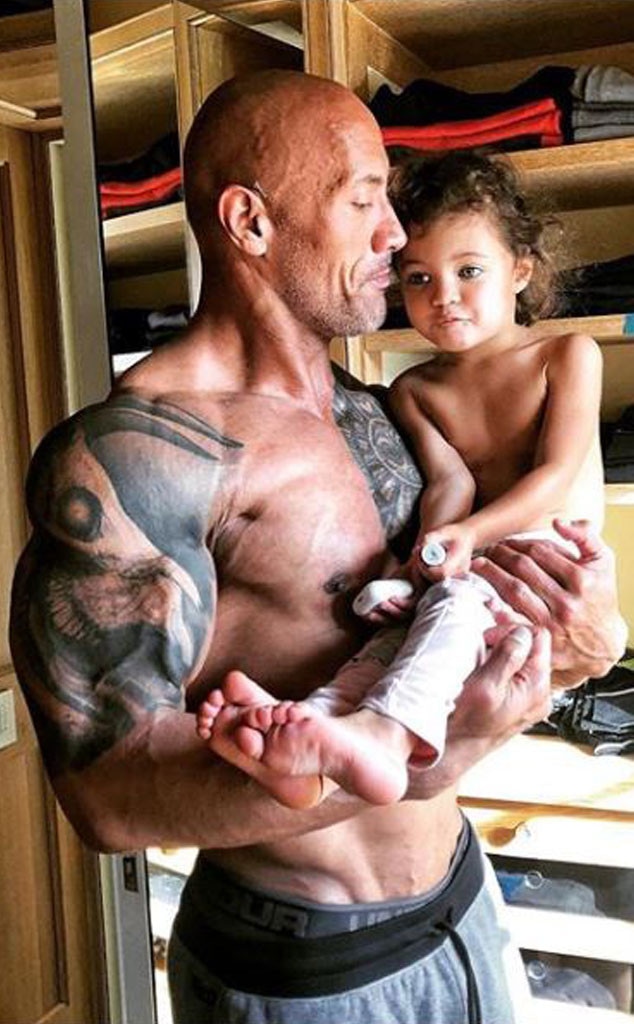 Instagram
What can we say except this is adorable!
On Tuesday, Dwayne "The Rock" Johnson celebrated his daughter Jasmine's 4th birthday with a beautiful tribute on social media. Posting a picture of him and his and wife Lauren Hashian's little one having a sweet father-daughter moment, the dotting dad gave Jasmine a touching shout-out.  
"Can't promise I'll be here for the rest of your life, but you have my word I'll love and take care of you for the rest of mine," Johnson captioned the snap. "Happy 4th Birthday, my Jazzy And thank God you got your mama's good looks." 
The precious picture is from Johnson and Hashian's August nuptials in Hawaii, where Jasmine and the couple's second 18-month-old daughter Tiana served as their flower girls. While visiting The Ellen DeGeneres Show earlier this month, the Jumanji: The Next Level star said that having his girls be a part of their wedding made it all the more special.
"They were our flower girls at our wedding," he gushed to host Ellen DeGeneres while showing the audience a picture of the two from the big day. "And they were just…so magical."
Before stopping by The Ellen Show, "The Rock" posted a behind-the-scenes picture from his big day where Jasmine was practicing her flower toss. "Wedding day flower girl is a big responsibility and one that Jazzy took very serious," he wrote. "In the few minutes before the ceremony we took to practice, I quickly realized she was determined to not gently lay the flowers, but rather intensely throw the flowers with ruthless aggression ~ and a wicked smile. Hell. Yeah. That's my daughter!" 
These days, being a dad is Johnson's favorite role of all. Back in 2015, he opened up to Oprah Winfrey about fatherhood and his outlook on raising his three daughters—he's also dad to 18-year-old Simone, who he shares with ex Dany Garcia.
"I realized being a father is the greatest job I have ever had and the greatest job I will ever have," he said during an episode of Oprah's Master Class. "I always wanted to be a great dad. I always wanted to give Simone things that I felt I never got."
Watch:
Dwayne Johnson Jokingly Says He's "Cursed" With 3 Girls
He continued, "Throughout the years, throughout the ups and downs, I've realized that the most important thing that I could do with my daughter is lead our life with love. Not success, not fame, not anything else but, 'I'm always here for you. I love you.'"
Speaking with E! News before heading into the 2019 TIME 100 Gala, the WWE alum joked that he was blessed and cursed to have three girls. "I've really been blessed," he told E! News exclusively. "All girls. I'm cursed. I can't make boys. But really I'm very lucky."