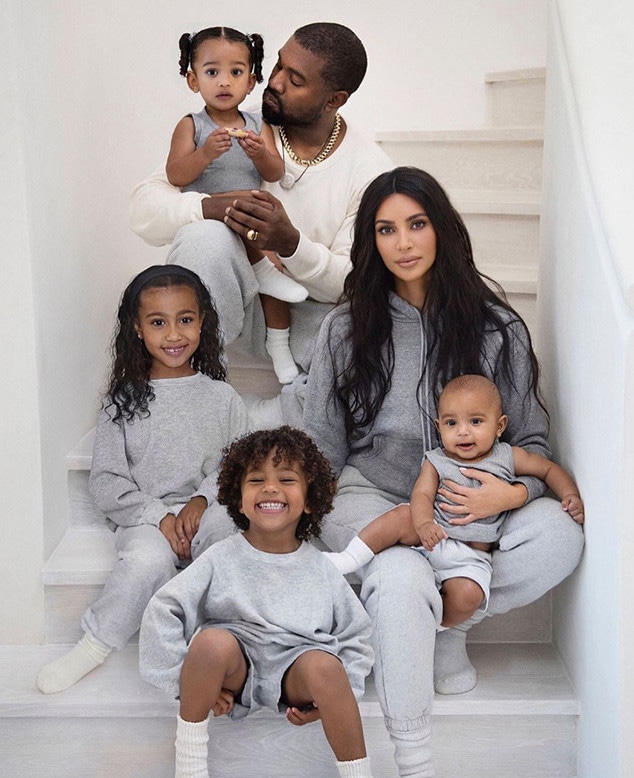 Instagram
When you're North West, the family holiday card works around you. 
Just days ago, Kim Kardashian unveiled the West family's Christmas card, a notable shift from the usual Kardashian-Jenner family Christmas shoot. Instead of featuring her many siblings and all of her nieces and nephews, Kim's 2019 card honed in on her, her husband and their four children cozy at home. 
As for the switch from a big group shot, a source told E! News, the Kardashian-Jenner family has "decided to each do their own Christmas card photos with their individual families." "It's not that the family couldn't agree on a theme," the source elaborated. "They all just wanted to highlight their families individually and truly haven't made the time to coordinate the card."
The KKW Beauty mogul explained to Ellen DeGeneres that "it was just a time thing of why I couldn't wrangle everybody." However, while she had less people to coordinate, "even that was so dramatic," the reality star said. "It's the most anxiety to get four kids together smiling in a room."
In fact, she couldn't get four kids together smiling in a room. As the star revealed, daughter North West "was having a day, so she refused to be in the shoot."
Kim noted her firstborn was crying because she wanted a "specific hairstyle," so they agreed the youngster would not be on the card—that is, until the next day. 
Having seen the finished card, we know North ended up in the portrait...but how? According to her famous mom, the tot woke up the next day and said she wanted to be on the card. "Thank God the photographer was still in town," Kim told DeGeneres. 
So, the mother and daughter had their own photo shoot together and, after cropping Kim out of those snaps, North got photoshopped in. "And it looks like a beautiful card!" Kim quipped. 
Watch:
Kourtney Packs Up in "KUWTK" Season Finale
Needless to say, the mom of four has juggled plenty of conflict, including resolving some drama with sister Kourtney Kardashian. 
"We just went to Japan together. We've really taken the time to hear each other out and listen. What sucks is that season 18 will come out soon and it gets worse before it gets better, so her and I have healed and have talked about everything and really come to an understanding," she said. 
 
As for Kourtney wanting privacy from the family's longtime show, Kim said the conclusion is up in the air, but they're in a "good place about respecting each other's space and if someone doesn't want to be on the show, we obviously want them to have that mental break and live their life exactly the way that they want."
(E! and NBC are both part of the NBCUniversal family.)