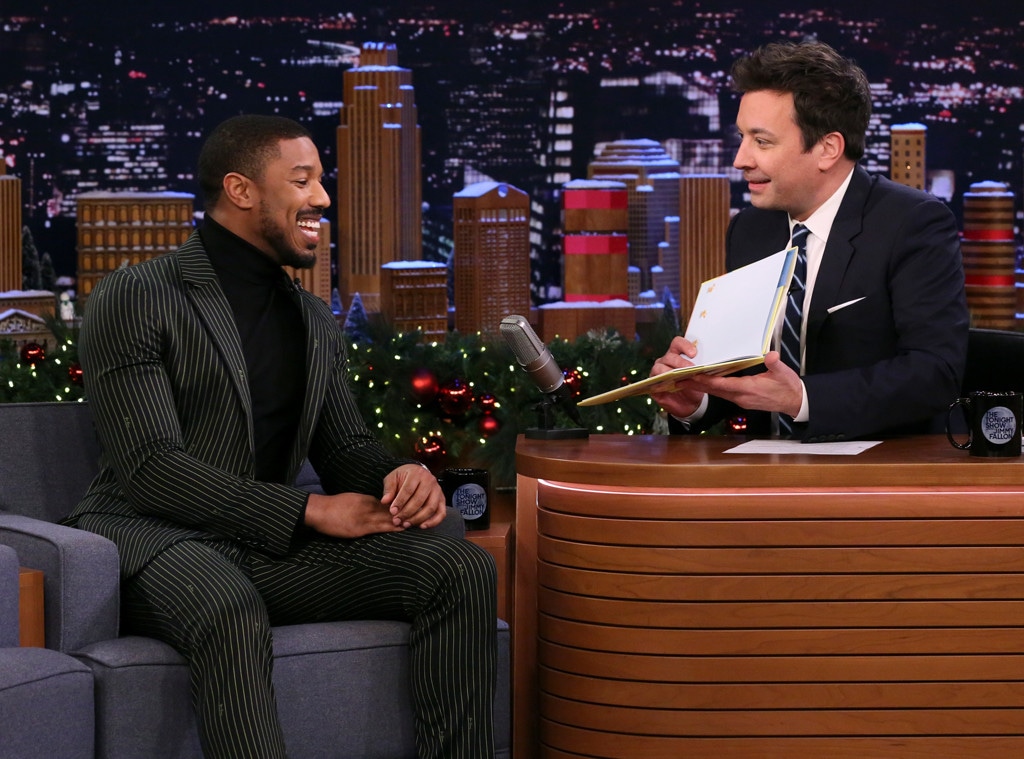 Andrew Lipovsky/NBC
Michael B. Jordan would do anything for his mom's mac and cheese.
During an appearance on Monday's The Tonight Show Starring Jimmy Fallon, the Black Panther star revealed the sneaky lengths his mother, Donna Jordan, went to just to make sure her son got to eat his favorite meal on Thanksgiving.
As the actor told host Jimmy Fallon, "My mom's mac and cheese is legendary."
"She only makes it a couple times a year," he added. "Thanksgiving, birthdays." As Fallon then asked, "You had it this year?" The answer was yes, but it was a bit of a convoluted story.
As Jordan explained, "Actually, I did. Somehow she found a way to sneak it, like through customs. And she got it to Berlin. I was in Berlin filming for the past three months, and I missed my first Thanksgiving in I don't know how long, so she somehow figured out a way to get mac and cheese and fer famous meat and mac to me in Germany."
In an absolutely heartwarming moment, the Creed alum then added, "My mom somehow found a way to get a little bit of home all the way in Germany."
Jordan clearly has a great relationship with his mama. The star loves to bring her along as his date to his various public events. He brought her as his date to the 2019 Oscars, as well as the David Makes Man premiere in Los Angeles in August, so yeah, the mother/son love runs deep here.
Another person the 32-year-old star has a lot of love for is Jamie Foxx, his co-star in the upcoming film Just Mercy.
The film, in theaters on Christmas, is based on the true story of Walter McMillian (played by Foxx), a man who was wrongly convicted of murder. Jordan's character, Bryan Stevenson, ends up getting him exonerated.
Jordan revealed to Fallon that Foxx was invaluable in keeping everyone's spirits up on set while filming the heavy subject matter.
Watch:
Michael B. Jordan Reveals the Biggest Risk of His Career
"We were dealing with such heavy material," Jordan told the host. "He was excellent at playing music to kind of get us in and out of moments. I think we were dealing with such heavy stakes all the time, he would play songs to kind of set the mood for a scene. But then also play songs to kind of get us out of it as well. He was definitely a big cheerleader on set. Always telling jokes, he's an amazing storyteller."
No doubt, his mother's mac and cheese also would have helped lift the mood.