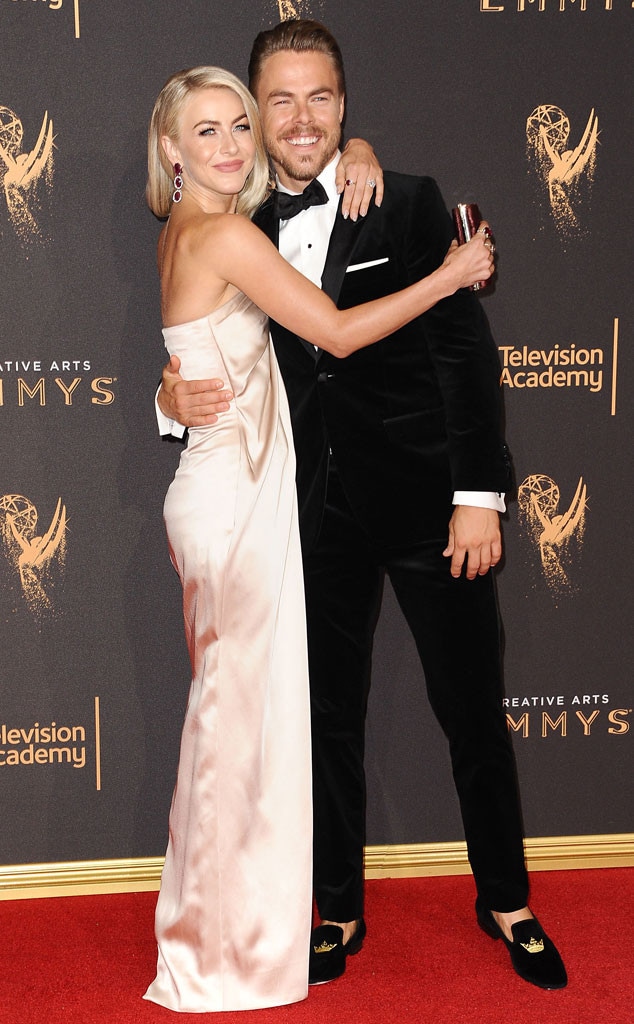 Jason LaVeris/FilmMagic
Julianne Hough and Derek Hough are bringing fans home for the holidays.
Well, not actually. They're just giving viewers the chance to experience what it's like to celebrate the Holidays With the Houghs through a TV special that comes for one night and one night only. And, big surprise, it includes a lot of dancing and singing!
It's no surprise the talented siblings took on the task of creating their own show. After all, the two stars are master dancers and they are known for being quite the festive duo—remember when Julianne released her very own collection of holiday songs back in 2008?
Plus, they have the advantage of growing up in Utah, which is a literal winter wonderland. 
To achieve their vision, the dancing siblings partnered with NBC for a holiday special that guarantees laughter and heartfelt moments, plus appearances from some surprise guests. The two detailed all of this and more in an exclusive interview, which you can check out below!
E!: You guys have done many duos and live shows together, what can we expect from this one?
J: This is the combination of all of the things. We have done Grease and Hairspray, which were characters we got to play, but this is really showcasing and celebrating the fact that Derek and I get to do what we love and connect with each other. There is no better way to do that than with what bring people together—the holidays. We are really taking it back to the O.G. variety shows and I feel extremely honored and blessed. 
D: We feel so grateful. This is such a blessing and it is also just so much fun. We are going full out. I will be dancing on the ceilings and on the walls and Julianne is going to be roller-skating and doing death-defying moves.
Watch:
Derek Hough Talks Julianne Hough's Fairy Tale Wedding
E!: Do you guys have any pre-show traditions or rituals that you guys do together? How do you prepare for something like this? 
D: Well, I know Julianne's pre-show ritual is she has to go to the bathroom. Always.
J: If there is five minutes, I probably go at least eight times. That is my ritual.
D: I'm just warming up, doing push-ups and sit-ups, trying to break a sweat. Always checking in on Julianne making sure she's ready. We just feel so grateful and smile at each other. 
E!: You have so many family members, I'm sure the holidays are special for you! What are some of the Hough traditions that you guys carry out? Are we going to see a new dance challenge?
J: We have 33 nieces and nephews. If we're all together the only volumes are loud and louder, so it's complete chaos, but it's beautiful chaos. 
D: We go ice skating, sledding and a bunch of fun stuff. We usually make little goal-oriented posters for the New Year. It's one of my favorite traditions. We're able to sit down and get grateful.
E!: How about any traditions with your significant others? You and Brooks are still newly married, do you have any traditions together?
J: We spend one year with just us and the next year with family. We rotate so we still get to build our own tradition with ourselves. We open one gift on Christmas Eve and it's usually pj's or onesies so we can look all cute on Christmas. But usually our gifts are experiences or adventures versus gifts. 
See Derek and Julianne in action when their special, Holidays With the Houghs, airs live tonight on NBC.
This interview has been edited and condensed for clarity.
(NBC and E! are both members of the NBCUniversal family.)