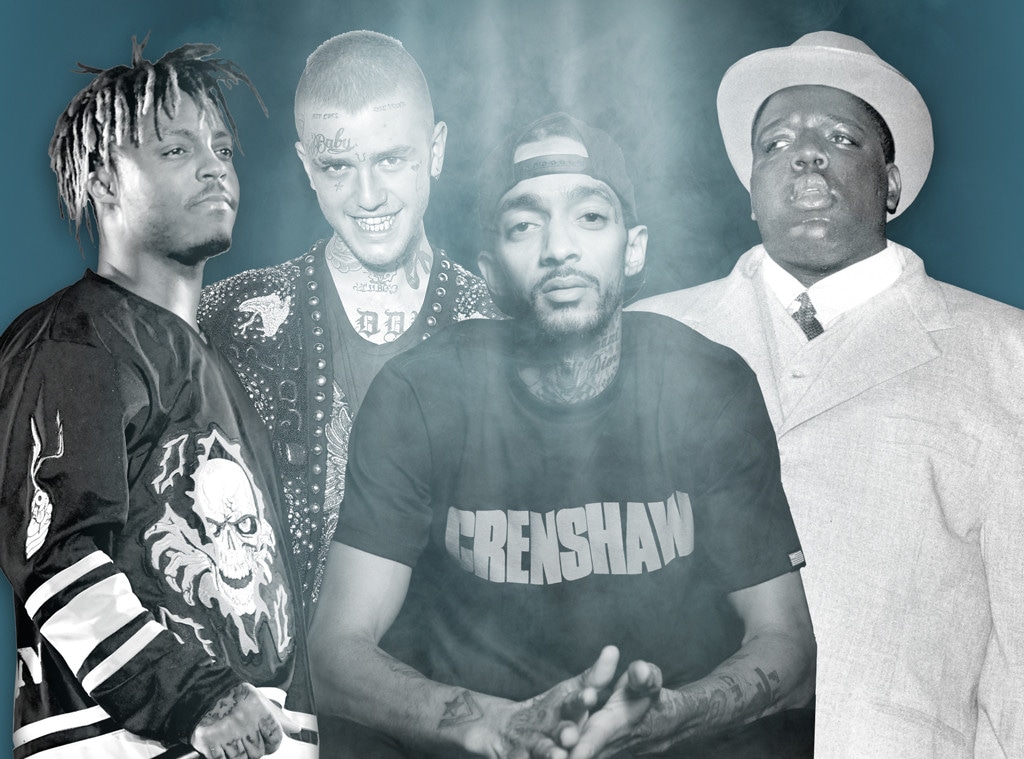 Getty Images; Melissa Herwitt/E! Illustration
On Dec. 8, Juice WRLD was the most-streamed artist in the United States, his songs cranked up more than 38.2 million times through different services—almost 24 million more streams than the next most listened to artist that day. The Sting-sampling "Lucid World," which reached No. 2 on Billboard's Hot 100 singles chart last year, led the charge with 4.4 million streams.
But Dec. 8 was also the day that Juice WRLD died.
The 21-year-old rapper, born Jarad Anthony Higgins and who like many of his fellow aspiring hip-hop stars of this day and age first grew a substantial part of his audience putting his music on SoundCloud, had been pronounced dead that Sunday morning in Chicago. After flying into town on a private jet, he suffered what at first was reported as a seizure upon arrival at Midway Airport, shortly after 1 a.m. Responders administered Narcan, which is used to treat opioid overdoses, and he was rushed to a nearby hospital, where he was pronounced dead shortly after 3 a.m.
Chicago police have since revealed that they found 70 pounds of marijuana in 41 vacuum-sealed bags; six bottles of liquid prescription codeine cough syrup; and three firearms, including two 9 mm pistols and a .40-caliber pistol, plus bullets and a high-capacity magazine, onboard when they searched the jet. The search had started before Higgins started convulsing.
Cause of death is still pending; in the meantime, Higgins' mother has said that her son did have a substance abuse problem.
Watch:
Juice Wrld Honored During Private Funeral
"We loved Jarad with all of our hearts and cannot believe our time with him has been cut short," Carmella Wallace, who raised Higgins and his brother as a single mom after she and their father divorced, told TMZ in a statement. "As he often addressed in his music and to his fans, Jarad battled with prescription drug dependency. Addiction knows no boundaries and its impact goes way beyond the person fighting it. Jarad was a son, brother, grandson, friend and so much more to so many people who wanted more than anything to see him defeat addiction.
"We hope," Wallace concluded, "the conversations he started in his music and his legacy will help others win their battles as that is what he wanted more than anything."
Unfortunately, like too many others, his legacy will be primarily shaped without him, his life ending before he was able to experience anything more than a taste of the possibilities ahead.
The tragedy of an artist cut down in his or her prime—or, even sadder, without ever having known what their work meant to people—is a tale as old as art (of all kinds) itself.
Mental health issues, substance abuse, violence, bad decisions, other people's bad decisions—all have been factors at one time or another in the loss of some major talent in our lifetimes, and in many other lifetimes, going back generations. 
But while it's common for an artist's sales to spike after their deaths, such as the way songs and albums by the likes of Michael Jackson, Whitney Houston, David Bowie and Prince surged to the top of iTunes in the wake of their sudden demises, those singers had enjoyed long, storied careers while they were alive. They had been internationally renowned for decades and, even if you were for some reason unfamiliar with their work, you knew who they were.
Richard Shotwell/Invision/AP/Shutterstock
And then there are artists like Juice WRLD. He did enjoy success in his too-short lifetime—his second studio album, Death Race for Love, debuted at No. 1 on the Billboard 200 in March and he had firmly established himself as an exciting rapper to watch—but how many more discovered him only after tragedy struck?
"Juice made a profound impact on the world in such a short period of time," his label, Interscope Records, said in a statement mourning the loss on Dec. 8. "He was a gentle soul, whose creativity knew no bounds, an exceptional human being and artist who loved and cared for his fans above everything else. To lose someone so kind and so close to our hearts is devastating. Our thoughts are with Juice's family and friends, everyone at his label Grade A, and his millions of fans around the world."
Scott Dudelson/Getty Images
A similar fate befell the rapper-singer Lil Peep, who was 21 when he died of an accidentally toxic mix of the synthetic opioid fentanyl and the anti-anxiety medication Xanax, barely six months after the conclusion of his first headlining tour. With songs like "Better Off (Dying)" and the album Come Over When You're Sober Part 1, Peep was another barely of-age artist who gave his fans an up close and personal look at just how much he struggled in his daily life. 
Peep, whose real name was Gustav Åhr, is the subject of the 2019 documentary Everybody's Everything, examining not only his rise and fall but also the considerable influence he managed to have in just a few years in the public eye. "There were days when I'd scream-cry," Peep's mother, Liza Womack, who collaborated on the film and same-titled soundtrack album, told the Los Angeles Times last week. Going through her son's musical archive "makes me miss him every day. But I'll be damned if I'm not going to do my best by him."
Of course Peep and Juice had their devoted fandom already, as did their fellow SoundCloud-boosted rapper XXXTentacion when he was shot to death in June 2018 at the age of 20.
But all three became exponentially more famous in death—and thanks to social media and the fact that their careers were first assembled online as opposed to through traditional radio play and CD sales, their stars rose within hours.
Billboard reported Sunday that both Death Race for Love and Juice's 2018 debut album, Goodbye & Good Riddance, had returned to the Billboard 200 sales chart after moving another 49,000 and 59,000 units, respectively, in the week after the artist died. WRLD on Drugs, a collaboration with Future, also returned to the chart at No. 75 after selling another 13,000 units.
XXXTentacion, born Jahseh Onfroy, saw his first studio album, ?, debut at No. 1 in March 2018 just days after his release from house arrest, the rapper having been housebound since witness tampering charges had been filed while he was already awaiting trial on domestic violence charges for allegedly attacking his pregnant girlfriend.
Matias J. Ocner/Miami Herald/TNS via Getty Images
His brand of fame was already of the notorious sort when he was killed. But while his problematic behavior was impossible to ignore when he died, in the ensuing months, his artistry reasserted itself relatively unchallenged, resulting ultimately in two posthumous American Music Award nominations in 2018 and 10 Billboard Music Award nominations earlier this year.
The week after XXXTentacion died, his song "Sad," which had previously peaked at No. 17, hit No. 1, then several months later a posthumous Lil Peep-XXXTentacion collab called "Falling Down" dropped. In May, XXXTentacion's second album, 17, was named Top R&B Album at the 2019 BMAs—where, incidentally, Juice WRLD was honored as Top New Artist.
Also last year, just days after XXXTentacion's death, Juice WRLD released an homage to him and Lil Peep called "Legends" in which he referenced music's infamous "27 Club"—27 being the decades-spanning expiration age of Jimi Hendrix, Janice Joplin, Brian Jones, Jim Morrison, Kurt Cobain and Amy Winehouse.
"What's the 27 club?" Juice asked in his song. "We ain't making it past 21."
To which we can only reiterate what Juice WRLD collaborator Young Thug wrote on Instagram in response to his friend's untimely death: "F--k this s--t."
Meanwhile, the music world has been reeling off and on for decades, and 2019 has been as tough a year as any.
Nipsey Hussle, who was shot and killed in March outside the clothing store he owned in South Los Angeles, had just received his first Grammy nomination, but was already a veritable hero in his hometown thanks to his dedication to paying his good fortune forward in the economically distressed L.A. neighborhood and surrounding environs that he grew up in.
Larry Busacca/PW18/Getty Images for Parkwood Entertainment
His Victory Lap lost to Cardi B's Invasion of Privacy this year, but his recognition in the Rap Album of the Year category signaled that his career was going nowhere but onward and upward. Which it indeed was until he was killed at the age of 33—making him a veritable elder statesman relative to some of the artists whose demons got the better of them before they'd barely had a chance to put up a fight.
But still way too damn young. He has since been nominated for three more Grammys—Best Rap Performance, Best Rap/Sung Performance and Best Rap Song.
Hussle, born Ermias Joseph Asghedom, had been open about being involved in gang activity earlier in life, but he had since turned it around and his success was an example for the countless people from his neighborhood who looked up to him, as evidenced by the thousands who have since made a pilgrimage to the site where he was shot.
And it's its own kind of tragedy that his efforts and contributions—let alone his music—weren't as widely recognized and appreciated as they would be just hours after he was killed.
Authorities have said that the man awaiting trial for Nipsey's murder (he has pleaded not guilty) had only a personal beef with the artist and business owner, that the slaying wasn't gang-related or part of some bigger overarching feud—but the crime couldn't help but hearken back to the day when rappers first started making music about—and cashing in on—their proximity to death.
For instance, Nipsey, barely 30, rapped about his own funeral in the 2016 song "Ocean Views": "My precedures, stay crackin 'til my life's low / Then when I die, blue rag around my rifle / Hundred-thousand in my coffin, that's just life though / Play a Stevie Wonder song, smoke some flight, bro / Crack a pint of Actavis then pour in some Sprite, bro / Until that day I'm walking toward what's in my sights, though."
But perhaps no rap artists before or since came to symbolize that yea-though-I-walk life quite like Tupac Shakur and Notorious B.I.G., pitted against each other in life and forever part of each other's stories in death.
Al Pereira/Michael Ochs Archives/Getty Images
Though already a super-star while he was alive, Shakur—prolific rapper, actor, poet and troubled soul who had spent time in prison for sexual abuse—became nothing less than a legend after he was shot and killed in Las Vegas in September 1996 at the age of 25. Six studio albums released posthumously have been Top 10 performers, with three of them hitting No. 1, and numerous artists have cited him as a defining inspiration.
Including Juice WRLD, whose very name was inspired by the 1992 crime thriller Juice, starring Shakur, one of his favorite movies (he had the haircut too), as well as the 2011 Soulja Boy mixtape Juice.
Island World/Kobal/Shutterstock
And while Shakur certainly enjoyed the spoils of being a platinum-selling rapper in life, he missed seeing his music transcend the music world, such as when his lyrics have been parsed over in college courses, from Modern Protest Literature:From Thomas Paine to Tupac at Harvard to The Textual Appeal of Tupac Shakur at University of Washington.
Only adding to the legend: His murder remains unsolved, despite the endless man hours (as well as books, films and one true-crime limited series so far) devoted to the case, as does the March 1997 murder of Notorious B.I.G.
Born Christopher Wallace, Biggie Smalls/Notorious B.I.G. had only released one studio album, 1994's Ready to Die, when he was gunned down in Mid-City Los Angeles at the age of 24.
He was already a star as a part of Sean "Diddy" Combs' burgeoning Bad Boy empire, but his legend-cementing second album, the double-LP Life After Death, didn't come out until 16 days after he died. It spent four weeks at No. 1, has been certified 11-times platinum, and was nominated for three Grammys in 1998.
In fact, when XXXTentacion's "Sad!" went to No. 1 after his death, he was the first artist to achieve that posthumous honor with his own record since 1997, when Notorious B.I.G. ruled from beyond with "Hypnotize" and "Mo Money Mo Problems," the latter of which knocked Diddy's tribute "I'll Be Missing You" out of the top slot after 11 straight weeks at No. 1. (Soulja Slim and Static Major also hit No. 1 after their respective deaths in 2004 and 2008, but as featured artists on Juvenile's "Slow Motion" and Lil Wayne's "Lollipop.")
Obviously anything with "Death" in the title of a song or album is going to stick out after exactly that fate befalls an artist, and Juice WRLD is no exception—though Death Race for Love referred more to the depths people are willing to go to for a relationship, the self-annihilation that awaits those who love the hardest.
"My music is like my therapy sessions, but there's no confidentiality," he told Billboard in March. "I put it out there for people to receive, reevaluate, and learn, and grab my hand and walk with me through whatever they may be going through."
Indeed, he rapped on Death Race's opening track "Empty" that he was "put here to lead the lost souls / Exhale depression as the wind blows."
Scott Garfitt/Shutterstock
But the suspicion that he wasn't long for this world still hovered. In "Lean Wit Me," off of his 2018 debut LP Goodbye & Good Riddance, the still 19-year-old Juice rapped, "Lookin' at the devil and the angel on my shoulder / Will I die tonight? I don't know, is it over? / Lookin' for my next high, I'm lookin' for closure."
Death Race wasn't supposed to be a sprint to the finish line, but the struggle laid bare in the lyrics persisted in real life.
"Told her if I die I'ma die young / Every day I've been gettin' f--ked up," he rapped on "Lean Wit Me." "Finally know the difference between love and drugs / Shawty tell me I should really sober up...Girl, you hate it when I'm too high / But that's where I belong, where I belong."