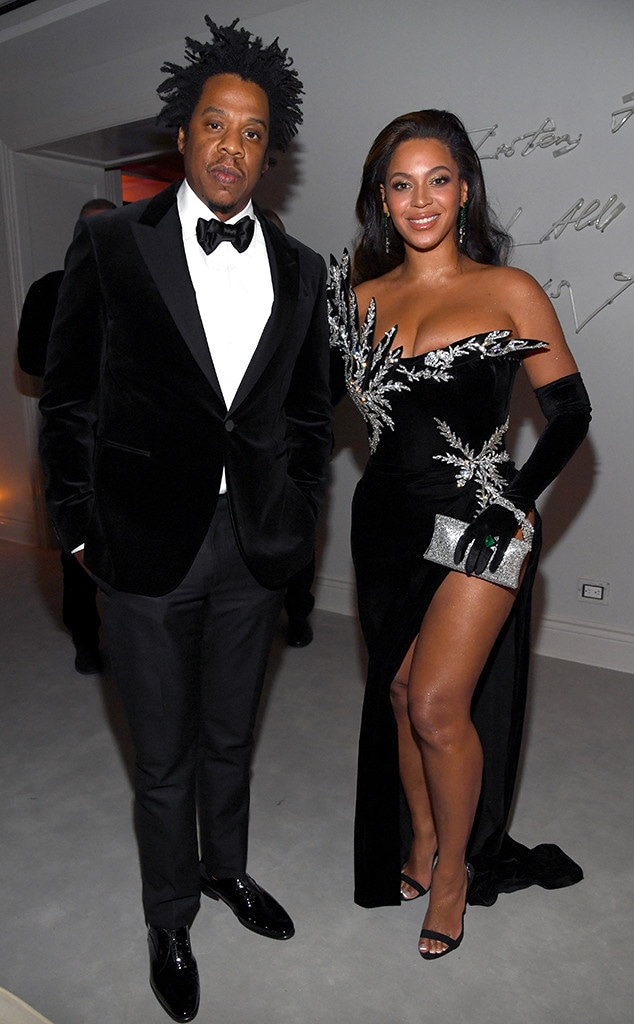 Kevin Mazur/Getty Images for Sean Combs
There's a reason why they call themselves Bonnie & Clyde. 
On Saturday night, Dec. 14, Beyoncé and Jay-Z made a rare public appearance at Sean "Diddy" Combs' star-studded 50th birthday party at his home in Los Angeles, Calif.
While there were plenty of pictures of "Run the World" singer circulating on the internet about what she wore to the birthday bash, fans who didn't attend the party obviously wanted to see more. And people who did attend the party were willing to give the public what it wanted—but the 38-year-old singer's husband wasn't having it. 
According to a video that's by now gone viral on social media, someone at Diddy's party was filming on their phone while they were near Queen Bey dancing with former Destiny's Child member Kelly Rowland and Saweetie and as soon as Jay saw them doing that, he snatched the phone away from their hands. Now, the internet is having a field day with it. 
While it's unclear whether the 50-year-old rapper did that to avoid footage of his wife dancing leaking or for another reason, it's clear as day that he's got her back regardless. 
E! News has reached out to The Carters' rep for comment. 
At Diddy's birthday party, the "Pretty Hurts" singer dazzled in a strapless black and silver crystal-embellished Kujta & Meri gown with leafy detailing and a thigh-high split, paired with long black gloves, a silver clutch and black strappy heels. 
Diddy's birthday bash was also attended by Kim Kardashian, Kanye West, her sisters Khloe Kardashian and Kylie Jenner, her mother Kris Jenner, as well as stars like Leonardo DiCaprio, Post Malone, Offset, Ellen Pompeo, Usher, Big Sean, The Weeknd, Mary J. Blige and so many more. 
The rapper's party also marked the first time Kanye and Jay have publicly reunited after several years of feuding. The two were seen greeting each other with a handshake and big smiles. They were also pictured together. 
"There was no drama between Kanye and Jay Z," a source told E! News. "The night was all about love for Diddy and that was apparent. Whatever happened in the past was left in the past. They posed for pictures and hugged. They were happy to see each other and very friendly."
Watch:
Kanye West & Jay-Z Reunite 3 Years After Feud at Diddy's 50th
The source continued: "It was a room full of a lot of old friends and legends who don't get to see or talk to each other all that often."Everyone seemed genuinely happy to come together for the occasion."