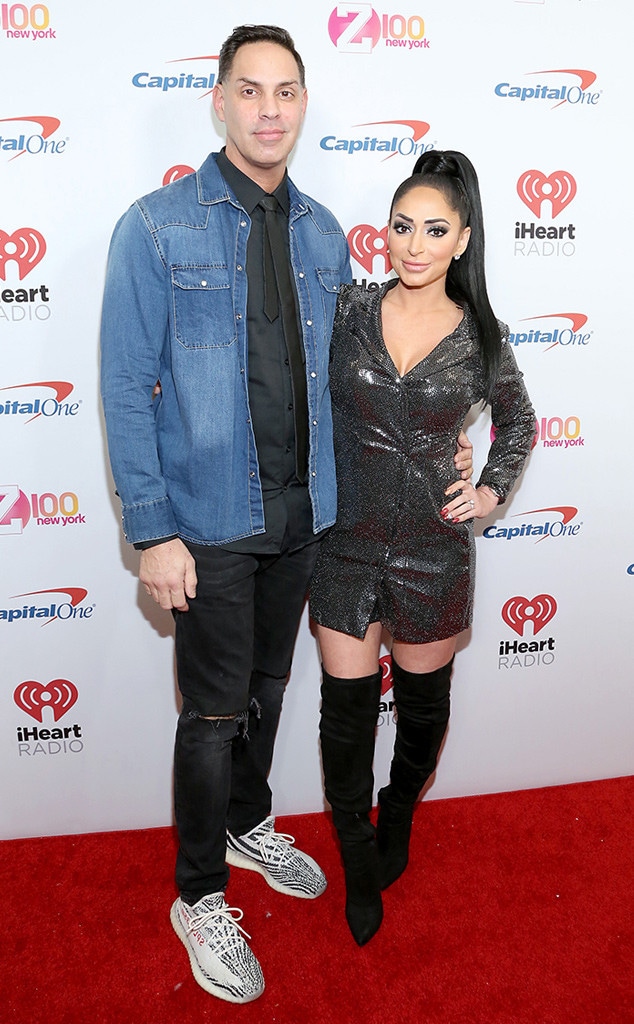 Monica Schipper/Getty Images
Angelina Pivarnick is ending 2019 on a high note!
Close to one month after saying "I Do" to Chris Larangeira, the Jersey Shore: Family Vacation is ready to celebrate her very first Christmas as a newlywed.
Before presents are opened and Santa arrives, however, the MTV star chatted with E! News at Johnny Donovan's 3rd annual Celebrity Christmas Party at Buca di Beppo in Times Square.
From her holiday plans to an upcoming honeymoon, Angelina has some big, big plans in the weeks and months to come. Fortunately, she's updating fans in our exclusive chat below.  
Get crazy, get loud because it's about to be a season to remember!
E!: What are your 2019 Christmas plans?
Angelina Pivarnick: So I am hosting my first Christmas at my house as a married woman. My family, growing up, we really didn't have tradition because my parents divorced when I was 11. Now that we have our house, I'm really excited to start this new tradition for when we have kids. It's a lot of work and planning with my uncle, who is my best friend. He's so into holidays and he's making me more into holidays. My husband's decorating our whole house with all these crazy lights. There's a projector inside and outside of my house. He and my uncle are best friends. They're like, "We have to get this girl into the holiday spirit." Because I didn't grow up like that. The place settings, the chargers, the napkins, I love it. So now we're going to do all that.
E!: How is Chris' mother doing health-wise?
AP: Chris' mom unfortunately has cancer. She was diagnosed three weeks before the wedding. I don't know if she's going to be coming. I wish she would but she may not be feeling well enough because of the chemo. It's a really sucky situation. It is what it is. S--t's tough. Life is short but love your loved ones. Love them, kiss them every day because you don't know what's going to happen.
E!: And how are you—Angelina—doing?
AP: I'm okay. It was a lot, but I'm okay right now. I'm living day by day. I'm not trying to the think about the past. I'm not trying to think about the future and just moving on from things. It's the holiday season. I'm really focusing now on my husband's family, on his mother. It sucks she was diagnosed three weeks before our wedding. She was able to attend.
E!: Do you have anything to say about all the reports surrounding your wedding?
AP: I can't talk about it. I mean, listen. I can't really touch upon it. It is what it is. I can't turn back time. I'm just trying to look forward.
E!: What's the latest regarding your honeymoon with Chris?
AP: We are actually going to take off in January. We didn't go on one yet because of work. We don't know where we're going. We're probably going to plan it today when I get home.
E!: How does Chris feel about the on-camera life?
AP: He's my biggest supporter. He just kind of stands in the background. He doesn't want to take the spotlight from me. That's why I love him so much. He's so amazing and so supportive. Especially with everything going on. He was my shoulder to cry on. He's a great man.
This interview has been condensed and edited for clarity.