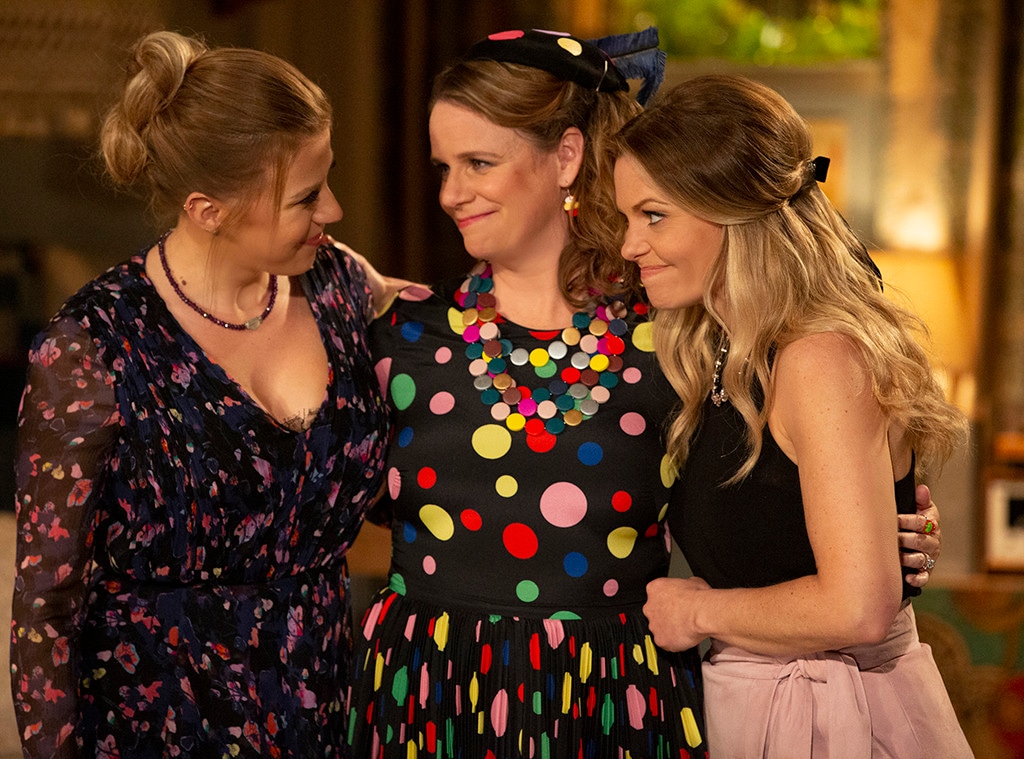 Netflix
We all knew that Mary-Kate Olsen and Ashley Olsen were never going to join the rest of their Full House family in their spinoff, and their Full House family knew it too. 
Candace Cameron Bure confirmed to TVLine that the twins, who played Michelle on Full House, weren't given an invitation to appear in the final season. 
"We did not reach out to them," she told the site. "It was very clear several seasons ago that they did not want to do it." 
Of course they would have been welcomed with open arms if they had wanted to make an appearance in season five of the Netflix sitcom, as they always had an open invitation, but at this point, a cameo from the entrepreneurs would be the most shocking thing to happen this decade. 
Back in 2015, when the spinoff show was first announced, everyone was dreaming of the return of Michelle Tanner, and it didn't seem entirely impossible. 
They told Women's Wear Daily that the first they heard of the new series was when John Stamos announced it on Jimmy Kimmel Live. 
"We just found out about it today. I guess we're going to talk to the creators and see what's happening," Mary-Kate said at the time, and they made it seem like no one had contacted them. 
"I ran into Bob [Saget] the other day and we didn't even talk about it," Ashley said, going on to say she'd have to see what he thought of the show. "I'm going to call [Saget] and get his perspective." 
"I'm shocked I haven't heard from John [Stamos]," said Mary-Kate. Stamos then tweeted "I call bulls--t," and claimed they "definitely" knew it was happening. 
Later he clarified that he hadn't reached out to them personally, but he "was told they were asked."
"They got upset, so I did call and talked to Mary-Kate and explained what the show is going to be and told them I'd love for them to be on there and they decided not to, which I respect," he said. 
Neither twin had acted in several years. Mary-Kate's last role was in Beastly in 2011, and Ashley hadn't acted since The Jerk Theory in 2009, and before that, her last role was in New York Minute in 2004.
They seemed…they were very, very sweet. They seemed very into it. They just were afraid of acting," Stamos told Howard Stern. "They don't consider themselves actresses. I said maybe you guys will just be in New York and we'll do a phone call or something and they were like, 'Let us think about it,' and it just wasn't for them so…"
In a People feature all about the spinoff series, Dave Coulier had a pretty simple explanation for why the Olsens just weren't that interested in the show, beyond not having acted in a while. 
"I think they have a different perspective," he said. "When we get together and we reminisce, they were babies [at the time]. So they don't share those same memories. I can't really speak for them but I would understand why they don't have the same sentiments that we all do." 
In the world of the show, Michelle (who fell off a horse and got amnesia in the Full House series finale, never forget) now runs a fashion empire in New York just like her real-life portrayers, much too busy to make it back to San Francisco for barbecues and love triangles and elaborate musical proposals. 
Watch:
"Fuller House" Stars Play 'House Rules' Game
Aside from that slight communication debacle with Stamos, it seemed like there were never really any hard feelings about the decision. 
"Although Ashley and Mary-Kate will not be a part of Fuller House, I know how much Full House has meant to them and they are still very much considered family," executive producer Robert L. Boyett said in a statement in May 2015. "It has been exciting to see how they have built their professional careers, and I support their choice to focus on their fashion brands and various business endeavors. I appreciate their support and good wishes towards Fuller House."
The first half of Fuller House's final season is now streaming on Netflix.