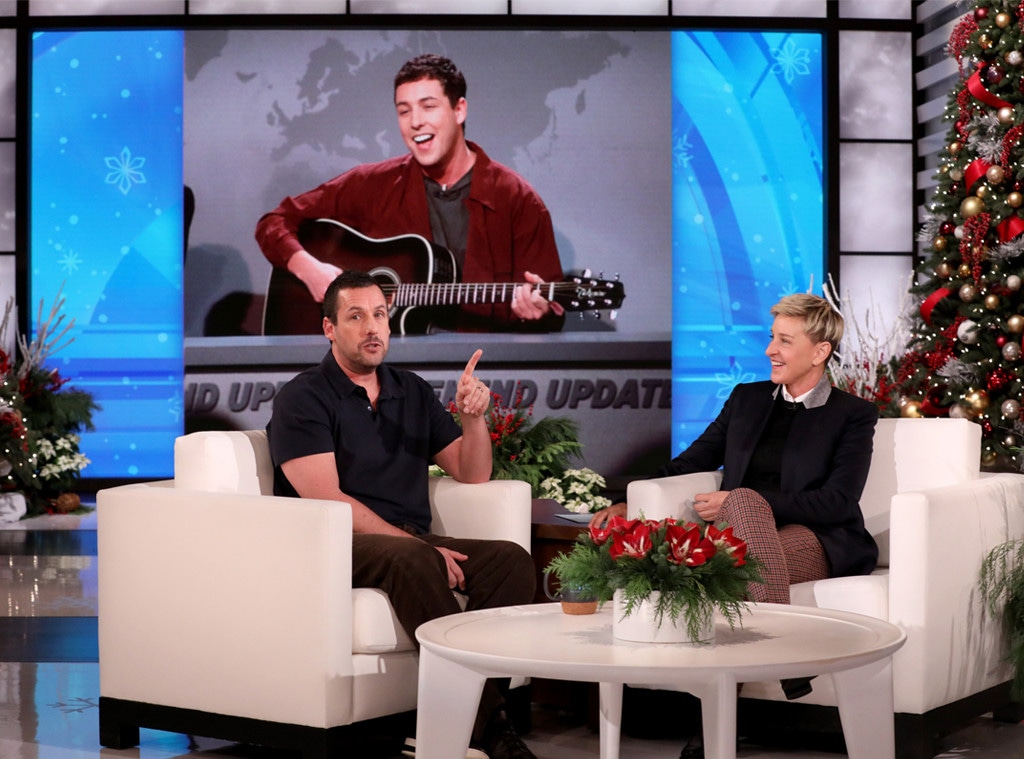 Michael Rozman/Warner Bros.
Adam Sandler wants a new Hanukkah song.
On Monday's episode of The Ellen DeGeneres Show, the Uncut Gems actor, who famously performed "The Hanukkah Song" back in 1994 on Saturday Night Live, begged fellow Jewish entertainers to come up with a new song.
"Twenty-five years old, that's a long time for one song," he told host Ellen DeGeneres after acknowledging its legacy. "If there are any other Jewish people out there who want to write a new one, that'd be great. I'd love to share the Hanukkah spirit with you."
Always one step ahead, Ellen suggested that the Murder Mystery star write a new version of the song to celebrate its 25th anniversary.
"I could," he pondered. "I just—I'm running out of Jews."
Adam isn't the only Sandler that loves to spread Hanukkah cheer with a song. Back in October, his daughters Sadie, 13, and Sunny, 11, performed a Hanukkah-themed cover of Taylor Swift's "Lover" with their famous dad.
The trio took the stage at Malibu's Rock4EB!'s charity event, which benefits the rare disease Epidermolysis Bullosa, The EBMRF and EBRP, and treated the audience to their version of the hit song.
"We could leave the Hanukkah lights up 'til January," Sunny and Sadie sang before receiving a standing ovation. "This is our place, we make the rules."
"They're very good," he gushed. "They're good singers and we were doing a benefit for EB. A good friend of ours' son Brandon—he's the nicest kid—and he battles with EB and they do this great benefit in Malibu every year and I got to sing at it. And I said, 'Hey, why don't you play…sing 'Lover' and they got on stage and sang."
Switching gears, the duo also discussed his critically-acclaimed performance in Uncut Gems, which Adam revealed he needed a little convincing from his wife Jackie Sandler to pursue.
"I read it—I loved the movie, but I was scared to do it," he admitted. "Then I asked Jackie to read it. We do this together, me and Jackie, we…discuss what I'm gonna do and she gives me strength and courage to jump into this stuff. So, she read it and she's like, 'You have to do it.' And right when she says I have to do it, I go, 'Oh, OK, man. I'm in there.' And I jumped in."
He continued, "And I had to do so many scenes where I, you know, bad things happen and I have to be naked and stuff—that's terrible for everybody. But it was an amazing time." 
Uncut Gems is in theaters everywhere December 25.