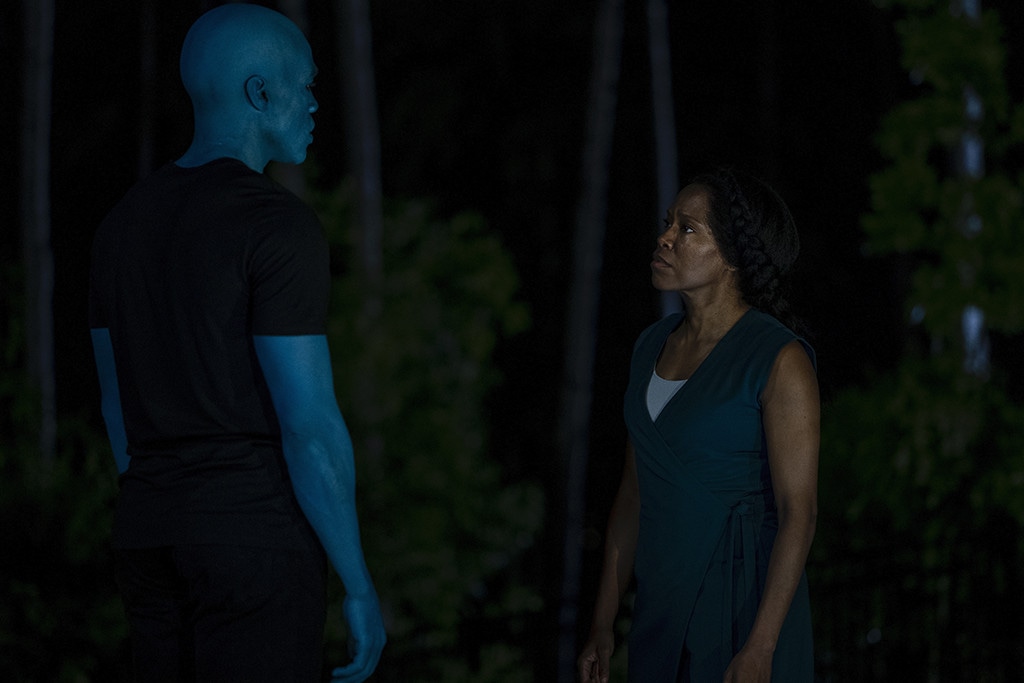 HBO
Somehow, against all odds, Watchmen worked. Well, it more than just "worked." To use Laurie Blake's favorite word, Watchmen was pretty f—king perfect.
The HBO drama from Damon Lindelof based on the acclaimed comic book miniseries of the same name by Alan Moore and Dave Gibbons took the source material and expanded it with a world full of rich characters. Regina King, a superhero in her own right, anchored the show expertly as Angela Abar, a masked police detective. As Laurie Blake, Jean Smart owned every single scene she was in, no matter how many f—ks she threw around. Every single actor, from Yahya Abdul-Mateen II to Hong Chau, worked as their respective characters in every way.
Over nine episodes, Lindelof and his team—including director and executive producer Nicole Kassell, executive producers Tom Spezialy, Stephen Williams, Joseph E. Iberti, producers Karen Wacker and John Blair—told one hell of a complete story.
The end of Watchmen was solid and concise, and it's natural for the viewer to desire a second season. But we don't need one.
And here's your spoiler warning!
Did Angela gain the powers of her husband, and Laurie's ex, Dr. Manhattan? The final shot of the series was Angela, placing her foot into her pool. Would she be able to walk on water? Could she use those great powers to right all the wrongs her husband neglected to do for years? That ending, which provided resolution to the season-long arc, is perfect. It almost demands a second season, but the beauty of Watchmen, and one of the reasons it was such an enjoyable watch, is that Lindelof said it's a one-season show. For now.
"We want to see how it's received by you guys," Lindelof said at New York Comic Con. "If the show comes out there and the conversation surrounding the show suggests you're hungry for more, we'll certainly take that into consideration. We want to deliver nine episodes that deliver a complete and total amazing story."
Mission accomplished. The story is over. It's not a cliffhanger, according to Lindelof. "I certainly don't feel like the season ends on a cliffhanger," he told Variety. "Although, I guess it's possible that others might perceive it as such. I would be really interested in debating them." In the same Variety interview, Lindelof said he was "profoundly appreciative" regarding how well received the show has been, but he doesn't "have any inclination whatsoever to continue the story" just "based on the fact that I don't have an idea."
Watch:
Regina King - 2019 Oscars E! Glambot
And that's good! That's why Watchmen worked. It told a satisfying, complete and expertly plotted story full of stellar performances and three-dimensional characters. Watchmen made sure it was incredibly timely while respecting the past and looking toward the future. It tackled race in America in surprising ways, especially for a show based on masked vigilantes. Watchmen trusted viewers and performers to tell a contained story, whether you read the comics that came before it or not.
"If I'm going to be involved in any more Watchmen, I should be able to answer the questions, why, and why now, and the answers to those questions shouldn't be, 'Well, because that's what you do, because the first one was good,'" Lindelof said about continuing the series.
All this talk and desire for a second season is fine, it's natural, but Watchmen succeeded because it sought out to tell one story—and did that. More American TV should do this! This was the craft television making at its finest, not a money grab.
Watchmen shouldn't have worked. All the odds were stacked against it, even with the level of talent attached to it. There was already a movie version, which…is best to forget. And Moore never wanted the comic book source material to be anything but a comic book. But Lindelof and the team crafted one f—king entertaining show, one more than worthy to be called Watchmen, one of the best shows of the year.