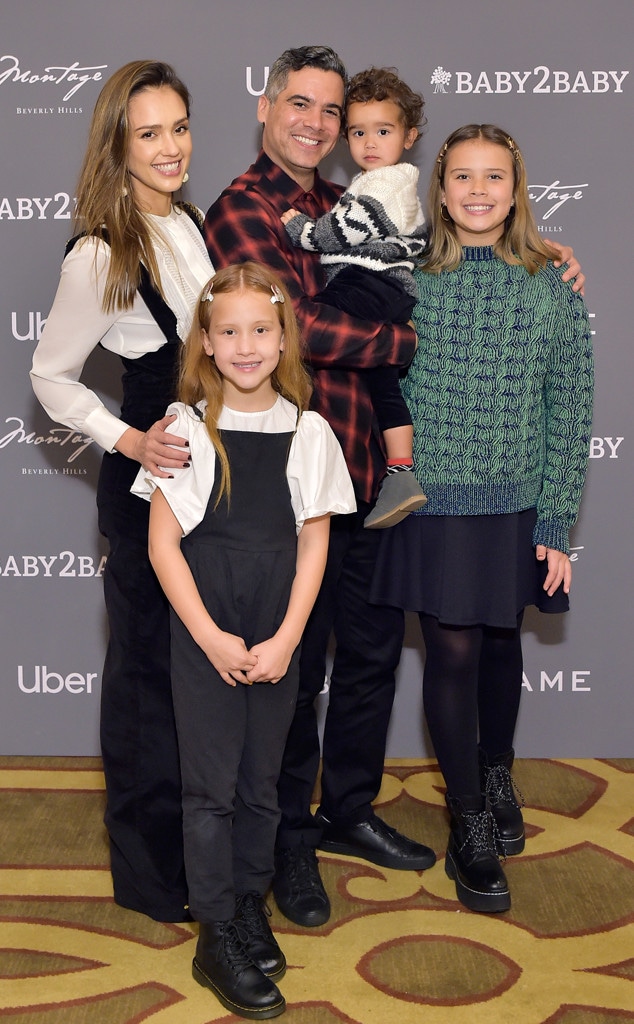 Stefanie Keenan/Getty Images for Baby2Baby
The Alba/Warren family is just the cutest.
On Sunday, Jessica Alba and Cash Warren made a rare public appearance with all three of their kids—Honor Warren, 11, Haven Warren, 8, and Hayes Warren, 23 months—at the Baby2Baby Holiday Party presented by FRAME and Uber in Los Angeles.
The family of five strolled up to the event in casual chic looks. Jessica and Haven matched in their dark overalls with white tops underneath. For his part, Cash opted for a classic red and black flannel. Honor and Hayes both sported sweaters that are perfect for the holiday season. All in all, it was a very stylish family that arrived to Sunday's event.
Baby2Baby is a non-profit organization dedicated to providing impoverished children from the ages of 0 to 12 years with clothing, diapers and other basic necessities. The Honest Beauty creator is on the organization's Board of Directors, so she frequents the charity's various events throughout the year. It only makes sense that she and her family would turn up and turn out at the company's holiday party!
Also at this year's holiday party were Alba's fellow Baby2Baby board members Kelly Rowland, jewelry designer Jen Meyer and Rachel Zoe, Busy Philipps, model Molly Sims and Baby2Baby co-presidents Norah Weinsten and Kelly Sawyer Patricof.
In June 2018, Alba told E! News why working with Baby2Baby means so much to her.
Watch:
Jessica Alba Talks Baby2Baby Partnership
"For me, Baby2Baby has my non-profit partner for my business," she shared. "So, for every dollar that you spend at The Honest Company, we give back. And Baby2Baby is our primary partner in that, so we donate product, we volunteer our time and we've given money to Baby2Baby since day one as a pretty young business."
As the mother of three continued, "It's important for me to do it because I'm a mother and I've been a mother for 10 years. And I just couldn't imagine—I have three kids—couldn't imagine not being able to provide a basic item like a diaper. I couldn't imagine having to choose between having a diaper or food for my family. I couldn't imagine having to reuse a dirty diaper for days at a time because I can't afford diapers. And that's something that just feels so essential and so basic, and if we could only alleviate families with something as simple as that—it seems so simple—but as simple as that, then it gives them an opportunity to thrive and to think of how they can break their own personal cycle of poverty."
Clearly, supporting this non-profit has become a family affair!