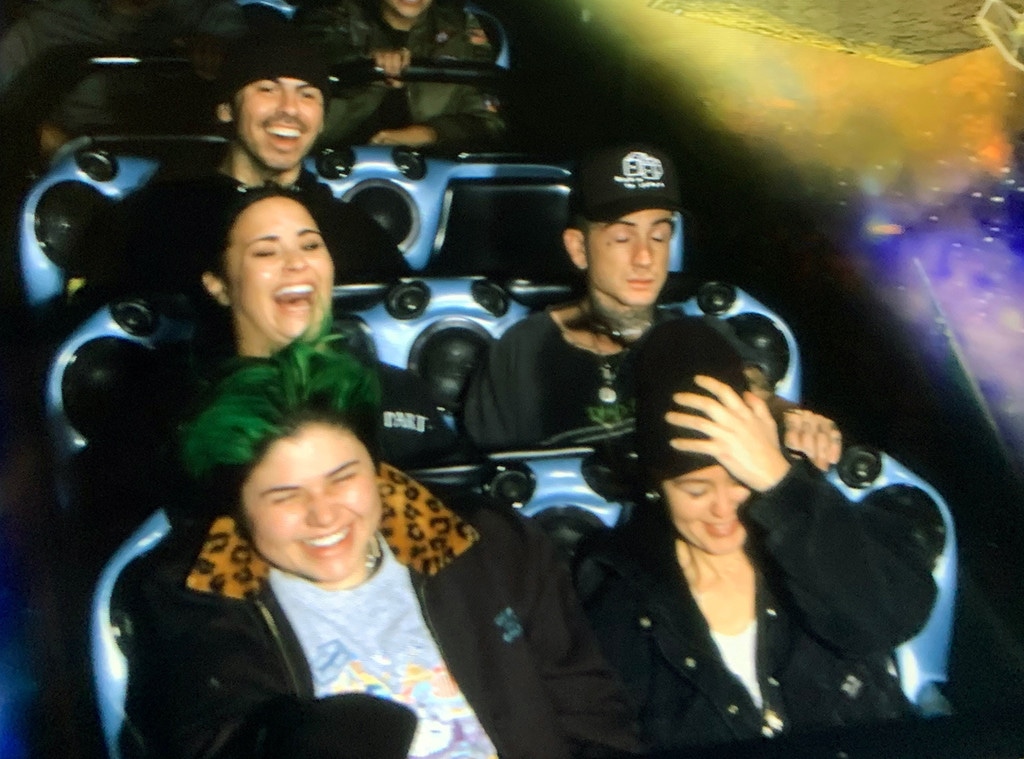 Snorlax / MEGA
Demi Lovato is spending the holidays with her boyfriend Austin Wilson at the Happiest Place on Earth. 
On Saturday, Dec. 14, the couple went on a date night to Disneyland in Anaheim, Calif. The two were pictured having a blast at the Walt Disney theme park and they were seen enjoying a PDA filled night. 
Throughout their date, joined by VIP tour guides and a personal bodyguard, the two rode everything from the Matterhorn rollercoaster to Space Mountain and even stopped for some delicious Disney snacks. 
The 27-year-old singer looked like she was having the best time at the theme park, especially in the shot taken during Space Mountain where the couple was caught in a candid moment during the ride. Demi was also seen looking cozy in a black hoodie that read "Love Will Tear Us Apart" and a flannel scarf around her neck. 
As fans of the "Give Your Heart a Break" singer may recall, Demi made her relationship with her beau Instagram official back in Nov. after she posted a picture of the two showing Austin giving her a kiss on the cheek. 
"My [heart]...," Demi captioned the picture. 
Austin also confirmed their romance on his own Instagram account. The 25-year-old shared a picture in which he could be seen wrapping his arm around the "Confident" singer. 
"My love," he wrote alongside the image of the two. 
After the singer revealed her new relationship on social media, fans were eager to find out more about her beau. A source exclusively told E! News that Demi met the model through the new friend group she hangs out with. 
"The romance was a whirlwind and they became romantic very recently," the source added. 
It also seems that their shared experience with sobriety is what led to the quick courtship. The insider told E! News at the time that his journey to sobriety is similar to Demi's, so he "can relate to her on that level and has been very empathetic to her struggles."
"Demi loves that they share the same values and are on the same page about their health and wellbeing. Demi thinks he is a good influence and a positive light to be around," the source explained. ""Everything is still very fresh but they have been being low-key hanging out."
Watch:
Demi Lovato Hints at Her Return to Music