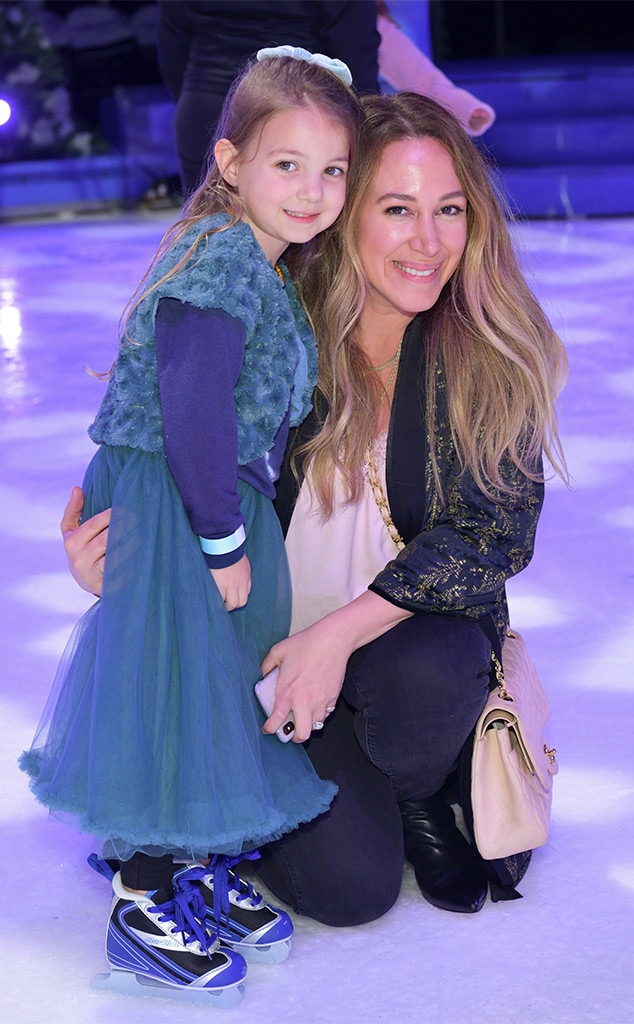 Rodin Eckenroth/Getty Images
Fans of the iconic Lizzie McGuire show remember that the character, played by Hilary Duff only had a younger brother but what if her IRL big sister joined her onscreen for the upcoming Disney+ reboot?
It's safe to say that we'd freak out if that ever happened (remember when the two teamed up for a cover of the iconic The Go-Go's song, "Our Lips Are Sealed"?). 
On Friday, Dec. 13 at the Disney on Ice Holiday Skating Party at the Staples Center in Los Angeles, Calif. Haylie Duff spoke to E! News exclusively about her plans for the new year and whether we can expect to see her onscreen once again any time soon. 
"I'm going back to work in a little bit, which is fun, but when I say going back to work, it's like I never really stopped working I guess," Haylie told E! News. "But you know, going back to like acting stuff a little bit, which is nice."
While Haylie couldn't spill any more details about the projects she currently has underwear, we couldn't help but wonder if one of those secret acting gigs is possibly a cameo on her sister's upcoming Lizzie McGuire reboot. 
"No, no I just can't talk about it 'cause it's so new. That's why, nothing so secret or crazy, but just like it's new," Haylie continued. "So I can't say anything just yet but you know, I'm looking forward to that. I feel like I've missed that part of my career."
Well, I guess we shouldn't hold our breaths to see her join the cast of the upcoming Disney+ reboot but it was worth a try. 
Further, Haylie opened up about how while she took some time off acting and other projects to focus on motherhood, she's excited to jump right back into it. "I was excited to take a little break to have kids and you know, have that part of my life, so I'm happy that it's kind of still waiting there for me. We're just praying," Haylie added. 
Just because she might not be making a cameo in her sister's upcoming Lizzie McGuire reboot, doesn't mean her and even her kids won't be tuning in.
When asked if she'd be introducing her kids to the revival, Haylie said: "Yes, I hope so. My girls are still really little, so I don't know if they'll totally understand. But at some point, I will introduce her to Lizzie McGuire but I don't know if she'll totally comprehend what it is." 
Haylie shares two adorable girls, Lulu Gray and Ryan Ava Erhard, with her partner Matt Rosenberg. The two became engaged a year before welcoming their first child together in April 2014. 
At last night's Disney on Ice event, Haylie was also joined by former 7th Heaven star Beverley Mitchell. 
Check out our gallery of more celebs and their kids at 2019 Disney on Ice!