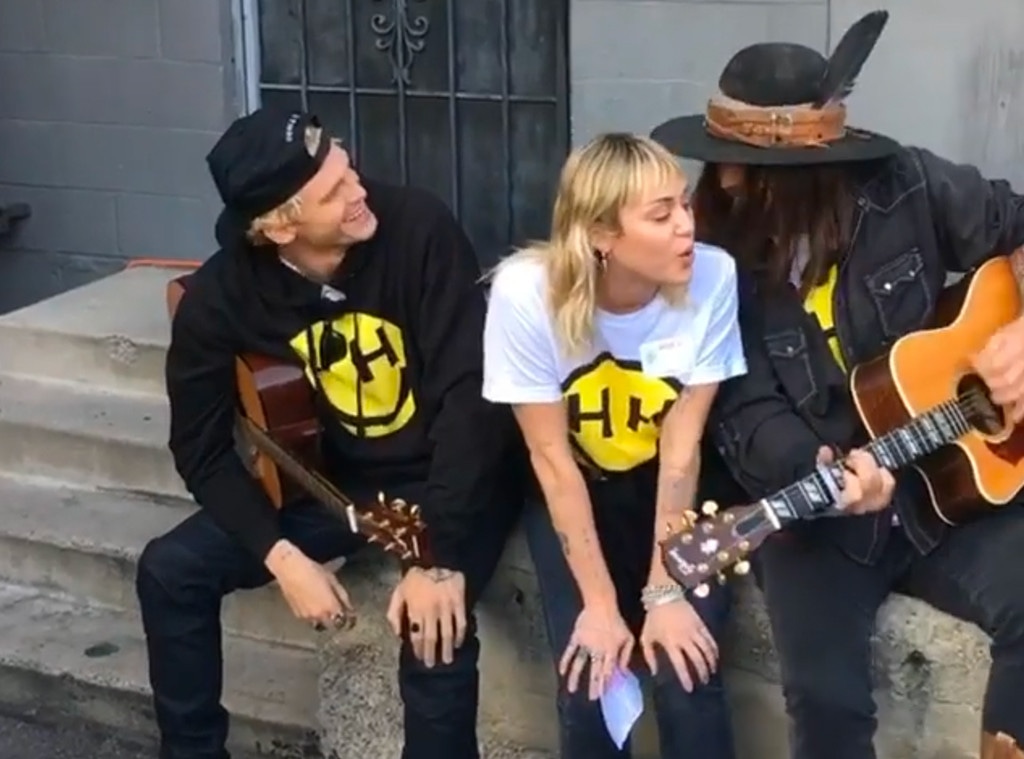 Instagram
Like father, like daughter. 
Pop culture fans may recall that little 'ol song that became a viral internet sensation... you know the one, "Old Town Road" by 20-year-old Lil Nas X. Y'all might also recall that it became even more of record-breaking track when Billy Ray Cyrus jumped on the remix with the young rapper. 
Now, the 58-year-old country singer and his daughter Miley Cyrus are giving us the cover of "Old Town Road" we never knew we needed.
On Friday, Dec. 13, Miley took to Instagram to post a series of videos of her father, her boyfriend Cody Simpson and herself performing a couple of songs together at the annual Happy Hippie Foundation and My Friend's Place organization holiday party. 
In one of the videos, Miley, Cody and her dad can be seen jamming out to the hit song acapella with the "Achy Breaky Heart" singer playing his guitar and a young man next to them playing the clarinet. 
Their biggest fan? The one and only Lil Nas X who left a comment on Miley's post with two heart face emoji's. 
Miley, Cody, her dad and her sister Noah Cyrus also performed "Silent Night" during both the organization's holiday parties. 
"@happyhippiefdn holiday party @myfriendsplace was a success once again ! always blown away by the young people I meet at MFP! There is always so much love and talent! Thank you to everyone who joined us in celebrating this special time of year with HH! #happyhippieholidays,"  wrote Miley in her caption. 
Happy Hippie Foundation was founded by Miley herself in 2014 and focuses on rallying together to fight injustice everywhere, specifically focusing on homelessness and LGTBQ rights. 
Co-founded in 1988 by Steve LePore and Craig Scholz, My Friend's Place focuses on assisting and inspiring homeless youth to build self-sufficient lives. The nonprofit organization is volunteer-based and offers services to nearly 1,400 youth experiencing homelessness between the ages of 12 and 25. 
Watch:
Miley Cyrus & Cody Simpson Continue PDA & Liam Hemsworth Hangs In There