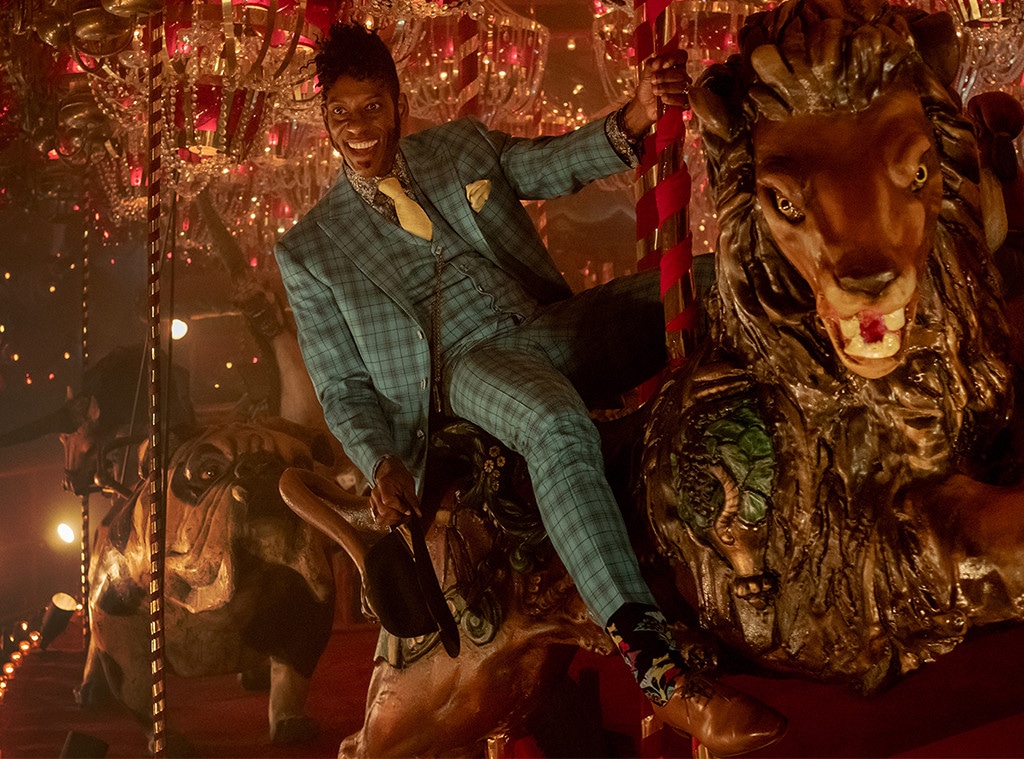 Myles Aronowitz/Starz
Orlando Jones says he was let go from the series American Gods and will not reprise his role of Mr. Nancy in the upcoming third season, adding that the new showrunner thinks his "angry" character sends the "wrong message for black America."
A spokesperson for the series, which airs on the cable channel Starz and is produced by Fremantle, says that the actor was not brought back due to changing "storylines." A rep for showrunner Charles Eglee said Jones was "wrong on multiple counts."
The 51-year-old actor made his remarks in text posts and in a video message on Twitter on Saturday.
"There will be no more Mr. Nancy. Don't let these motherf–ers say they love Mr. Nancy. They don't," Jones said in the clip. "I'm not going to name names, but the new Season 3 showrunner is Connecticut-born, and Yale-educated, so he's very smart. And he thinks Mr. Nancy's angry, get s--t done is the wrong message for black America."
"That's right, this white man sits in that decision making chair and I'm sure he has many black BFFs who are advisors and made it clear to him that if they did not get rid of that angry god Mr. Nancy, he'd start a Denmark Vesey uprising in this country," Jones continued. "I mean, what else could it be?"
In May, Eglee, who was born in Boston but grew up in Connecticut and did indeed attend Yale University, was hired to be the new showrunner and head executive producer of American Gods.
A rep for the showrunner told EW, "Mr. Jones is wrong on multiple counts, the least of which is Mr. Eglee was not born in Connecticut."
A spokesperson for American Gods said in a statement to E! News, "The storylines of American Gods have continually shifted and evolved to reflect the complex mythology of the source material Mr. Jones' option was not picked up because Mr. Nancy, among other characters, is not featured in the portion of the book we are focusing on within season three. Several new characters, many of which have already been announced, will be introduced into Shadow Moon's world that will further contribute to the show's legacy as one of the most diverse series on television."  
Bryan Fuller and Michael Green co-created American Gods based on a book by iconic fantasy writer Neil Gaiman. Season three is set to premiere next year.
"On September 18th 2019, I was fired from American Gods," Jones said in a statement to E! News. "I will miss the fans tremendously. Not a day goes by that I don't receive a DM from someone who was deeply impacted by the work we did in seasons 1 & 2. Thank you to Neil Gaiman, Bryan Fuller and Michael Green for the opportunity to play this character. I don't know why the studio has behaved so aggressively and disrespectfully towards me for doing my job. I'm heart broken for myself and the fans. #GodSquad5eva."
Green replied to his video with one word: "HEARTBREAKING."
"Love you Bryan," Jones tweeted back at him.
Jones also gave a shout-out to Gabrielle Union, whose recent firing from America's Got Talent, also produced by Fremantle, came after she complained about alleged racism and other offensive on-set behavior.
"I was fired Sept 10, 2019 like @itsgabrielleu @OfficialMelB @NickCannon @heidiklum all have said @FremantleUS is a nightmare. They treated you like a 2nd class citizen for doing your job to well. Stay tuned. More to come. #AngryGetsS--tDone."
Former America's Got Talent judge Mel B and Heidi Klum and former host Nick Cannon have not responded publicly to Jones' remarks. Union, however, retweeted his video post and wrote, "Ohhhhhhhhhhh let's chat my friend. #StrongerTogether."
Other celebs and fans have expressed their support for Jones on Twitter.
 "Whaaaaat?! @TheOrlandoJones say this isn't so, brother!" wrote Yvette Nicole Brown.
"All true sis," he replied. "They were exceptionally nasty and evil the way they did it."
Jones had played Mr. Nancy on American Gods since the show debuted in 2017.
Before that, he was known for roles on shows like Sleepy Hollow and MADtv and movies such as Evolution, The Time Machine and Office Space.
—Reporting by Chris Harnick