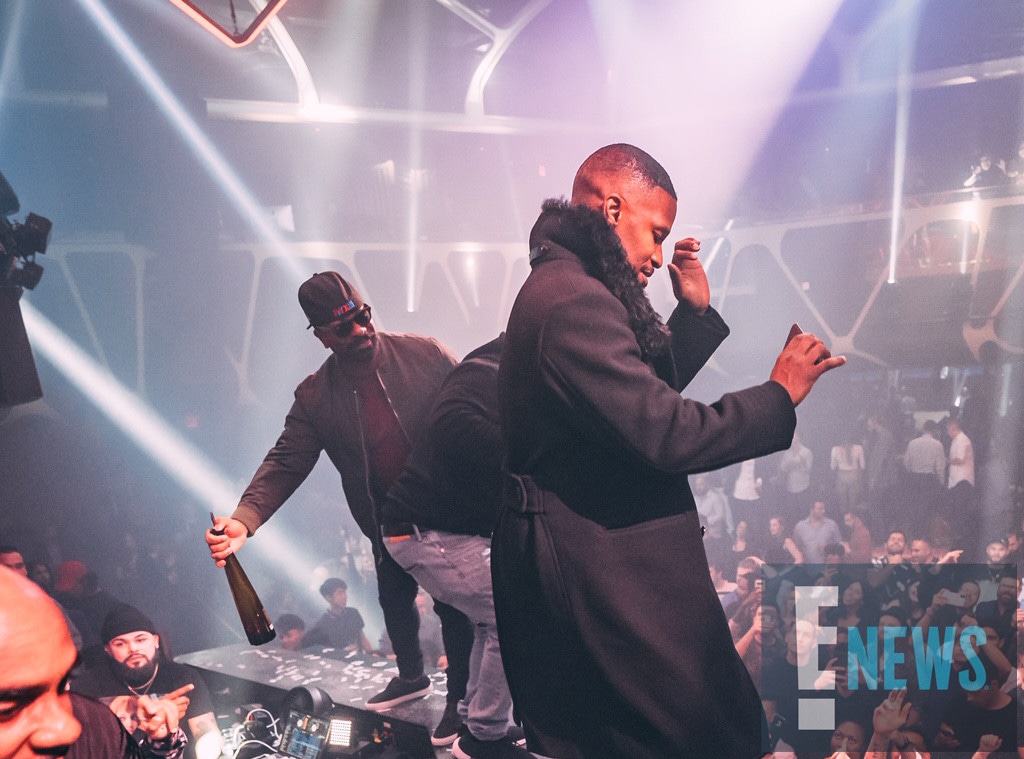 Hakkasan
Happy birthday, Jamie Foxx!
While the Oscar winner turns 52 today, he started the celebrations earlier this week! Foxx kicked off the festivities on Wednesday night at Warwick Nightclub in Los Angeles, where he was surrounded by his pals, including singer Sela Vave. According to a source, the musical duo arrived together to the celebration just after midnight.
"They kept close to one another at the DJ booth alongside DJ Irie, and Foxx couldn't take his eyes off of her all night," the source tells E! News. "At one point in the night, Jamie hopped onto the mic for almost an hour, singing multiple hip hop hits, one in particular being 'Drop It Like It's Hot' by Snoop Dogg."
During the celebration, club attendees sang the birthday boy a very "happy birthday," according to the source, who adds that Foxx left the club around 2 a.m. after a very festive night, "smiling from ear to ear."
Despite this sighting of Foxx and Vave, multiple sources tell E! News that they're not dating.
In fact, Foxx himself shut down the romance speculation earlier this year.
On Thursday night, Foxx flew to Las Vegas where he continued his birthday party festivities with a celebration at Hakkasan nightclub.
"Jamie walked into the club with big group of 20 people around 12:30 a.m., but Sela was not with him," a second source tells E! News. "Jamie was seated at a  private table near the DJ booth where he was presented with a birthday celebration with a cake, sparklers, LED drumline, and giant light up letters spelling out his name. The table had Grey Goose and Don Julio 1942, but Jamie was not drinking."
According to the insider, Jamie "was very nice and polite to all of his fans" who approached him, adding that "he wasn't interested in talking to any girls at the club."
Watch:
Katie Holmes & Jamie Foxx's Split: Everything We Know
"He was on his phone for most of the night, dancing occasionally, keeping a relaxed and chill attitude, until about 2:45 a.m. when he got on top of the DJ booth with Lil Jon, DJ Irie and danced and sang 'Turn Down for What' alongside them," the source tells E! News. "Jamie and his group left shortly after 3 a.m."
—Reporting by Spencer Lubitz