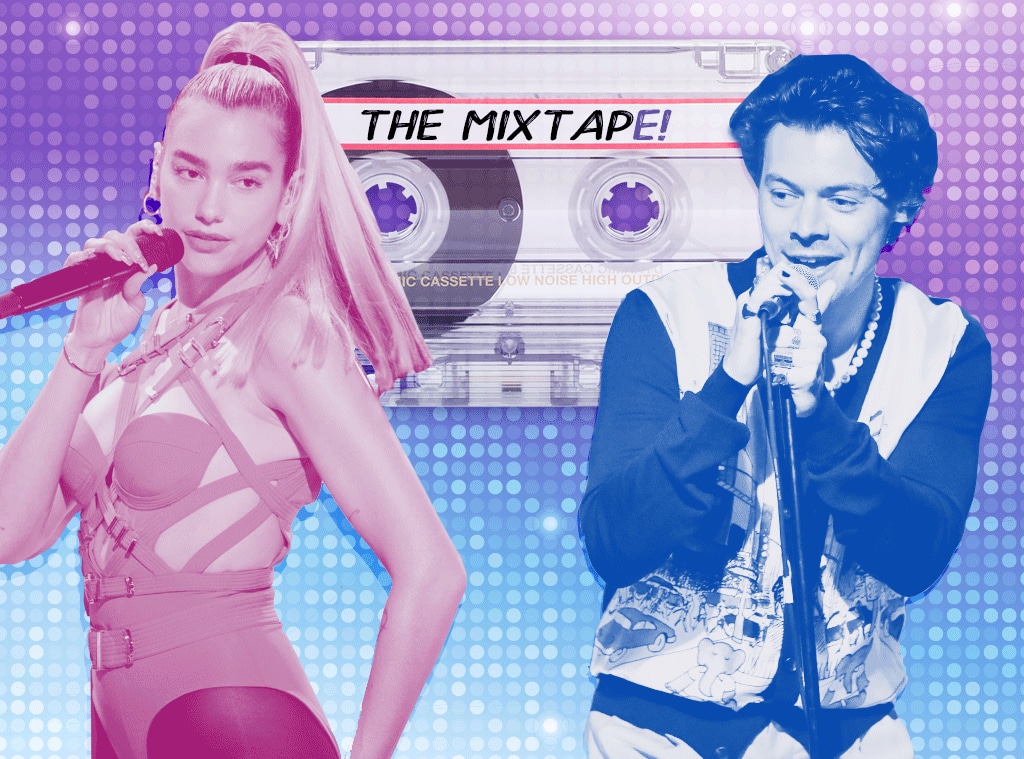 Getty Images/E! Illustration
New music Fridays are a thrilling, yet daunting prospect for any music lover. 
It's essentially a weekly holiday where fan-favorite artists and fresh faces alike drop their latest offerings for all the world to hear, flooding streaming services and digital retailers with an onslaught of aural goodies. But who has the time to sit there and listen to everything before updating their playlists? There's just too much good stuff! (And, if we're being honest, usually a few stinkers, too.)
As it turns out, we do. Welcome to The MixtapE!
By now, you've probably gotten lost in Harry Styles' sublime sophomore studio album Fine Line—including the Camille Rowe-featuring breakup track "Cherry"—and wondered, like Ellen DeGeneres, just why Blake Shelton and Gwen Stefani aren't engaged yet as you checked out their swoon-worthy new duet "Nobody But You," but trust us when we tell you that they are just the tip of the iceberg. The year may be winding down, but the fresh releases just keep on coming and we've listened to (nearly) everything. In what is the last regular edition of The MixtapE! in 2019—look out for special Christmas and Year-in-Review editions in the coming days!—we present our picks for the best of this week's best. You can thank us later.
Watch:
Dua Lipa & Anwar Hadid Make Red Carpet Debut at 2019 AMAs
Harry Styles — "Fine Line"/"Treat People With Kindness": We're not exaggerating when we say that, from the second we first heard "Lights Up," our hopes for Fine Line were astronomical. And now that the album is finally here, we are pleased to report that Harry did not disappoint. The entire album is a sumptuous marvel, bespoke with a maturity and sincerity that's just floored us. As such, we had a very difficult time picking just one song to highlight here. How could we choose between the stunning title track, with its instrumentation that just swallows you whole so that by the time the percussion and horns kick in around the four-minute mark, you're completely enveloped in sound and lost in a fully-realized experience, and the audacious "Treat People With Kindness," a gospel chorus-assisted, '70s-era musical theater-inspired (think Hair or Jesus Christ Superstar) track that requires real nerve to release in 2019 and ask it to be taken seriously? We couldn't. So we didn't. Listen to them both. Listen to it all. You won't be disappointed.
Dua Lipa — "Future Nostalgia": After Dua changed our lives with "Don't Start Now," the disco-kissed lead single from her highly-anticipated second studio album, we absolutely could not wait to hear what else she had up her sleeve. And honestly, we barely know where to begin when describing her latest release, the title track off the forthcoming LP. It's a staggering confluence of sounds that lives up its title, somehow a throwback to all things '80s while also feeling like a glimpse into a thrilling future, that's propelled into the heavens by Dua's lyrics and delivery, both absolutely dripping with effortless and enviable swag. This album is going to be everything.
Hayley Kiyoko — "Runaway": Since Lesbian Jesus announced her sophomore project, I'M TOO SENSITIVE FOR THIS S--T, she's released one standout track after the next. And her streak remains unbroken with her latest, this dark and brooding piece of synthpop that finds Hayley begging her lover to tell her exactly how they feel, hoping that they might be the one worth sticking around for. At this point it's clear, there is no filler to be had on this project. None.
Blake Shelton & Gwen Stefani — "Nobody But You": Blake teased this collab with his lady, off his just-released new album Fully Loaded: God's Country, as "magic" and you know what? He was not exaggerating. The professions of undying love on this mid-tempo country strummer are so damn romantic, you can expect to hear this played at every rustic-themed wedding from here unto eternity.
Kaytranada feat. Tinashe — "The Worst In Me": Bubba, the Canadian's producer's second studio album, is full of star power, with features from the likes of Pharrell Williams, GoldLink, Kali Uchis and Estelle, but our favorite track on the LP is this one, featuring the "Die Little" songstress. The house-inspired R&B track, which finds Tinashe lamenting the fact that she can't break free from a lover who's not right for her, feels so smooth and effortless, thanks, in large part, to Kaytra's impeccable production. Perfect for some late-night listening.
Meghan Trainor — "Evil Twin": We're just a little over a month away from the long-awaited release of Treat Myself, Meghan's third album on January 31, and she's just given us yet another taste of the delayed LP in the form of this delightfully disco-influenced pop bop. Who hasn't woken up from a wild night wishing they had an alter ego to blame all their bad decisions on? 
Ava Max — "Salt": Ava's had a huge year, earning herself comparisons to early Lady Gaga—and rightfully so—both for her breakthrough single "Sweet but Psycho" and her unique hair style, dubbed the "Max Cut." And before she closes it out with a performance on Dick Clark's New Year's Rockin' Eve with Ryan Seacrest, she's officially released this track that's been available on her YouTube page since 2018. Riding the recent trend of disco-influenced dance tracks (see: Meghan Trainor above, Dua Lipa's "Don't Stop Now"), she lets her ex know, in no uncertain terms, that she's done crying over them. With any luck, this one will zoom up into the Billboard Hot 100 top 10 too.
Carly Rose — "warned you": Maybe you remember Carly from her second-place run on the second season of The X Factor—aka the Fifth Harmony season—or maybe you don't. Either way, she's all grown up now and releasing some next-level alt-pop. The fuzzy synths in the chorus drill themselves under your skin in such a good way. "If you're not banging your heads to this one, I did something wrong," Carly wrote on Twitter when she shared the song. She can rest easy. 
Grimes — "4ÆM": We're the first to admit that, for us, Grimes' music is not always the most easily penetrable stuff. But this track, from her forthcoming album Miss Anthropocene as well as the video game Cyberpunk 2077, in which she also voices a character, has absolutely blown our minds. Much like everything else in the otherworldly artist's discography, there's no way to really put into words what it's like to listen to this song. So just take our word for it, turn it on, and give yourself over to the experience.
Lolo Zouaï — "Chain": For the rerelease of her debut album High Highs to Low Lows, the promising alt-pop up-and-comer included this excellent new track that fans of Euphoria might recognize. Over a sparse and moody electronic production, Lolo sings in both English and French—she was born in Paris to a French mother and Algerian father before the family moved to San Francisco when she was three months old—about looking for proof from a lover they can be trusted. It's a stunner.
Bonus Tracks:
Raye — "Please Don't Touch": The UK-based singer gets vulnerable on this banger as she begs an ex to keep their hands to themselves unless they're for real.
Alec Benjamin — "Mind Is A Prison": The indie pop up-and-comer scores with this ultra-relatable track about being trapped by one's thoughts.
Arin Ray — "The Get Down": The X Factor season two finalist delivers the funk with this standout track from his new EP, Phases II.
Paloma Mami — "Mami": One of our 15 female Latinx pop stars to know is back with this slinky bilingual track that'll keep you warm as we head into the dead of winter.
070 Shake — "Under The Moon": Shake is one step closer to the long-awaited release of MODUS VIVENDI, her debut LP, with this excellent, atmospheric track that reminds why she's one of the freshest voices in the game right now.
Happy listening!