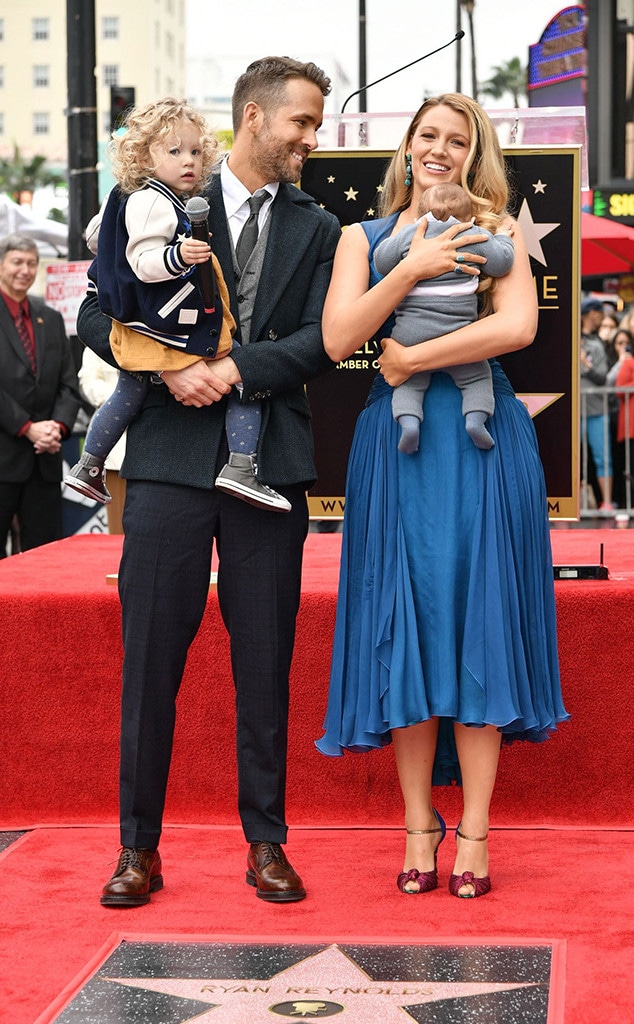 Rob Latour/Variety/REX/Shutterstock
Ryan Reynolds really doesn't want his daughter to join the family business.
On Thursday, the father of three revealed that his and Blake Lively's eldest daughter James Reynolds, 5, has caught the acting bug on The Tonight Show Starring Jimmy Fallon. After host Jimmy Fallon joked that she "said the words no actor wants to hear" their kids say, the Deadpool star shared that he's been trying to talk to her out of being a child actor.
"She wants to be an actor, yup," he said. "I tried to—I explained to her, I was like, 'Look, you know, that's huge burden on your nervous system. I mean, having to, you know, having to process all of that attention and information. Or else, you develop all of these unhealthy coping mechanisms…' And she just, like, looked at me like she didn't know what the f--k I was talking about.
But before Jimmy knew it, Ryan's funny anecdote had turned into a full-on rant.  
"And I was like, 'You know what? Here's what's cheaper and easier is, like, let's just skip showbiz and enroll you right into cocaine," he hilariously continued. "Because showbiz is not good for kids. I feel like we should know this by now, right? But parents everywhere are like, 'Yeah, let's just put them in a movie, unsupervised.'"  
Despite his feelings on children being in show business, Ryan admitted that he really wouldn't mind if James or her two sisters (Inez Reynolds, 3, and the couple's third child, who was born this summer).
"I'm fine if she wants to be an actor," he said. "I'm like, 'Fine, go ahead, like, you know, in school do like after-school stuff like that—that's fine.' And right now, every day is, like, a recital. She's singing songs. She's doing little plays at home, all that stuff. But, like, being a child actor in, like, movies and stuff? That's, like, a whole other ball of wax."
Still on the topic of his little ones, Jimmy called the new dad out for not telling him that he and Blake were expecting their newest bundle of joy sooner. "I said, 'Hey, Ryan, what's going on?' And you said to me, 'Not much," the late night host told the actor. "And after that…I get a Google alert saying that Blake is pregnant on the red carpet."
Ryan, of course, had the best response for why he kept Jimmy out of the loop.
"No one was more surprised than me, Jimmy," he joked. "I gotta tell you...I thought she's just been pounding beer. And it turns out that she's, like, six months pregnant or something. I gotta get way more hands-on at home."
Watch:
Ryan Reynolds Talks Instagram Trolling & More
All kidding aside, Ryan and Blake do prioritize their family's privacy. Earlier in the day, the Aviation Gin founder did his best to avoid revealing their third daughter's name during his visit to TODAY.
When asked by hosts Hoda Kotb and Craig Melvin how they came up with their little girl's name, he responded, "We haven't yet! We're gonna be original, and all the letters in her name are silent." As the star continued to joke, "I want to give her something to push against in life."
Watch Ryan talk about daughter James' acting aspirations and explain why Jimmy is Shawn Mendes to her in the video above!
(E! and NBC are both part of the NBCUniversal family).