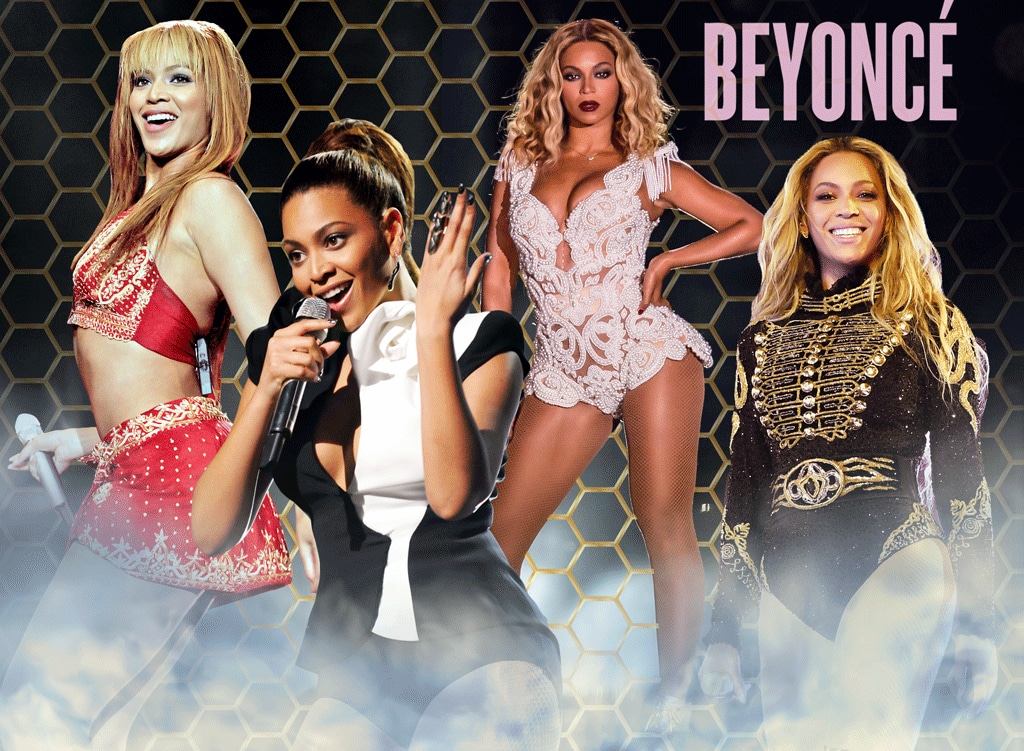 Getty Images; Melissa Herwitt/E! Illustration
It's hard to believe, but it's already been six years since Beyoncé changed the game with that digital drop.
We're talking, of course, about the surprise release of her self-titled fifth studio album, a sumptuous visual and auditory feast composed entirely in strict secrecy before Queen Bey unleashed it on the world all at once, with no prior announcement or promotion at all, on December 13, 2013 as an iTunes Store exclusive.
Not only did the 14-track visual album establish the notion that Bey was an artist truly in a league of her own, able to command such rigid and, frankly, remarkable secrecy from everyone else invited to work on the ambitious project while proving she needed to play the exhausting promo game no longer, but it also made the very concept of the album exciting again. What's more, it also inspired the International Federation of the Phonographic Industry two months later to announce Friday as the new global record release day, changed from Monday. Her impact!
In honor of the game-changing release, we thought we'd take a look at the 18 tracks across Bey's solo career that have cracked the Billboard Hot 100 top 10 since her first single "Crazy in Love" shot to No. 1 16 years ago. And when we put the list together, we were shocked to discover how few came from this last decade. Shocked, we tell you! That such a culturally important artist can have such little representation in the upper echelons of the charts is the sort of dissonance that our brains can't even begin to compute. But enough about what's not on the list. Without further ado, here's what is, ranked from worst to best, with the caveat, of course, that there truly is no bad Beyoncé song, just less good ones.
18. "Perfect Duet": We have rules 'round these parts when it comes to these rankings and they plainly state that if the track is just a feature, like this 2017 remix of Ed Sheeran's "Perfect" that Bey hopped on, turning it into a No. 1 hit in the process, it doesn't really count. And while it's a bummer when it comes to some other tracks at the bottom of this list, leaving this treacly ballad in dead last doesn't bother us in the slightest. Sorry, not sorry.
17. "Mi Gente": Again, rules are rules. Fun track, though, with an excellent appearance from Rapper Bey, whose flow is tighter than most full-time MCs. (Reminder: There's nothing this woman can't do.)
15. "'03 Bonnie & Clyde": This collab with then-boyfriend Jay-Z became Bey's first top 10 single at a solo artist, predating her own solo material by months. It's iconic, but, again, rules.
15. "Telephone": This one hurts. When Bey joined forces with Lady Gaga for this instantly iconic collab, featured on Mother Monster's 2009 EP The Fame Monster, it was, in a word, everything. And the gleefully bats--t music video? Even more so. Ten years later, we're still waiting on the fulfillment of the clip's "To be continued" promise. So trust, if we weren't such sticklers for rules, this one would be much, much higher on this list. Alas.
14. "Check on It": Originally recorded for the soundtrack of the 2006 film The Pink Panther, which Bey co-starred in, this song was ultimately passed over and wound up on the Destiny's Child greatest hits album #1s instead. Featuring verses from Bun B and Slim Thug, the track became Bey's third No. 1 solo single and, while we wouldn't leave the dance floor if it came on, it certainly feels a bit stuck in the mid-2000s, doesn't it?
13. "Beautiful Liar": Recorded for the release of the deluxe edition of Bey's second album, B'Day, in 2007, this collaboration with Shakira, which peaked at No. 3, is like the inverse of Monica and Brandy's "The Boy Is Mine." Here, the two women eschew fighting over the same man for the empowered decision to both walk the hell away. It's a fine song made better by its VMA-winning (for Most Earthshattering Collaboration) music video. 
12. "Me, Myself and I": The third single released off her debut album Dangerously in Love, this mid-tempo R&B track peaked at No. 4. A perfectly serviceable position for a perfectly serviceable track. 
11. "Naughty Girl": The fourth and final single released from Dangerously in Love, peaking at No. 3, makes excellent use of both a Donna Summer interpolation—that's her 1975 smash "Love to Love You Baby" that the song's built around—and an appearance from Usher in the steamy music video. Take it as a sign of how much stronger an artist Bey has become that a song this good off her debut album doesn't even crack our Top 10.
10. "If I Were a Boy": Released off Bey's third album I Am...Sasha Fierce, this introspective R&B ballad, which peaked at No. 3, still slaps for the way it turns a lens on the BS men pull in relationships. Read 'em for filth, Bey.
9. "Irreplaceable": Originally a country song, this mid-tempo ballad off B'Day gave Bey her fourth No. 1 Single and gave us the perfect kiss-off song. We'd never hear the phrase "to the left" the same again.
8. "Deja Vu": This collab with Jay, released as the lead single off B'Day, felt, at the time, like the two trying perhaps a little too hard to recreate the magic of a collaboration that'll show up a bit later on this list. And perhaps that's why it stalled out at No. 4 on the charts. But now that we've got some distance between us and then, it's hard to deny the funky AF bass line and horns that drive this song. It probably deserved better than it got at the time. Oh well.
7. "Sweet Dreams": The fact that this song, the sixth (!) single from I Am...Sasha Fierce, stalled out at just No. 10 is something of a beautiful nightmare if you ask us. The way that dark, funky electropop groove gets under your skin, however? A truly sweet dream.
6. "Baby Boy": Find you a millennial who doesn't lose their damn mind when the Middle Eastern-influenced dancehall beat kicks in on this track, featuring Sean Paul and off Dangerously in Love, which sat at No. 1 for nine consecutive weeks, and we'll find you a liar. This song still absolutely slaps and probably always will. And it was only her second solo single ever! 
5. "Halo": Perhaps the defining ballad of Bey's career, this single off I Am...Sasha Fierce somehow only peaked at No. 5, which is surprising considering how iconic the percussive power ballad has become. Did co-writer and producer Ryan Tedder plagiarize from himself when working with Kelly Clarkson on "Already Gone' in the same year, as the American Idol champ claimed? That's not for us to say, but with production this evocative and gorgeous, could you really blame him if he did?
4. "Drunk in Love": That this song, which reunited Bey with Jay yet again and peaked at No. 2, was the only track off Beyoncé to crack the Top 10 blows our minds. The trap-influenced track gave us a Bey we'd truly heard before, one at her most sexual frank and self-assured. And it made sure we never thought about watermelon or surfboards in quite the same way again. 
3. "Single Ladies (Put a Ring on It)": What a f--king cultural moment this was. There's a reason this song, released off I Am...Sasha Fierce to become her last solo No.1 in her career so far—we know, that one threw us for a real loop, too—went on to win Song of the Year at the Grammys and is known by just about everyone. And that's because it's just that good. From the iconic hand claps to the endlessly quotable empowered lyrics, this was the song that took Bey's career to the next level. And that video? Come on, you know you're running through the choreography in your mind as you read this.
2. "Formation": Only Bey could drop a song and it's accompanying music video on a Saturday and perform it during a surprise appearance at the Super Bowl halftime show on Sunday, knowing full well that everyone—and we do mean everyone—would know every. single. word. The release of this, the lead single from her staggering 2016 album Lemonade that tragically peaked at just No. 10, was a call-to-arms, finding Bey unapologetically embrace and celebrate not just her blackness, but the very idea of blackness in America, while making us all want to tap into a little of that hot-sauce-in-her-bag swag. From Mike WiLL Made-It's stunningly complex and celebratory trap production to Melina Matsoukas' staggeringly evocative imagery in the video, this was a whole damn moment; a promise from one of the most powerful black women in that world that, at a time when it was becoming exceedingly dangerous to do so in America, she'd only just begun repping her community. It was everything. And three years later, it still is.
1. "Crazy in Love": The one that started it all. Bey was already a star when she made the decision to leave Destiny's Child behind and embark on a solo career, but this, the lead single from debut album Dangerously in Love that zoomed to No. 1, made sure that everyone knew it. From Jay's slick verse to the way that Bey's vocal delivery sounds as though she might explode from energy at any moment, the funky horn hook sampled from The Chi-Lite's 1970 song "Are You My Woman (Tell Me So)" to the killer music video, it's all just so damn perfect and undeniably timeless. Long may it reign.