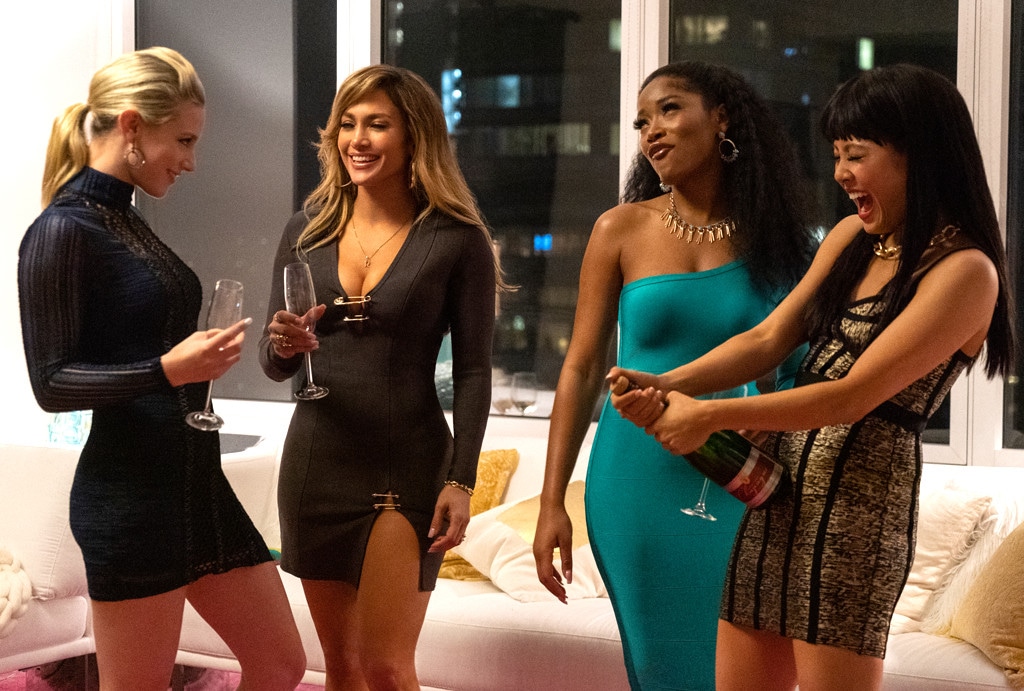 Barbara Nitke/STX Films
Picture it: New York, early 2007.
It was a time of heady excess—of shoes that cost more than rent, handbags big enough for two lapdogs, French-pedicured toes and logos announcing themselves loud and proud, from the "Versace" stitched into the front of a bathing suit to the "Juicy" scrawled on the butt of a track suit.
At least, that was the world the ladies of Hustlers operate in, a world in which conspicuous consumption equaled status, the go-to look was music-video chic, and the newest Louis Vuitton purse was a platform-heeled step in the right direction.
And once they had a taste of that life for themselves, they didn't want it to end.
Hustlers stars Jennifer Lopez, Constance Wu, Lili Reinhart and Keke Palmer as four based-on-a-true-story strippers who, masterminded by Lopez's veteran dancer Ramona, took matters—i.e. their customers' corporate credit cards—into their own hands when the global financial crisis dried up their most reliable revenue stream. It's a witty, tense and now Golden Globe- and SAG Award-nominated dramedy about a real-life hustle that worked for a little bit...until it collapsed like Lehman Brothers.
But when it did work... oh, the clothes. And the stuff.
Costume designer Mitchell Travers, whose credits include Eighth Grade, Late Night and the upcoming big-screen adaptation of Lin-Manuel Miranda's musical In the Heights, relished the opportunity to indulge in the more-is-more sensibility of that very particular time and place.
To immerse himself in the atmosphere of the mid-'00s—when young Hollywood was running amok, the iPhone was brand new and the Spice Girls were on their first reunion tour—Travers watched music videos from the time (with Britney Spears' Blackout album on repeat, you could imagine "Gimme More" becoming a mantra) and surrounded himself in visuals from that era.
"It was a real wake-up call once I started to look at the images," Travers told E! News in an interview, noting how it was only a decade ago, "but we look completely different."
"Britney, Paris—Kim Kardashian was brand new on the scene," he continued, "so it was really fun to look at these figures that we've come to know so well through social media, but observe them at a time when there wasn't social media and it was much more of a paparazzi-based culture." And the rise of 24/7 sites like TMZ and Perez Hilton only fueled the mass interest in these people's lives.
"That was really my jumping point, that celebrity-obsessed culture," Travers said. In turn, he put himself in the shoes of each character and assigned each of them a celebrity style to emulate from that time. 
He didn't have to look far to find his inspiration for Ramona, of course.
Writer-director Lorene Scafaria said that she didn't realize she was writing a part for Jennifer Lopez until she was finished and realized, "Oh my God, Ramona is Jennifer Lopez. Jennifer Lopez is Ramona. It has to be her," she recalled to Vulture. 
"I think on some level we were all trying to pretend that we lived in a world where J.Lo doesn't exist, but you can't do that," Travers told E! News. "She's been a driving factor in fashion, film, music—and so you can't really remove her impact from the culture as you study it." Luckily, she wasn't exactly a shrinking violet when it came to 2007's top trends. "We were going deep into the archive of some of Jen's looks," the costume designer said. While Lopez's style has evolved with the times, "the moment you get a bandage dress on her, you remember, 'Oh, right...'"
While it was next to impossible to disassociate J.Lo from J.Lo, when asked who provided the inspiration for Constance Wu's Destiny, the less experienced stripper who Ramona takes under her wing at the club, Travers answered without hesitation.
"Nicole Richie," he said. 
Known then primarily as Paris Hilton's other half from The Simple Life, Richie was a poster girl for all the hot trends of the day but hadn't yet distinguished herself as the designer, author, actress, competition show judge, mom, etc. with a style all her own that has been her claim to fame in this decade.
And as Destiny, in search of a better life for her family, ended up being sucked into a certain world whose values ultimately diverged from her own, so Richie got swept up in those '00s shenanigans along with Paris, Lindsay, Britney, Mischa and assorted other starlets before rerouting her priorities.
Sam Jones/20th Century Fox Tv/Kobal/Shutterstock
"There was this amazing relationship between Paris and Nicole that I found was really a mirror to the relationship between Ramona and Destiny," Travers explained, "in that you get the sense that it's really effortless for one of them and the other one puts a little more effort in, and it doesn't come as naturally to that person.
"And if you look at those girls, Paris and Nicole—Simple Life, all of those early paparazzi pictures—you can see that there's a bit more of an easy factor and a confidence in the way that Paris dressed herself. Nicole was always a bit over-accessorized, a bit too trendy, slightly ill-fitting at times. It was just a lot of the character that we pulled from those images."
Constance Wu, known for her no-nonsense work ethic, dove into the role of Destiny, adding the necessary complexity to a role that could just as easily have come off as a one-dimensional rags-to-riches-to-rags journey.
"The emotional gymnastics that I saw Constance do in a day, I just could not believe that she was able to chart out the growth and change in this character over the course of this character in 29 working days," Travers recalled.
The Crazy Rich Asians and Fresh Off the Boat star was his first fitting, and when she showed up on day one—of what ended up being a brisk 29-day shoot—ready to execute a perfect split in her G-string, he knew she meant business.
"She was so committed," Travers said. "I was like, 'OK, I've got to step up. She's bringing her A-game to this first fitting this way, then I need to deliver."
Deliver he did, as the entire movie—directed by Scafaria, with production design by Jane Musky and set decoration by Alexandra Mazur, is as intricately styled as any Scorsese period piece (and the scene where the ladies, flush with ill-gotten gains, trade luxurious Christmas presents can't help but call to mind the mobsters in Goodfellas enjoying the fruits of their criminal enterprise in happier times).
As he envisioned Ramona, Destiny, Mercedes (Palmer) and Annabelle (Reinhart) piling into the Escalade and heading to the mall for a Bebe shopping spree on someone else's dime, so Travers and his team—which on its biggest day numbered 25 people—conducted their own scavenger hunt for the clothes and accessories that were brand new and on point at the time.
"We couldn't have enough jewelry in the world to support as many costume changes, as many different phases that each of the women went through," Travers recalled. To him, the "overly accessorized" era he was recreating was reminiscent of the 1920s, pre-stock market crash world of The Great Gatsby. "People had massive earrings on, they were flaunting their wealth—it was a really presentational time in the way women got dressed."
Lopez "was wonderful about being self-referential," he said, and she willingly brought some of her own pieces—a couple of boots here, a pair of earrings there—out of the archives ("her closet is obviously a treasure trove") to enhance the world they were building for Hustlers.
"She understands the importance of those little details," Travers said of Lopez, who this week was nominated for both a Golden Globe and her first-ever Screen Actors Guild Award in the supporting actress categories. "The size of the hoops, the size of the rings, the length of the nails—she knows that all of that matters, so she was a real collaborator with me in that process." (Usher, too, was game to dip into his own wardrobe to recapture his mid-'00s vibe for his cameo.)
In addition to making sure every person onscreen is dressed to reflect the times, Travers tasks himself with grounding the actors in the world of the film—and that means that "the Timberlands are right, that the Uggs are right, that they're not the ones you get on Zappos [now], that they're the real deal, the way they used to be, so when you as an actor look at your feet, you feel like you're back in 2008." (Alas, his "holy grail," an original pair of Apple Bottom jeans and matching denim jacket, didn't end up in the film; however, his dream that existed before she was even cast, of dressing Lizzo in a fishnet body suit, did come to fruition.)
And speaking of 2008, Travers created an early-fame-Miley Cyrus back story for Reinhart's Annabelle—the sweet newcomer to Ramona's gang who vomits when she gets nervous.
"It was animal crackers and Sprite mixed together," the Riverdale star shared with Vulture about the film's running gag (no pun intended). "I would take a large gulp of it and keep it in my mouth, and when they were ready, I would just let it go. But it just tasted like animal crackers, so I didn't care."
Jose Perez/Bauer-Griffin/GC Images
"She's a bit more of a new girl in town, not really understanding herself or her place in this group as well," Travers said, so he played up Annabelle's relative innocence with slightly more modest fashion choices (all of which are still a far cry from crew neck sweater-rocking Betty Cooper).
Overall, the outfits were a mix of high and low, with pieces obtained everywhere from private collections and luxury vintage shops to thrift stores and Burlington Coat Factory.
And because the '00s haven't yet really been singled out yet as a fashion era, as have the 1980s and '90s, Travers, assistant costume designer Laaleh Mizani and the rest of the team, ended up scouring the items that weren't on display yet, digging through boxes in search of, for instance, a certain Louis Vuitton bag that a curator wouldn't even want to sell for another 10 years—when that lost era of frivolous glam inevitably takes its turn in the rosy-glow spotlight.
In addition to the regular clothes and accoutrements, there were the stripper outfits to consider—all of which were custom-made with fabric meant to hold up during the most rigorous of pole dances. Which, unbeknownst to most, is what a lot of actual strippers wear.
"I think a lot of us were hovering around the idea of, what is a stripper movie going to look like?" Travers acknowledged. In other movies that have dealt in strip clubs, "there's a theatricality or a sex shop quality...but when you actually go to a club [in real life] you realize these women are wearing custom designs. They do incredible athletic feats, so the clothing has to do that with them."
And from Cardi B to Lizzo's struts on the stage as Diamond and Liz, to Ramona's epic turn on the pole that establishes her as the queen bee at Moves, the club in the film that's modeled after NYC's famous Scores, power-stretch mesh is playing an extremely pivotal supporting role.
Hustlers also manages to walk a fine line between exploitation and aspiration, not an easy feat when a movie is selling—if not actually recommending—a precariously glamorous lifestyle that, even on a law-abiding day, has been paid for by taking one's clothes off for a horde of men's enjoyment.  
Demi Moore was paid a then-record $12.5 million to bare all in Striptease 23 years ago, but that movie failed to sell an ounce of the intended empowerment narrative, and Showgirls, while firmly lodged on the so-bad-it's-hilarious shelf of cult classics, certainly didn't do anything to raise the bar for the naked-badass genre either.
Hustlers wins where the others failed because, though it's a film that's based on a true story, one that had very real consequences for the women involves, it doesn't take itself too seriously. You know that you're entering fantasy land with Ramona and Destiny, made all the more mind-boggling because actual women named Samantha Foxx and Rosie Keo lived this life—and, for awhile, executed this scheme. 
"It sounds so bad to say that we were, like, drugging people," Rosie told journalist Jessica Pressler, who's represented by Julia Stiles playing a reporter named Elizabeth in the film. "But it was, like, normal."
"We were like Kobe and Shaq," she added. "That's what I always said to Samantha. We were untouchable."
Whether or not you already knew that Ramona and Destiny would be plummeting back to earth by movie's end or not (the dirty details are all there in Pressler's 2015 story for New York magazine), it's easy to be titillated by all the baubles and bags on display and at the same time feel a little (or a lot) sorry for them as they funnel so much of their self-worth into material items.
Meanwhile, they're also both single moms who really do want the best life possible, not just for themselves, but for their daughters, and you're happy for them when the Moves family gathers to exchange gifts under Ramona's immaculately decorated tree. 
But it's one of the earliest shots in the film—you already know the one we're talking about—that establishes the idealized hierarchy of Hustlers, long before the first Centurion Card is nefariously swiped.
When Destiny goes up to the club's rooftop and finds Ramona enjoying a cigarette break, sprawled on an old couch but looking like a billion dollars in her skimpy sequinned bodysuit, sky-high platform heels and a mother of a fur coat, there's no question about who's in charge—at Moves and, basically, in life.
"We realized it needed to be this arresting image of luxury, of success, of wealth, of confidence—of a woman," Travers said. "As we started to narrow it down what that could be, I had a million options, we tried a million different things. But once we landed on the fact that they were both coming from their respective performances, and then up on the roof we're like, 'well, we'll just throw a little coat on top of that,' one thing led to the next and we ended up with this incredible moment."
And in the end, not even Ramona could stay in character forever.