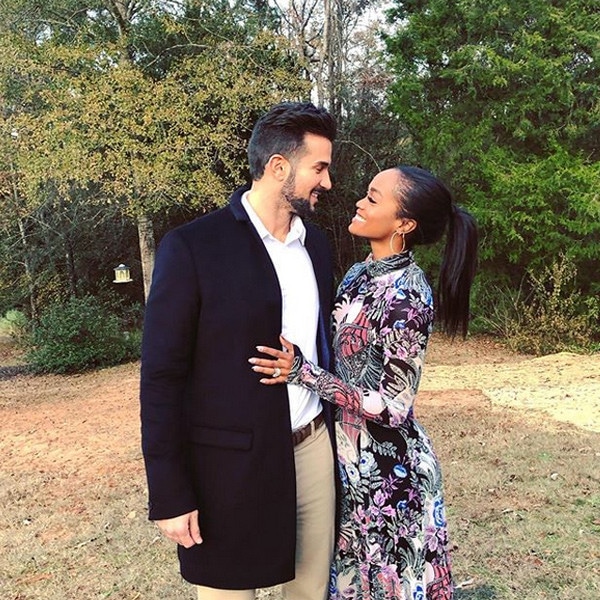 Instagram
Rachel Lindsay Abasolo is stepping up her Christmas game in 2019.
As the former Bachelorette prepares to celebrate the holidays for the first time as a wife to Bryan Abasolo, E! News is getting an exclusive preview into the couple's celebrations.
"This year we are spending it in Dallas. We spent the last two in Miami. For my family, it will be one of the most low-key Christmases we will ever have because my nephews are going to visit the other half of our family so it will be super chill just exchanging a few gifts Christmas morning," she shared with E! News exclusively while supporting Ideal Image MedSpa. "We typically do a big brunch. During the evening, we usually go to a movie in the evening."
While Rachel says she has to go back to work right after Christmas, she's still looking forward to spending quality time with those she loves.
And yes, the Bachelor Happy Hour podcast co-host is proud to share her new hobby during the holiday season.
"This year, as the first year of being Mrs. Abasolo, I have really taken in decorating. I decorated our entire apartment," Rachel confessed. "I got our stockings with our letters on it. I went Christmas shopping with his mom. It's not our first Christmas together but it is as a married couple and I have really been stepping it up a notch."
Watch:
Rachel Lindsay's Takeaway From Doing "The Bachelorette"
As soon as the holidays are over, however, Rachel has a full plate of activities on her plate. In addition to co-hosting Ghosted on MTV, the reality star continues to explore the sports world as a co-host of Game Night on ESPN Radio.
"I have always said that I wanted to be the female Michael Strahan and to do things in sports and entertainment so I think in 2020 you'll start to see…I mean, I already do that for ESPN, I guest and I fill in, but there's some new things that'll be coming in 2020," she teased.
And along for the ride will be her incredibly supportive husband who continues to enjoy the newlywed phase with his wife.
"It is a surreal feeling to say, 'Oh, that's my husband.' It's always crazy for me to hear him so, 'Oh, I have to ask my wife' and then I think OMG that's me!" Rachel gushed.
Happy holidays you two!